'Seigneur Medicott' shined for him during his Olympic debut, knocking over every fence gracefully.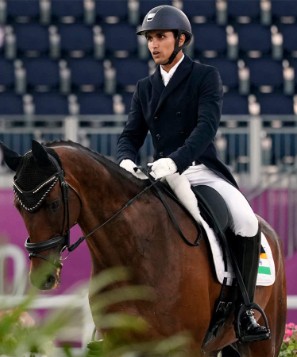 All Olympians deal with some pressuring factor. After an incredible past performance, getting back to the Games makes everything that follows even more exciting as Fouaad Mirza can't authenticate. The Bangalore-born Fouaad Mirza, an Indian equestrian and silver medalist at the 2018 Asian Games in Jakarta, was one of the most viral sensations. He won the first individual equestrian medal for India in 1982 at the Asian Games. Mirza received the Arjuna Award in 2019. During the CCI3*-S held in Strzegom, Poland, he won gold. In being selected for the Olympics, Fouaad Mirza becomes the first Indian equestrian to compete since Imtiaz Anees (2000) at the age of 29. Dr. Hasneyn Mirza, his dad, is amongst India's top equine veterinarians. Fouad Mirza achieved an Olympic-level performance in the wake of finishing on top of SouthEast Asia's Oceania Group rankings. Fouaad Mirza is being prepared for the Tokyo Olympics by Sandra Auffarth, a Silver and a Gold Medalist at the London Olympics.
Sponsorship, riding on hurdles, and a selection dilemma…
The Embassy Group always supported Fouaad Mirza. On his Olympic readiness, Fouaad Mirza expressed his gratitude to Mr Jitu Virwani, who has been my supporter during the last eight years and has reliably supported him in his ascent to being an International level equestrian rider. Fouaad has consistently performed at his best due to his support. Embassies praised Fouaad's assurances and efforts in preparing for the Olympic Games in 2020. There was an exceptional appreciation from embassies on investing in the new German warmblood Dajara-4, which had given Fouaad a strategic edge. Despite numerous obstacles, such as relocating finances from India for this purpose, Fouaad received best-in-class assistance and resources for all of his activities because of their incredible support.
As he overcomes obstacles, Fouad Mirza places his faith in the equation with his partner horses. Mirza found it difficult to select Dajara 4 (the second horse option) over another experienced horse Seigneur Medicott. Micky, or Seigneur Medicott, helped Fouaad Mirza win two silver medals at the Asian Games, and the two have a deep connection. Mirza noted that Dajara 4 has gone through many pressing factors in recent months after a lengthy competition and practice period. Dajara 4 was Fouaad's first choice for the Olympics, though, in recent years.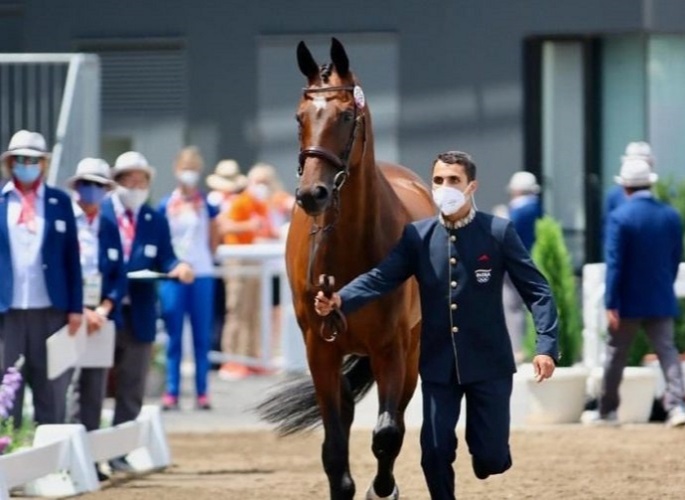 Its improved movement led to an adjustment to the last passage with Seigneur Medicott for the Tokyo Olympics. Fouaad Mirza recalls that this 8-year-old Dajara is a promising German Holsteiner warmblood with a long history of wins, such as the Bundeschampionat, a German National Championship. According to him, 'Dajara 4' is an exceptionally beautiful horse, and she will bring sufficient attention to this game and, ideally, encourage the younger generation to venture into it. Mirza said,
"Dajara 4 was chosen by Fouaad Mirza to represent India in Tokyo, and the team is working hard to bring a good show to India in Japan".
'Horses' is his first trust…
In Bergedorf, a city in northwestern Germany, Fouaad Mirza is preparing for the contest. With no Sundays, Fouaad Mirza's day begins at 7 am at the Bergedorf stable in Germany, where he spends time with seven to eight ponies, including Seigneur Medicott, with whom he won two Asian Games awards. Mirza not only rides but feeds, washes, brushes, and walks them by hand. As Mirza says, the hours spent together are crucial to gaining the creature's trust and establishing a bond. According to him, these horses can sense when you are not feeling exceptionally well or somewhat furious.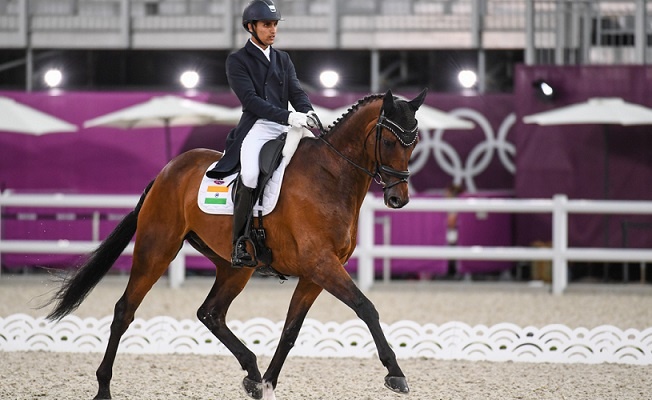 TOKYO Tales-
Fouaad Mirza beams on his Olympic debut, despite missing an award. It was 7th January 2020. At the Baborowko Equestrian Festival in Poland, Fouaad Mirza placed second and third with his horses, Seigneur Medicott and Dajara 4. A heavenly performance in the dressage test at the Baji Koen Equestrian Park in Tokyo saw him finish 10th overall, making him the third Indian at the Olympics after Imtiaz Anees (2000) and Indrajit Lamba (1996). He was able to affirm his cooperation at the Tokyo Olympics as a result of this. Following his first-place finish in South East Asia and Oceania, he qualified for the 2020 Tokyo Olympics. During the most recent 20 years, he has become the principal Indian equestrian to be eligible for the Olympics. As the first Indian equestrian to qualify for the Olympics, he completed 22nd place in the last round of the Tokyo Olympics 2020. He is the first Indian equestrian to ever qualify for the Olympics. From 63 contenders, India managed to barely get through to the final group after 47.20 penalties focused on dressage, cross-country, and bouncing qualification put him in 25th place overall. Only the top 25 make the last. Fouaad Mirza finished 23rd overall in the event with Seigneur Medicott. He did not win a medal after placing 23rd in the eventing jumping final at the Tokyo Olympics, but his unbridled passion never diminished. The rider continued to ride behind Seigneur Medicott and finished with 59.60 points after the rounds - dressage, cross-country, jumping qualification, and jumping final.
So far, Fouaad has completed Renswoulde NED CCI 4*S set 11, Jardy FRA CCI 4*S set 11, Strzegom POL CCI 4*S set 15, and Wareham NED CCI 4*S set 7. His next battles will occur at the Montelibretti ITALY CCI3*S (Italy) and Le Pouget FRA CCI4*S (France). Stay tuned for more!

Follow His Work