Meet the FIRST Indian Boxer to grab a Medal at the Olympics.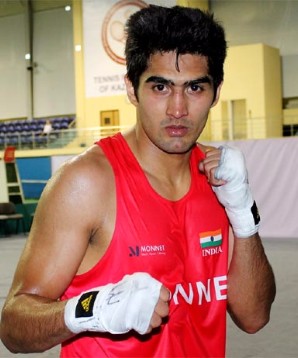 Commendable INDEED !!!
Despite his humble background Vijender had the grit to follow his passion and be the FIRST Indian Boxer to grab a Medal at the Olympics. His father, a bus driver who had to work overtime to make ends meet to ensure his sons Manoj (Ender) and Vijender's had their basic education and also to follow their passion.
Manoj, of course, learned the Boxing sport and was at the national level and Vijay followed in his footsteps. Joined the Bhiwani Boxing Club and would never miss a single day of training. His parents ensured that they provided him with good food and the encouraged him. Today he is a member of the club and a role model for many promising boxers.
Breakthrough ...He won a silver medal at the sub-juniors in 2003. This is when his coaches and his parents believed that he was an Olympic material. He was also keen on finishing his college and graduated Vaish College.
Not So Easy At The Senior
Many sportsmen do well at the juniors but it's hard to keep the momentum going at the higher levels too. One thing was for sure "Believed Himself" and soon became the senior's champ as well.
International exposure:
Since he was aiming to be at the International Circuit he did Win at the Afro-Asian Games, Commonwealth Games in Melbourn, Glasgow. However, felt the need to either hire a foreign coach or go abroad to train and that's how landed in Germany to train for the Beijing Olympics and won the bronze. Sadly bowed out of the London Olympics in 2012 after reaching the quarterfinals.
Acting Another Interest
He wanted to be an actor and did get a chance to be part of the 'Fugly' Movie which didn't do so well at the box office. He still wants to continue to act and try his luck if offers come by.
Awards
He was awarded the Rajiv Gandhi Khel Ratna in 2009, Padma Shri in 2010.
A Comeback Perhaps
2017

could be a lucky year as his promoters would like to see him on the Ring in China or Dubai or the UK or any other international level. He seems to still have the potential to continue for a couple of years more.
Bookofacheivers would love to hear about his performance and keep his fans posted.