First Gold for the Devil's Triangle at the Tokyo Olympics. Will it disappear ?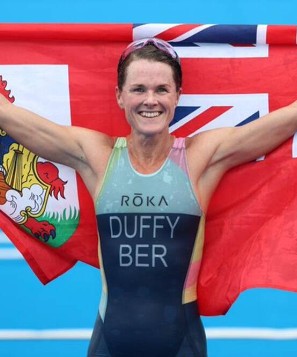 What diet means to an athlete? Just as important as a body part. Isn't it? What if an athlete develops an eating disorder? When the sport demands low body fat and if the athlete suffers an eating disorder, wouldn't that become the end of their career? Here is the story of an athlete who made her country stand tall by overcoming the constraints she had. For the first time, her nation secured a medal in the Olympics after she finished first in the triathlon one minute ahead of other contenders in the race. Her nation breathed with pride, as its flag was raised high into the Olympic sky. This is not just historic but beyond that. Let's get into the story of Flora Duffy, the pride of Bermuda, who has re-written the history of her nation on the Olympic skies with Gold.
Flora Duffy was born on 30th September 1987. She studied at Warwick Academy and then went to pursue her further studies at Kelly College in England and the University of Colorado Boulder from where she graduated with a BA degree in Sociology. As prominently known, she competed in the Beijing, London and Rio de Janeiro Olympics but has missed bringing the expected glory to the nation. In 2018, she participated in the XXI Commonwealth Games in Australia in the women's triathlon event and won Gold. She was also made an Officer of the Order of the British Empire (OBE) in the 2018 Birthday Honours, for her contribution to sports in her nation. She was a world champion in the 2016 and 2017 ITU World Triathlon Series and is also a world champion in the 2015 and 2016 ITU Cross Triathlon. She is also a five-time winner of the XTERRA World Championships. She also won the women's sprint triathlon in Commonwealth Games and became the first female Commonwealth gold medallist from Bermuda. She is responsible for the pride of 62,278 Bermudian hearts when she clinched a gold medal in the 2020 Summer Olympics. This medal is very special as it was not only Duffy's first Olympic medal but is also Bermuda's first ever gold medal. This medal also made Bermuda, the smallest country in the world to have won a gold medal in Olympic history. "I think (the medal) is bigger than me. It's going to inspire the youth of Bermuda and everyone back home that competing on the world stage from a small island is really possible," the golden girl said after winning the Gold for her country.
From Thinking It To Be The End To A New Beginning:
Flora Duffy has had her set of challenges that an athlete should otherwise not have, to build her career in athletics. She suffered a serious foot injury and was away from her career for about a year and the back pain she developed along with being stuck in South Africa owing to a pandemic, her expiring visa – all these made her journey to Tokyo Olympics, a tough one. Post her participation in Beijing, Duffy was diagnosed with an eating disorder. Her sport demanded low-body fat but she couldn't help herself come out of it. She almost gave up on her athletics career and took up a job in a tourist shop in Bermuda. Later, she enrolled herself at the University of Colorado, Boulder, and studied sociology. However, she made sure that she made a comeback and finished 45th at the London Olympics and 8th at Rio, rising to the top at the Tokyo Olympics. That's how this girl of strength overcame her disorder and fought back, giving her nation its lifetime glory.
Hats off to the pride of Bermuda and we wish that many more young sports enthusiasts come forward to keep letting their nation's flag fly high in the years to follow.