Farmer's son is the first Indian to be crowned Mr.Universe 2019- South Korean.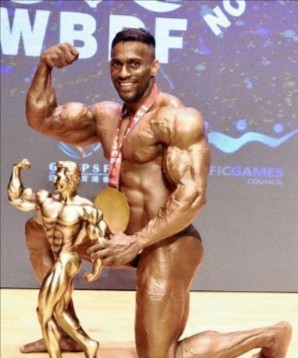 First Indian to win Mr. Universe 2019 at the 11th World Championship of Bodybuilding 2019
Chitharesh Natesan marked a milestone in the sport of bodybuilding by winning the title of Champion of Champions at the 11th World Championship of Bodybuilding and Physical Sports (WBPF) 2019 for the first time.The event was held in the city of Jeju, South Korea, where athletes from 38 countries and different categories met. During six days, between November 5 and 10, 2019, the Indian bodybuilders fought to win the team championship. At the end of the event, India won second place in the team championship with 23 medals and the title of Mister Universe for Chitharesh Natesan, who shouted: "God gave me this victory" when he received the title.
The year 2019 will be remembered as a year of great success for Indian bodybuilding, crowning for the first time the same athlete as Mr. Universe and Asian champion. "This year has been great and next year we are going to do more than that. I congratulate all the competitors," said Chetan M Phatare, General Secretary of the World Federation of Bodybuilding and Physical Sports and the Indian Federation of Bodybuilding and Physical Sports of India.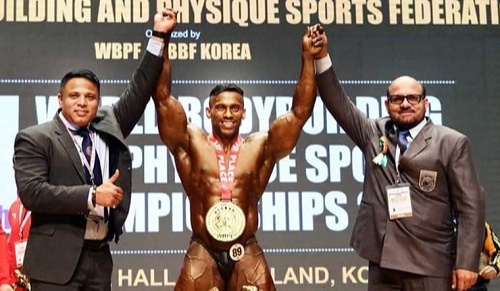 From University to Bodybuilding
Mr. Natesan is 33 years old and comes from Vaduthala, Ernakulam. This extraordinary sportsman has a degree in History from Maharajas College and was captain of the university hockey team. Upon graduation, he served as a personal trainer at the Rejuvenation Fitness Group in Delhi.
The Mr Universe of India practiced sports all his life, however, by dedicating himself professionally to personal training, he began a new stage in his sporting life. Mr. Sagar M P is his coach and was also his fellow student at the Lakshmibai National Physical Education College (LNCPE).
Train, Train, and Train even more
Mr. Universe, from the age of 21 he devoted himself to bodybuilding training with discipline, following a high-protein diet and a healthy lifestyle: "The more I got involved in bodybuilding, the more it became my passion. At first, I didn't have the resources or the trainer to do it. Once I got both, I devoted myself completely to this quest" he said. In this way, he was able to enter the circuit of bodybuilding competitors in India. He started in the competitions representing Delhi, achieving the titles of Mr. Delhi and Mr. India. Since then the road was one of the successes until the great triumph of Mr. Universe 2019 in Korea.
The successes are the result of long hours of daily training, every day, every month for several years: "What the judges are looking for is muscle size, body proportion, muscle conditioning and muscle acuity," says Mr. Universe, and to achieve this you have to focus on training: "Train, train and train".
In addition, he requires the support of physical trainers, trainers, nutritionists and doctors. It's a very hard life, but it's worth it: "Of course it's difficult, and there are limitations on what you can and can't eat, but there's no other option. I just have to do it," he said.
Mr. Universe is a family man.
The origins of Chitharesh Natesan were very humble. His father worked as a pawn in a private company for 28 years, now together with his wife Nirmala they care for cows and sell milk. When he was a child, Chitharesh helped by distributing milk and took advantage of the street to play hockey: "He was naughty and also sporting. He was focused on hockey, he used to leave home early to play. He wasn't good at academics, but somehow he managed to pass the exams," says his mother.
The house his parents now live in was a stable and is now occupied by his parents, two aunts, an uncle, and six cows in the backyard: "I want to build a new house for my parents as soon as possible," says Chitharesh.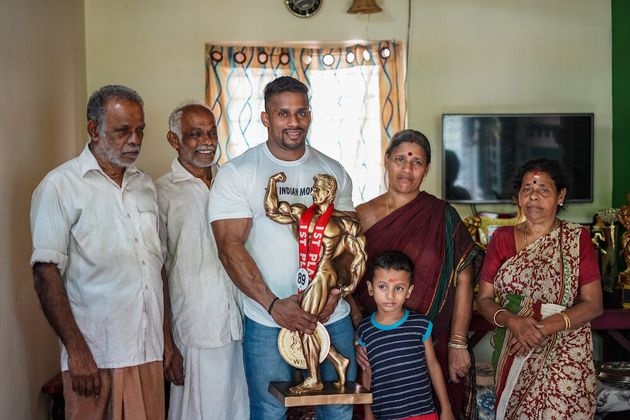 Dancing and training
Mr. Chitharesh Natesan has two great passions: bodybuilding and Latin dance. His wife is Mrs. Nasiba Nurtaeva and comes from Uzbekistan. Together they are an incredible dance couple. He asserts, with a special gleam in his eyes, that his wife is the great support of his career, helping him to maintain his concentration and not lose perspective: "I've been on a diet for eight months, without tea, candy or anything like that. It wasn't until I won the title that I started having a normal diet. Temptations can come up often, but we shouldn't give up. I thank my wife for accompanying me on this path to success," proudly said Mr. Universe from India.
Mr. Natesan and his wife Nasiba both have several future plans like opening dance schools, bodybuilding academy, do some social service, etc., and hope that one day they will fulfill.