Her effective communication with each sports person made her one of the finest coaches.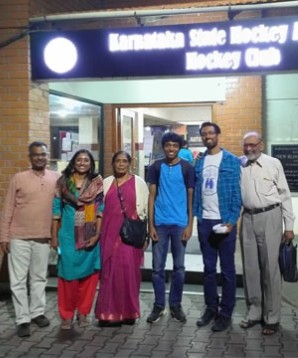 Preethi smiled happily. The party was a huge success. She clapped with the crowd as her parents cut the cake: a basketball, the sport her parents used to play and coach. It was a unique cake for a unique couple. Preethi reflected upon their journey, the couple who had struggled so much and yet given so much more…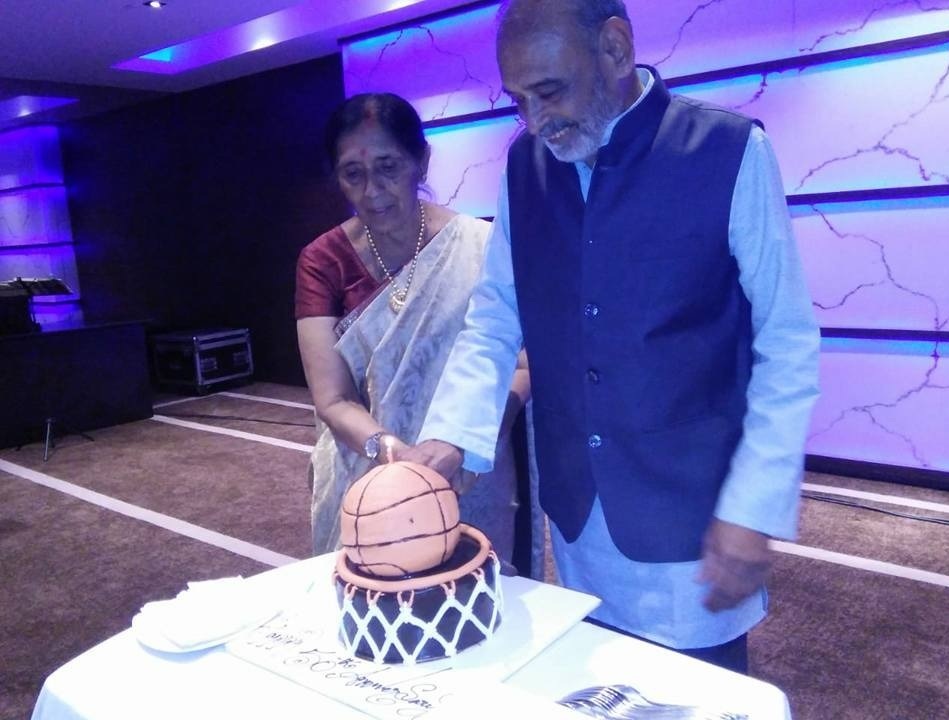 Poovi sat under the temple tree and listened to her teacher. He taught all the subjects for all the students. The class was an unruly mix, like a handful of different seeds thrown together in a bowl. Some of her classmates were older than her, some of them were younger. She didn't mind, as long as they did not underestimate her. If they did, then, well, let's just say she would give them a fitting answer!
This gutsy, tomboy girl, Poovamma, fondly called as Poovi, grew up amidst mostly men, which included her four brothers and her energetic, ahead-of-his-times father. She was the sixth child, and the family's first daughter. She was the most adventurous of them all, and would often be found playing, or trying out a new sport.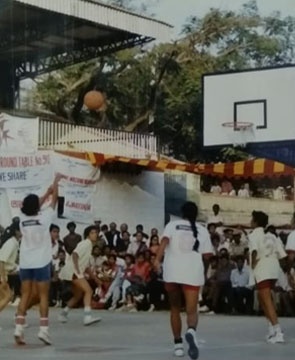 The temple education was only till she reached third grade. From there, she moved on to Gonikoppa primary school. She jumped school again in sixth and attended the Government middle school in Ammathi. Two years later, she and her father walked to Virajpet and came back with the news that Poovi was going to have quality education in the Saint Anne's convent. She started to begin "Hostel Life" in the Vidhyarti Nilaya nearby.
Saint Anne's taught her how to speak English. The institution had a rule that all it's students must know fluent English. And Poovi did not. The punishment was a fine. Yikes.
Poovi had to do something. After a lot of thinking, Poovi decided that the best option would be to remain silent and not say a word. While she did so, she would pick up phrases and sentences and use them in her conversations. Soon enough, Poovi could answer the nuns, the teachers and her classmates.
Saint Anne's was Poovi's first exposure to sports like netball. She was an exceptionally good shot, and would take diligently to any game she discovered. Poovi was unlike any girls her age. She was rebellious and had a mind of her own. She was fearless, and spoke her mind, unlike the timid girls her age. She had no interest in dolls and clothes, and would run off to play with her brothers. Sports helped her to become dedicated and determined. So when her brother failed high school, the dedication and determination helped her. How? Well, he hid Poovi's books in a petulant rage, aiming to make her fail like him. Little did he know about Poovi's determination! She would track her books down and read in hiding. It was a great victory for Poovi, and an even bigger mystery to her brother when she passed…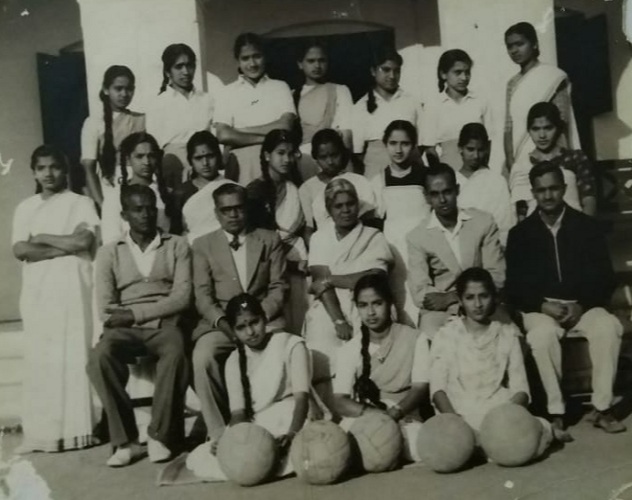 She soon hit a roadblock. Her father was reluctant to send her to a college in Mysore. Poovi was horrified. Father was reluctant! The same father who educated all his children, unlike their relatives and neighbours, the same father who proudly proclaimed her as another son of his, this was the man who was reluctant to send her to college! This was simply unacceptable to Poovi. She went on strike for two days, before her father finally relented to his iron willed daughter. She was admitted to the Maharani's College in Mysore, where she had to pay only the hostel fees as she was a farmer's daughter. At Maharani's, Poovi was introduced to the land of her dreams. She got to explore sports she had never imagined existed. Basketball, Throwball, Softball, and athletics, Poovi practised them all, and devoured them like a child devours a chocolate. All the two years she was with Maharani's, she was the College Champion. She would sweep the Dasara Independence Day events. All this encouraged her even more.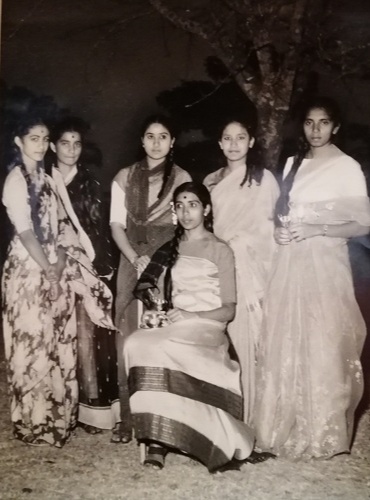 She took up Arts and moved to Maharani's in Bangalore. Here, she had more options and choices and was able to participate in Inter-University Competitions in sports as versatile as Discuss Throw.
Poovi was jubilant when she received a citation and a Silver Medal for Best Star Student. Unfortunately for her, the medal, which was pure silver, went missing. Poovi was distraught for a few days, but finally let it go. But life still had some surprises.
Her father passed away soon after the incident.
To Poovi, the shock was both emotional and financial. Without her father, the family started to slide down. Life, which till now had been rather comfortable, became a struggle. Poovi's dream of an M.A in sports seemed to be sinking. She registered herself in the Employment office.
Soon, a letter telling her that she was selected for a training camp in Rajasthan arrived. To Poovi, it was God - sent. Her brother was incredulous. They were struggling for three square meals a day, and his sister wanted to go to Rajasthan?! But Poovi was firm. "I'd rather go there and work hard than do nothing here!" she told him.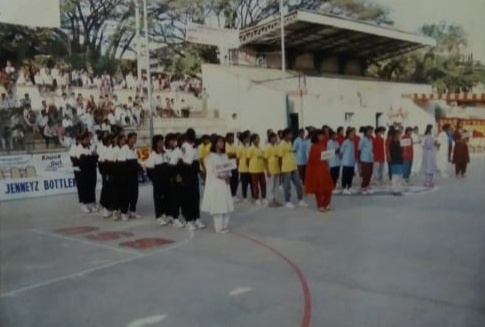 In the end, they needn't have worried about the finances. It was paid for by the Central Government.
She was the only woman in the group, but she was as determined and experienced as any other man. They were transferred to Delhi on the 31st of December when temperatures dropped to one degree celcius. They were unprepared for this weather and had no warm clothes. They spent seven months in training. Poovi was directly appointed to the MEG Central School in Bangalore, where she met Vaidyanathan.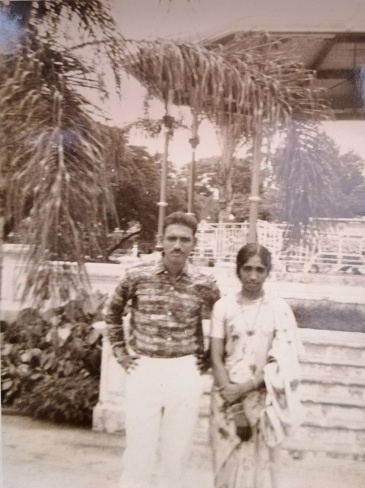 Vaidyanathan had been transferred from TVM in Kerala. It was here that they both met. They met each other for four years before she finally married him at Tirupati, after she completed a training camp in Patiala in 1968. Both families were vehement in their disapproval of the marriage, but the couple came together with the Lord's blessings and their love. They were the perfect couple, living and breathing sports, and so joyous in their love… They had a daughter, Preethi in 1969. Poovi joined Mount Carmel in 1970 as a Basketball coach and became indispensable. Her no-nonsense attitude made her well known in the college. Her energy was commendable, as she would cook and take care of her family while simultaneously studying for her MPEd.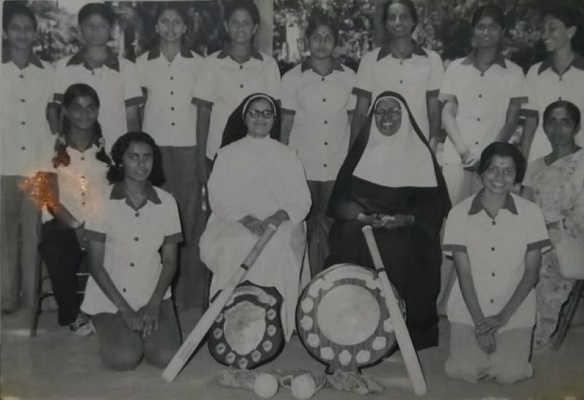 "Even now," Preethi remembered, her favourite photo of her mother is the one where she stands with her group at the camp, only woman in a group of men, sitting strong and determined.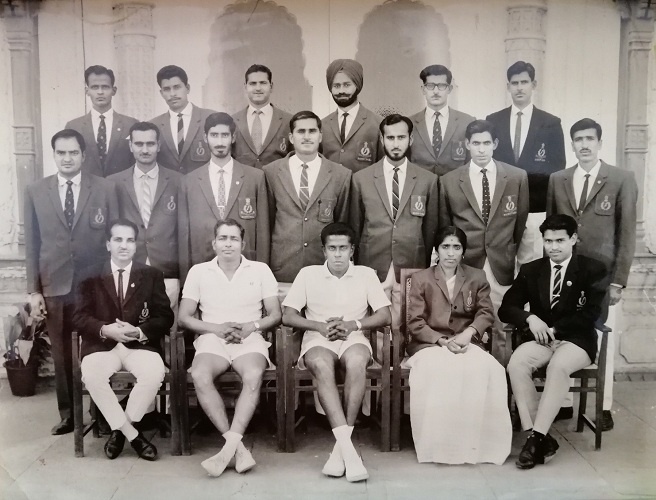 "Preethi? Aren't you joining the photograph? Are you thinking about the US again?" joked a guest. Preethi snapped out of her reverie and joined her parents. "They are literally glowing! I couldn't have asked for better grandparents for my two kids…" thought Preethi, as the evergreen song yeh shaam mastani played breezily in the background….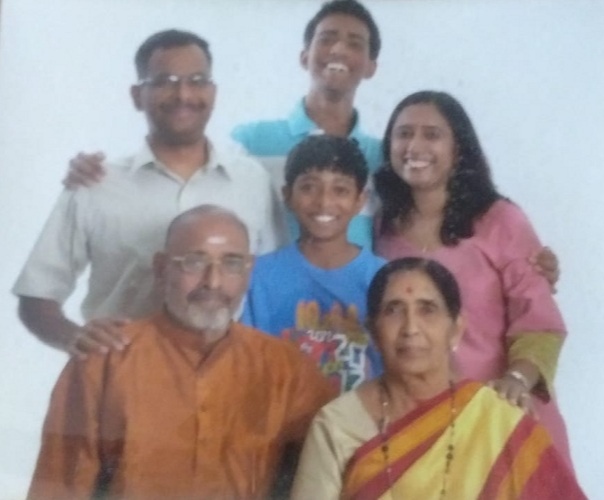 Poovi finally realised her dream of an MA and led the University Team to national events. The Mount Carmel Team became legendary. Her students still remember her and her coaching skills. They remember that she, with Vaidyanathan were the most energetic couple. Their enthusiasm was contagious, and the whole college was affected.
While Poovi was a busy mother, Vaidyanathan was a caring and loving father, erstwhile students acknowledge. More often than not, Preethi and her father would be at home, while Poovi toured with the team for weeks... Vaidyanathan was born in South India, seven years before the country was liberated. He too found his calling in sports and did a Master's degree in physical fitness and coaching, as well as many professional courses of Physical Education.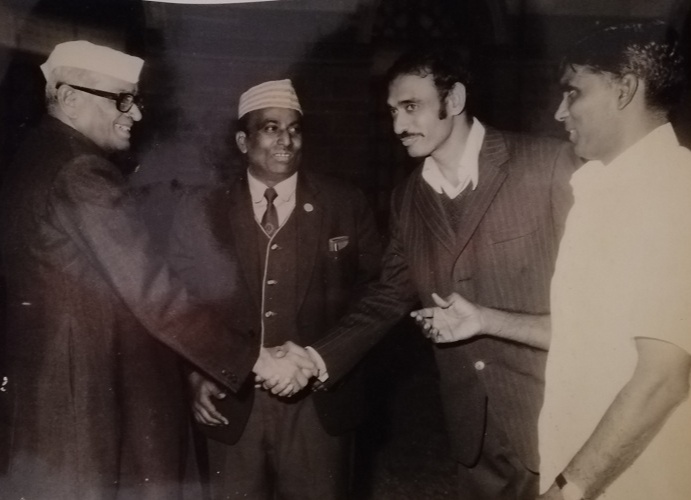 He had joined the College of Physical Education in 1967, just a year before he married Poovi, with a lot to give and nothing to expect in return. He was with the institution for thirty five years, before becoming the Dean of education at the Bangalore University. He retired in 2000 after founding the popular Mount's Club. His ex-students and colleagues all joined the fast growing club. Thanks to Vaidyanathan, they had another reason to live for sports now. Vaidyanathan was, and always has been loving, helpful and emotional. He has a big love for cooking and an even bigger heart. This helped Vaidyanathan to touch many lives and influence even more, agree his family and friends.
Many students remember Vaidyanathan with amazement, love and gratitude evident in their words. A student remembers, "We were in Kerala and we were in the finals for the Nationals. I was the captain. I was devastated when we lost by just one point… I started to cry, I was that shattered. It was then that sir came up to me and consoled me. He asked me why I was crying. "You are receiving the Best Player Award, so why are you crying?" he told me. I still remember his words to this date… He was the most amazing coach I have ever seen in my life… I have never seen him utter a harsh word to anyone, ever…"
Vaidyanathan, an educator, was the head of a committee that made Physical Education and it's teachers as important as any other subject (the L.R Vaidyanathan Committee report) And despite all these responsibilities and achievements, he still found time for his daughter and his wife. Poovi too carved out some time for her family, and they knew themselves to be the happiest of all. The equilibrium between family and work was well maintained, and they were well known within their social circles. A Carmelite, Elaine Fernandes remembers the good old days in a facebook post, while she toasts the couple on their Golden Jubilee Anniversary: "…. With Mr. Vaidyanathan's backing and support we got to participate in Tournaments across the country and returned with trophies.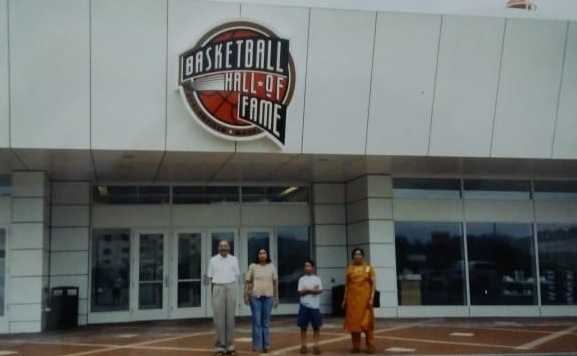 Hitching at 7 AM to Jayanagar was an acceptable norm and Mrs Poovamma was game to be part of our gang!
Thank you Mr Vaidyanathan for holding fort at your home – we now know the difficulties if running a home….."
For instance, when Poovi entered the club with Vaidyanathan, he was promptly renamed as Poovappa! Even to this day, his students always refer to him as Poovappa.
The couple was generous and caring. Anybody who came to their doorstep or their home, almost always went back with a full stomach or a heart filled with gratitude. Help was always readily available, and their friends and family benefitted from it. The couple were unique and like a fresh burst of air in many lives. A niece remembers, that when she would visit Bangalore, Poovi would drop everything and sew her a set of clothes. But most of all, they were supportive of each other. Poovi says that without Vaidyanathan, she would not have gotten this far. "He was so supportive, he let me take up a job and earn, unlike most husbands then!" she acknowledges. "He never tried to rein in my independent spirit. I am thankful to him for that."
The former captain, Jayavanti, who dedicates her victories to Miss Poovamma, remembers " A funny instance was when the couple would go to Jayanagar and the crowd", which knew them well, would start a parody on Poovi, which went like this:
"Ding dong bell
Poovamma's in the well
Who pulled her out?
Poovappa pulled her out!"
And Poovi would stare at the crowd, annoyed. "The Jayanagar crowd used to rag her a lot!" laughs Jayavanti.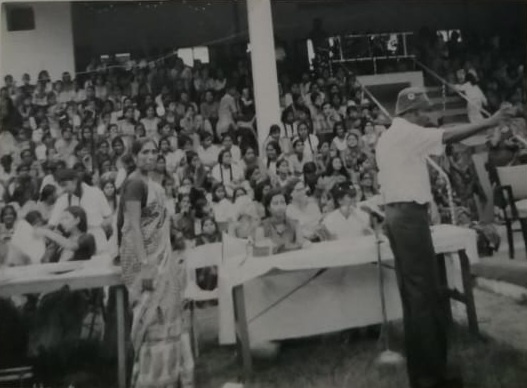 Seethamma, a former student of Vaidyanathan remembers, "Both ma'am and sir would be at the track at around seven and be ready to run and practise. The level of energy in them was simply amazing!" Poovi was proactive in reserving seats for students who caught her eye and would train them relentlessly months before admission. This was just one of the many tricks she would use to make the team strong and earn it's legendary reputation.
A few years later, Poovi was awarded the Dasara Award and the Rotary Excellence award for her contribution to Indian Sports, for producing players that can make our country proud. The captain, Jayavanti has led many national tournaments under Poovi's leadership and also received the Dasara Award. She still dedicates her victories to her coach, Poovamma.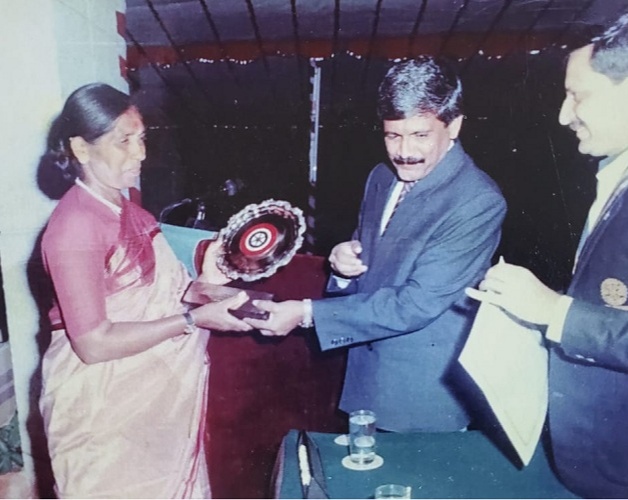 Poovi did receive many awards in her days, but she got something more than that. The pleasure of seeing her students play on national and international stages was better than any medal she could ever receive. Poovamma and Poovappa both had the satisfaction of grooming young rookies into star players, and give something back to the world of sports. It is said that the real gurudakshina of a student to his/her teacher is when he/she becomes better than their teacher themselves! The joy of seeing a student receiving an award and knowing that she/he is remembering the coach was better than any award, citation, medal or title they had both received in their lives.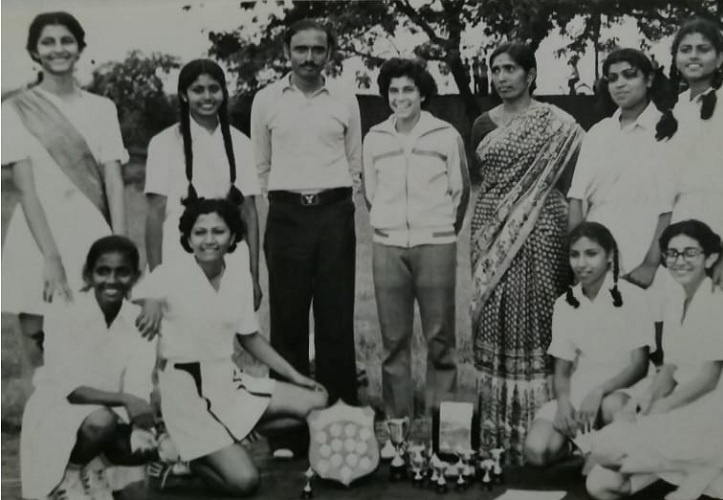 The Mount Carmel Team won more than a hundred trophies in the twenty five years Miss Poovamma coached. It was a widely known fact that when any sports team was accompanied by the legendary Miss Poovamma, the Mount Carmel Team would win. The team was much feared, and it became a legend, because of Poovi. The news of Mount Carmel participating was enough to make the opponent team accept defeat!
Listening to Poovamma and Poovappa's story makes you feel amazed. Poovi has become an epitome of determination and energy for her students. It is no ordinary thing to come from a tiny village and coach young stars and win 100 plus trophies and medals for your college. Poovappa is an icon and his students are ever grateful and full of admiration for him. His values of patience and gentle ways have earned him respect and admiration from all his students, and touched many, many lives. But the most respectable fact about this couple is the very rare quality: the quality of giving generously and expecting nothing.
Poovamma and Poovappa's story shows us that when you have passion, determination and a kind heart, god will be on your side and will help you to touch many lives, just like He did for this couple….
Poovamma and Poovappa are relaxing and enjoying their retired life. God bless this wonderful couple.