Breaking all records and giving Hima, Dutee a real run for their money. An Olympic hope??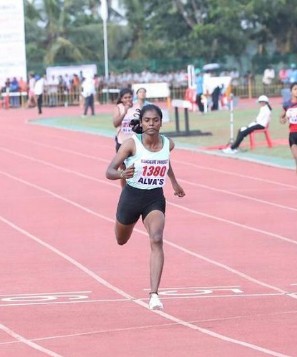 She was just an athlete with no spotlight on her, aspiring to carve her mark in the field until she made it to the news by obscuring prominent sprinters of India. When a 22-year-old woman beat Hima Das and Dutee Chand along with breaking the 23-year-old record of P.T. Usha in the 24th Federation Cup National Athletics Championship held in Patiala. This overnight star didn't shine just out of luck or good times. It involved a lot of struggle and toiling of years to reach where she is today.
Sports - A Gateway To A Dignified Life:
Dhanalakshmi was born on 5th June 1998 in the village of Guntur near Tiruchirappalli in Tamil Nadu in a family of five. She and her two younger sisters were raised by her mother who worked as a domestic help after Dhanalakshmi's father expired at her tender age. Unable to afford good education and being the elder one, Dhanalakshmi decided to take up a sport so she can apply for the government jobs under the sports quota. When she was in college, she played Kho Kho but it was in 2017 that she was introduced to the field of athletics by her current coach Manikandan Arunmugam, a prominent Tamil Nadu-based sprinter. It was he who suggested Dhanalakshmi to take up athletics. "She didn't have the right technique, but she had the basic (raw) speed. You can't teach that," Manikandan said. Dhanalakshmi fell into the eyes of Manikandan when she used to visit the ground along with another Tamil Nadu men's sprinter Elakkiyadasan Kannadasan where Manikandan trained. It is where Manikandan identified that the girl had a special flair that suits athletics. Manikandan, who used to give advises to Dhanalakshmi, is a sprinter and takes part in departmental and inter-state meets. He has been a part of the national camp and won a bronze at the Asian Grand Prix too. Manikandan who got a job in the Railways wants to help other athletes too. But in 2020, he took a break and focussed on coaching Dhanalakshmi full-time. Not just as a coach but Manikandan also helps the young girl with the required nutrition and equipment. "I know what it's like to be hungry but also how athletics can change lives. We've been working on her running action and speed. She has adapted well to all the workouts. Even during the lockdown, we would connect over video calls and do workouts. Then, we would meet on the railway ground in Trichy. The weight and hill training and the sand workouts that we focused on last year are proving to be useful now", says Manikanda Arumugam, Dhanalakshmi's coach.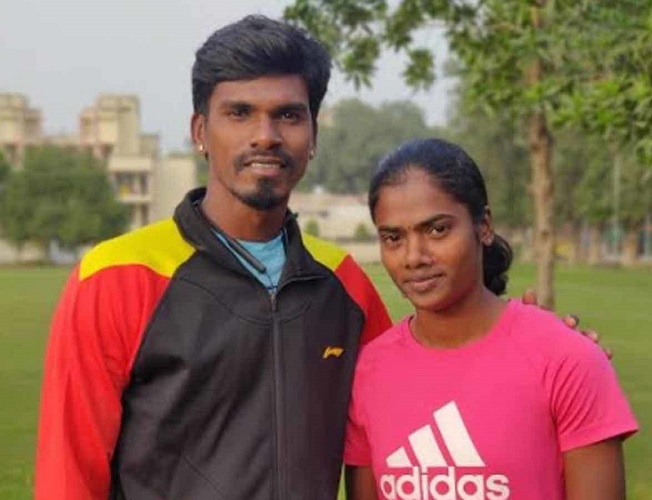 Into The Field:
It was in 2018 that Dhanalakshmi jumped onto the tracks to show the world the athletic side of her. She started with the 100m and 200m at the Tamil Nadu State Championships held in Tirunelveli and finished third. She then sent A.Chandralekha, the erstwhile National Open 100m champion to the backseat in a University Meet at Tiruchirappalli. The following year, that is 2019 dropped a wave of medals into the girl's pocket. She brought home, a bronze medal in the 200m in the Federation Cup in Patiala. In her first overseas meet in France at Pezenas, she clinched the gold medal in 200m and silver in 100m. Though she failed to progress beyond the heats at the 2019 Universiade in Napoli which was her first B category event, she bounced back bagging bronze at the 2019 Inter-State Championships in Lucknow, in the 200m event being a part of the Tamil Nadu team. At the inaugural Khelo India University Games in Odisha, she kissed Silver and later the pandemic paused her running feet for a while in 2020. During this time, she lost her sister to an illness which turned out to be an emotional struggle to the young sprinter. January 2021 greeted her back with gold medals in the 100m and 200m at the Tamil Nadu state meet held in Sivakasi. Financial constraints kept her away from the Indian Grand Prix but there came the Federation cup where she quenched her thirst. She swept the records established by the notable Indian sprinters like a hungry tiger. In 100m, Dhanalakshmi clocked 11.38 seconds qualifying for the finals as the fastest runner. She ran against Dutee Chand and Hima Das in the final in 11.39 seconds to beat Dutee (11.58 seconds), bagging the gold. She thus secured her first national-level title giving Dutee her first loss at a domestic 100m event since 2015. Hima Das, who was disqualified from the 100m race for a false start, was eclipsed by Dhanalakshmi in the 200m heats. She crossed the finish line in 23.26 seconds beating Hima Das' timing of 23.49 seconds, to qualify for the final race. The Tamil Nadu runner's time was also reported to be four-hundredth of a second faster than PT Usha's timing at the 1998 Federation Cup in Chennai and thus, this young lady broke the 23-year-old record of P.T. Usha. "I knew I was competing against Hima Das and Dutee but that was the extra motivation. The spotlight is always on them, no one bothers about the others and I was determined to change that," Dhanalakshmi told. In the 200m final, Dhanalkshmi had to bag a silver medal running seconds behind Hima Das, who ran a 23.21-second medal race.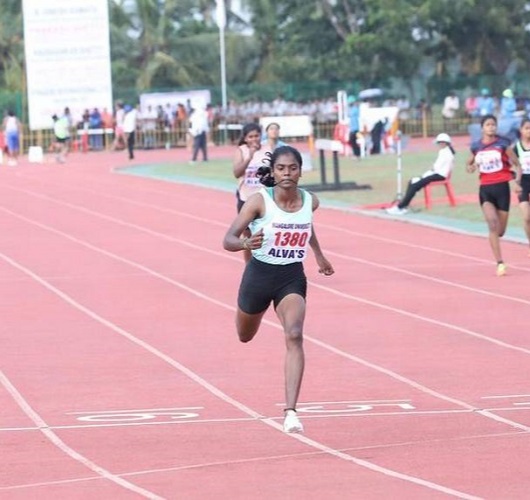 Aspirations - High And Set:
Though Dhanalakshmi has swept the records set by noteworthy sprinters of the country, she still has to wait to be qualified for the Olympics. While talking about her future prospects, this running queen says, "The qualification time for 200m and 100m events in the Olympics is 22.80 seconds and 11.15 seconds respectively. I am confident I'll be able to achieve it in the coming months. In Patiala, I'll be training with Dutee, Hima and other top athletes, so it will help me better myself". Even before the Olympics, Dhanalakshmi still has other platforms to show who she is and hone her skills. An inter-state event happening in June in Bangalore and a couple of international competitions are lined up for the girl in the next few months. Also, there is the 4X100m relay event that the Indian women athletics team is aiming for. "There's a good chance for qualifying in the 4X100m relay for the Olympics. We have a strong team comprising Dutee, Hima, Archana (another sprinter from TN) and I.", she says. Also, the World Athletics Relays is happening in May in Poland. "We are hoping to qualify for the Olympics there.", she expresses hope. Thus, in future, we can see her qualifying for the Olympics but for now, we wish her hope of landing into a government job so she can support her family comes true. May she be able to secure her family and herself financially with a job and that works like a key to take her confidence levels to the next level.