The most awaited Dronacharya Award is presented to the most experienced Indian Archery coach.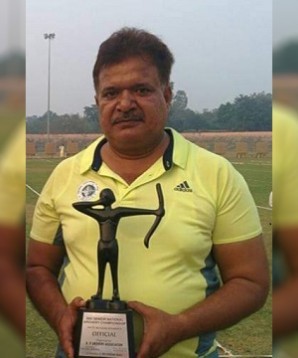 Jayant Talukdar, Rahul Banerjee, Reena Kumari, V Pranita, Deepika Kumari, Atanu Das, Bulbul Marandi, Chakravolu - wait, wait. So, have you recognized these names? Why not! All these are the great Indian archers who brought home medals on multiple events and have made the country stand with pride on various national and international platforms. Behind every successful student, there are unremitting efforts of a teacher. With distant vision and a crystal clear plan, a guru leads their disciple towards the end ribbon. The guru behind all these archery icons is Dharmendra Tiwari, the most experienced and distinctive coach in Indian archery.
Immense Experience and A Deserving Recognition:
Dharmendra Tiwari has been extending his services as an archery coach since 1993 that is for the past 26 years. He has successfully trained more than 250 archers till date. For his commendable contribution as an Indian archer and coach, the Government of India conferred him with the prestigious Dronacharya Award on the occasion of National Sports Day on August 29th. The awardees are presented with a cash prize of Rs.5 lakh and a trophy.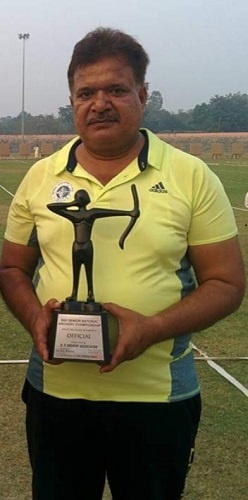 Started With Cricket But Ended Up As An Archer:
Dharmendra Tiwari was an ardent lover of cricket and Yoga in his initial years. He lived along with his father Bhagwan Tiwari and mother A. Devi in Burmamines where he used to play cricket at the BPM school ground. He allotted the morning hours to Yoga and the evening hours to playing cricket. There is an ATC Archery Club next to the BPM School. It was 1985. The Archery club's coach D.K. Sarkar told Dharmendra's father that there's no life in cricket and insisted him to enroll Dharmendra in archery. Bhagwan Tiwari thus enrolled Dharmendra in archery. Though he didn't like archery in the beginning, his winning the gold at the state championships in Patna in 1985 triggered his interest. Later, in 1986, Dharmendra represented Jharkhand in a team event and won another medal thus setting his journey on the track.
The Bow That Shot Sharp Arrows:
After his initial winning events, Dharmendra Tiwari went on to play the rural national in 1987 in Faridabad where he won the gold medal. While it was announced that the gold medal winner will be gifted with a TV, Dharmendra Tiwari bagged two TVs in that tournament- one for his winning in the archery tournament and the other was for his spectacular yoga performance at the closing ceremony of the award distribution. In 1988, before the Olympics, an Indian archery special camp was set up at the Jawaharlal Nehru Stadium in Delhi to which Dharmendra was invited, and exactly at the same point, he had his Matriculation examination. He missed his matriculation examination at that time but this student of RD Tata School privately appeared for his exams later. What started in 1985 continued till 1993 and after the Senior National Archery Championships, Dharmendra quit archery and resolved to become a coach.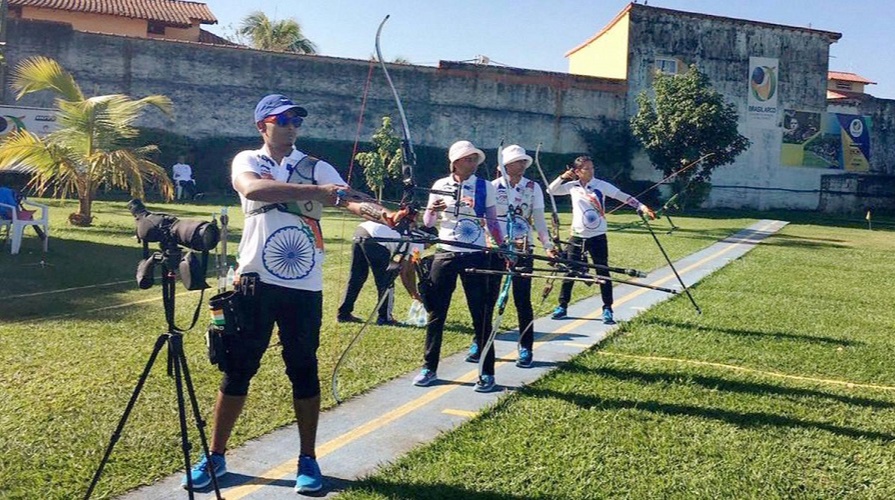 A Guru Who Sharpened the Arrows:
Dharmendra started as a coach at the Jamshedpur Women's College where international archers like Jhano Haszada and Jiva Jarika received training. Dharmendra later contributed his services from the Tata Archery Academy that has a track record of winning more than 1000 medals - 350 international with 20 medals in the World Championships and 50 medals in the World Cups. This track record has its one solid reason - Dharmendra Tiwari who is the first coach of Tata Archery Academy. Established in 1996, this academy had Dharmendra as its assistant coach. Dharmendra also coached the Tata Steel Team besides the Bihar and the Indian archery teams. Dharmendra strived his nerves out and stood out as the main reason for the nation to bag the First Asian Medal in 2006. When Ravindra brought the bronze medal home, it stood out as the happiest moment in Dharmendra's life. Under his able mentorship, Jayant Talukdar, Mangal Singh Chandia, Tarundeep Rai and Biswas Kumar won silver medals in the Junior World Championship (UK) in 2004. Of course, we all surely know the names of Reena Kumari, Dola Banerjee, V. Parineeta, Lakshmirani Manjhi, Deepika Kumari, Jayant Talukdar, Rahul Banerjee, Atanu Das who clinched their way to the Olympics and thanks a million to Dharmendra for his guidance and training.
On the whole, his commendable contributions to the Indian archery made him the third person to receive the Dronacharya Award from Jharkhand. When a player is backed by such a diligent coach, will they not bring home medals? The award is not to Dharmendra's glory but it is surely the other way around.