"Doing Your Bit' contest winner is winning hearts by Up-cycling old saris.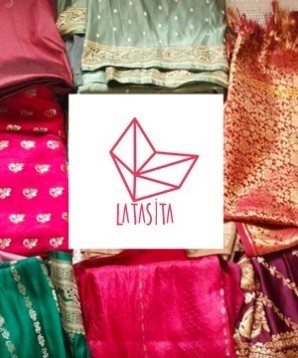 The Doing Your Bit contest by Eco India scrutinized the remarkable works of numerous applicants. The main aim of the contest is to curate all the projects that are incubated to benefit the earth, create sustainability and make this world a better place to live in. The eco-enthusiasts who are drawn by the environmental concerns around them, take revolutionary steps to address them. Also, converting and connecting these steps to create a social enterprise gives monetary benefits to the people who are involved in the enterprise, enhancing their lives along with ensuring zero harm to their health as well as the environment. Finally, the jury of the contest landed on three winners, one of which caught our attention as it made a deeper sense. It is LataSita by Meghana Nayak. The idea is Zero-Waste Fashion.
Old Clothes - An Emotion:
Your mother's favourite Zari border Sari is lying in the cupboard for ages. You love it so much that you don't want to dispose it off or you cannot even wear it as it has got colour-faded at some places. Your wedding Sari is looking at you painfully as you have lovingly embraced it at the time of your wedding two decades ago, but then left it lonely amidst the walls of your wooden cupboard ever since then. You also feel empathetic but can't help. Don't worry. Gone are those days when you worried about the old, worn out, yet sentimentally affectionate clothes lying in your wardrobe for ages. Take them to this Kolkata designer Meghna Nayak and see them turn into attractive lehangas, jackets, salwar suits, overcoats, and into almost anything that appeals to your fashion sense.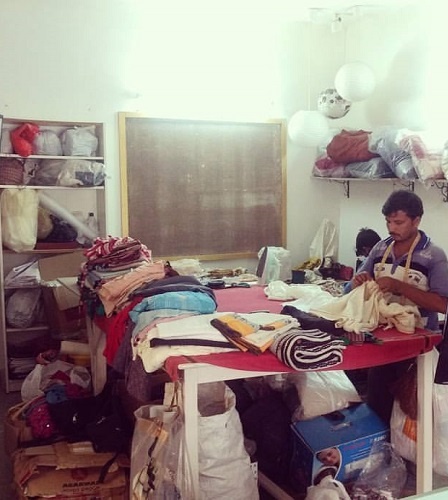 One day, Meghna received a message that blew her mind. A woman reached out to her saying that she wants to up-cycle her divorce Sari. The woman got divorced a year ago and as she wants to start everything afresh, she wants to "reshape" her life including the sari she wore on the day of divorce. And there she was, at the right place, contacting the right person. Her divorce Sari was turned into a super cool, glamorous trench coat. WOW!! The magician who did this is the founder of the brand LataSita, Meghna Nayak.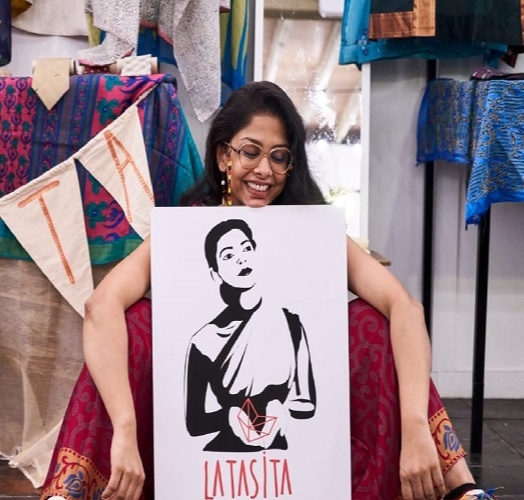 Re-fashioning the Old Fashions:
Re-shaping the old saris was a concept that was confined to turning them into kurtas and cotton under sheets for babies. But what Meghna does with them is totally different. Meghna aims to get all those wardrobe-struck saris to breathe by infusing them with a variety of colours, designs, patterns, and make them look adorable and elegant. This very thought formed the first stone to build the brand LataSita in 2012.
A Journalist Turned Fashionista:
Nayak graduated in journalism at the University College Falmouth in 2008 and worked in the UK for a few years post which she returned to Kolkata in 2011. She joined The Telegraph and there, she extensively wrote on environmental issues. Though she always wanted to pursue environmental journalism, the way its calling was in India didn't seem appealing to her. No sooner she found her interests in the fashion industry. The experience of stitching her own clothes when she was a teenager and her interest in learning patterns and new waves of stitching techniques made her dip her toes into the fashion industry.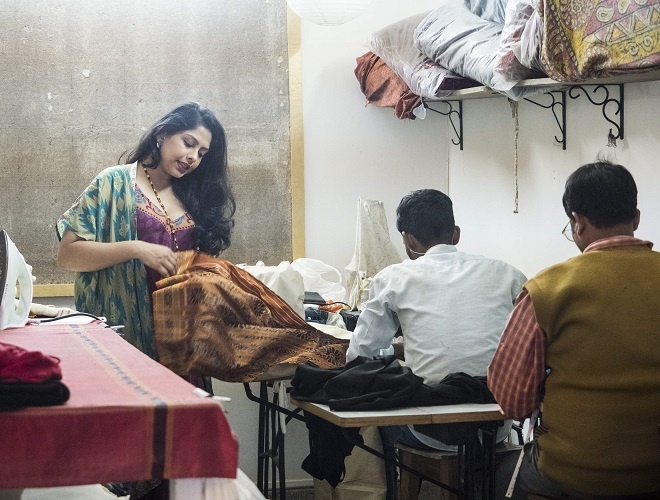 Fashion+Eco-concern = Sustainable Fashion
This environmental warrior coupled her concern for the environment with her interest in fashion and this gave life to an eco-friendly fashion solution LataSita. This brand works on two basic principles. While one is to define itself against the current fast fashion and sweatshop production, the other is to redefine and refashion old saris. Her team of four members does their business across the country as well as abroad from their Kolkata studio. They make around 35 pieces a month and sometimes they receive bulk orders ranging to about 400 pieces. The price shoots higher as compared to that of the current fast-fashion pieces but the prices are worth the effort. Just a simple logic - If you buy a table worth Rs.100 that gets worn out over a period of three years, doesn't decompose once you throw it, and also causes health risks during its production phase; is it worthy? Or a table worth Rs.1000 that doesn't cause harm to people either during manufacturing or doesn't harm the environment in any phase of its production and disposition lasting for more than two decades in your house is worth? That's how it works. Reliability, quality of the product, sustainability, pollution and toxic-free production, longevity - all these factors come to determine the price of the product. Sustainable fashion thus has become elitist. It has to be more expensive than the textiles and garments that are mass-produced. Thus LataSita's prices range from Rs2,000-5,000, shooting up to Rs 15,000 sometimes depending on the type and work. Responsible clothing, she says, is expensive. She says that luxury is when no person or planet has been harmed during the production of the item.
Let's See How It Works!
Nayak tries to use the whole sari without wasting a bit. Sometimes, even of the sari is stained in some places, owing to the sentiments and emotional connect; she ensures that such stained areas are used in inner linings for the garment. Thus, old saris are recycled and reshaped into stunning new garments to suit the evergreen trends, also saving them from deteriorating in landfills or cupboards. Meghna makes sure that the whole of the garment is completely up-cycled.
The welfare and standard of living of the staff that work for the brand in every phase of its production is of topmost priority. Being a social enterprise, the motto of LataSita is to spread the benefits of sales and earnings to the community they are serving in irrespective of how much they earn. That means, the surplus earned is invested back into the project or is let flown into the community. In short, commercial activities coupled with transparent social benefits. What about the scraps produced during the production? They are donated to the NGO Goonj based in Delhi. These scraps are recycled into sanitary napkins with a mission to make menstrual hygiene a part of every girl's life.
A Sustainable Thought:
According to Nayak, our future is totally dependent on how we manage waste. And what Meghna does is exactly the same.
"When you absolutely have to buy, go for quality and sustainably produced options rather than piles of fast fashion"., She says.
When we see such young minds coming forward with passion, spirit and resilience in setting benchmarks for eco-sustainability, why not join hands and support such social enterprises? When we support and opt for products designed by such green brands, it means we are taking a part in uplifting the lives of people in our community as well as becoming instrumental in protecting the planet. Just think of it!

Know More About LataSita

Follow There collections

Check Out There New Works