New promising Bodybuilder from Tumkur is set to grab intl fame. Its the support she is looking for.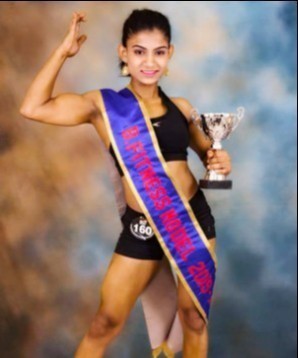 While middle-class families come majorly with a mindset that their children should study well and come up with flying colours in their lives, taking up good jobs and not suffering financial hardships as their parents did, there are many youngsters from the middle-class background who have high aspirations but have to suppress their goals just because they are either not encouraged owing to factors like financial constraints or conventional thoughts based on gender. Some people, however, break barriers, set themselves free from all kinds of pressures and walk with high-held aspirations. Just a small push and they are ready to fly. One such high-spirited young girl has been setting an example to all those who fear family constraints and societal pressures. She is Poojitha MR, a fitness enthusiast - her story is beyond inspiring.
Love For Sports Since Childhood:
Poojitha MR was born on 25th October 2000 in Matanahalli village of Sira town in Tumkur district, Karnataka. Her father Ranganathappa is a primary school teacher in Magodu and her mother is a housewife. Poojitha went to Sri Vasavi Vidya Samaste in Sira. She went on to get her PU education from Sri Ranganatha PU College, Sira. She is currently pursuing her final year of B.SC in Government Degree College, Sira. Ever since childhood, Poojitha was interested in sports and had always been giving equal weightage to sports and academics. She was a national level badminton player and was also selected to play for the state level football team when she was in high school. Unfortunately, her family problems at that time did not let her attend the event.
Entry Into The World Of Fitness:
When Poojitha was pursuing her PUC, she was 17 years old and had suffered anaemia at that time. She was extremely weak and due to her fragile health, she started to feel depressed. Her weak health did not even let her score well in exams landing the girl with 87% in her 10th Boards at 65% in PUC. This attracted taunts from relatives who considered her to be a failure. She started to feel extremely low on her physical, mental and emotional ends. At that point in time, she introspected and realised that if she concentrates on making herself fit and healthy, rest everything will fall into place. She thus decided to go to the gym and continue the take up the sports that she left behind. However, things changed when she joined the Karnataka Health and Fitness in Sira. Her coach Mr Manohar, along with his brother Srinivas, who was Mr. India, guided her in the best possible way.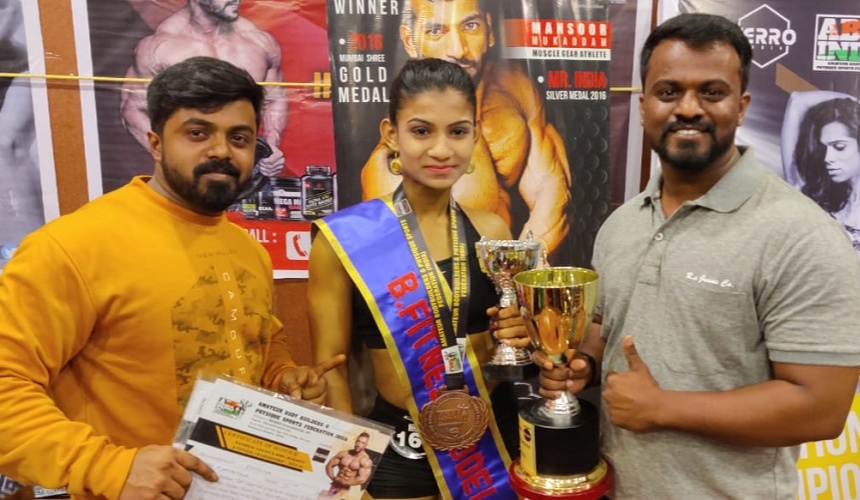 Eventually, her eyes fell on the weights there and she started weight lifting and stepped into bodybuilding. "Girls can do anything as compared to boys. Why not bodybuilding?", She said. She has got initial resistance from her family and relatives but her father never withdrew his support for the girl. "He was my greatest support system", she says. With her father's unending support, Poojitha stepped forward into what was otherwise called a man's sport, bodybuilding. It's an expensive affair with an everyday diet costing her around Rs.1000-1200, still, her father didn't stop her from what she aspired to do. Her day starts at 4 am and after preparing meals, she hits the gym and works out till 8 am. From 9 am to 3 pm, she attends her college, again goes to the gym from 5 pm to 8 pm, post which she goes home and ends her day at 11 pm. She runs 5km every morning on empty stomach and walks for two kilometres. Such strict training and diet plan doesn't give her any pain because she loves doing it and that is what she wants.
Climbing Up The Ladder:
Poojitha first took part in Miss Bangalore 2020 competitions, her first-ever stage to display her talent. She finished fourth in her debut competition. This definitely gave her the required courage to excel further. She went on to participate in Bodybuilding at the National Championship where she has won the competition and got selected for the international. This amazing bodybuilder took part in Muscle Mania India 2020 where she stood second. Without being disappointed about not grabbing the first place, Poojitha continued to work hard and her sweat turned sweet when she proudly stood first in the National Amateur Category on 3rd February 2021. She went on and bagged the title of Miss Karnataka 2021 organized by the National Physique Committee on 5th March 2021. The one who finished fourth at Miss Bangalore 2020, became the title winner of Miss Karnataka in 2021. Is it not a journey of endurance and perseverance?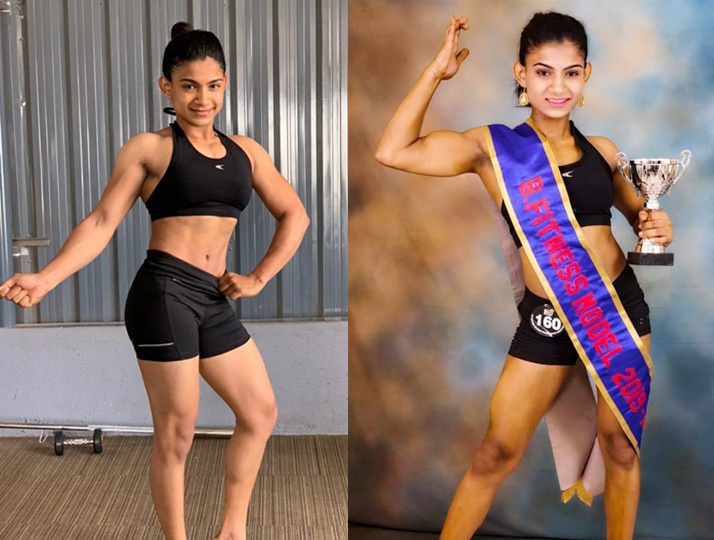 The Days To Come Have So Much To Bring:
Poojitha is gearing up for Miss Olympia to be held from 3rd to 6th December in Mumbai. She also says that her dream is to get an IFBB Pro card so that she will be eligible to compete on international platforms. "Till now, only two from Karnataka achieved this feat and I would like to be the third one", she said. Though she has financial constraints to support her diet and training every month, she still looks forward to making it big overcoming all odds. She expresses hope that she will be supported by some big hearts. - If anyone wants to extend their support connect poojitha at poojitharanganath1v112@gmail.com
Her Words Of Advice:
To all those who fear circumstances, Poojitha says that it's no way back to those pre-independence days where women had no freedom in doing anything. Days have changed and women can very well do what they choose to. To all those who aspire to step into the world of fitness, she says that it's not a habit but a complete lifestyle change. "Hard work and consistency are the keys to success in the field of bodybuilding. Just enjoy the process", she says.
When your passion is driven by how you want to showcase yourself in life, then, one day, you are sure to achieve your dreams, come what may. We wish Poojitha to achieve all that she wants in life. May she rise higher and shine brighter.