Dashing Sprinter U 16 re-writes the National Record Books by clocking 10.76 seconds at Kehlo India School Games, Delhi.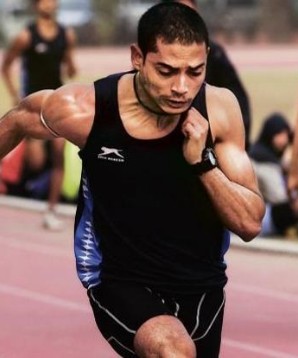 Lightning Speed
16-year-old Delhi's Nisar Ahmad became the Fastest Man in India (U 16) for smashing the national record by clocking an impressive 10.76 seconds despite stumbling at the Block. Even more impressive was he finished almost 25 meters ahead and competition was not tough enough looks like. If the competition was stiff surely he would have done even better than this. Now, his next goal is to better his own record soon. Everyone from his fans to coaches and journalists were present to watch this historic win on the 2nd February at the New Delhi's Jawaharlal Nehru Stadium. He hopes through Khelo India Initiative he gets the much needed and much-deserved scholarship.
Gateway to greatness.
It takes nerves of steel, a strong body, a calm mind and absolute determination to become a great sprinter. Ahmad says "every single day is packed with workouts at the tracks, rough terrains, gym, perfect diet and mental preparedness". Its a continuous process of improving the fitness, build strong muscles, the technique, the mental toughness to be able to dash across that 100 meters. Everything from start to finish must be flawless, where even a millisecond makes a huge difference.
Bigger Picture
Indians get over excited about the performances of Athletes but what does it mean when it comes to Olympics. Ahmad always keeps in mind P.T. Usha's bronze loss by 0.01seconds. A 1.4 second behind Bolt may sound simple and he is not thinking about distant dream but wanting to close in on under 10 seconds. India seems to understand the importance of International exposure and has done a lot of progress. An Indian contingent of 12 members is all set for a 4-week training camp in Jamaica. The Indian government has promised cash awards for over 1000 talented athletes. Miles to go.......he smiles...
Coach Elated
"He has done it and I must pat myself" utters his coach Madam Sunita Rai, who was overjoyed when he hit the finishing tape and showing the victory sign to the spectators. After a couple of FOUL starts, when it was all over Rai, heaved a huge sigh of relief. To witness this incredible victory, Rai admits that she has tirelessly worked by planning, preparing, mentoring, training and supporting the boy and now truly deserves a short break.
With all the support, India hopes to see positive results at the 2024 Olympics.