Maang tikkas are being redefined by this entrepreneur duo and much more.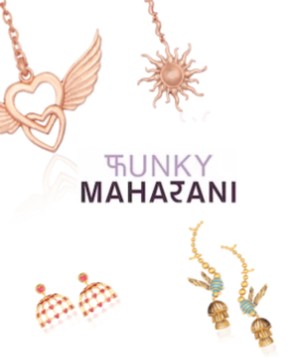 Wearing unique pieces of jewellery is what women and of course even men admire. While glittering in the shine of ornaments is fascinating, it doesn't matter whether it is the shine of gold, or other gemstones or costume jewellery that add a gleam to the attire. Though the credit that gold takes is irreplaceable, there are still other ways that extensively attract people. Be it Kaleeras, anklets, bracelets, sizzling neckpieces or waist chains -almost every part of the body can be adorned with jewellery. This practice of wearing jewellery doesn't just limit itself to routine wearing. Trends keep changing with time and nowadays, it's like there's a new trend coming up every single day. Jewellery designers also are gearing up themselves to cater to the ever-changing tastes of the customers and hence are coming up with unique designs, placing before them a plethora of options to choose from. This story is of Steven Jhangiani and Hansika Jethani, who are revolutionalizing and re-defining the traditional jewellery designs, adding to them the taste of the new age. They have chosen one jewellery piece and decided to recreate it further in order to avoid stepping into multiple designs at one go. Instead of bringing up various designs that fall into the same category, they decided to re-create the whole of it elegantly. Let's know what they are up to and get sizzled at their glittering job.
Maang Tikka:
Neatly braid your hair and adorn it with a maang tikka! Imagining how beautiful you look? This elegant piece of jewellery is slowly losing its prominence and is being limited to wedding ceremonies. When Steven Jhangiani observed that his wife Sapna Jhangiani's maang tikka was just lying idle for so many years after their wedding, the serial entrepreneur in him struck his creative chords. One question that triggered his artistic neurons gave birth to a business idea - "What can I make with this ancient jewellery piece so that it would regain its glory in the contemporary day?"
Touching Upon The Funky Side:
Maang Tikkas find a place on every girl's special occasion but after that? They are not generally worn to other simpler events like parties or close-circuit functions. Generally, maang tikkas come in traditional designs that don't seem to be aptly fitting into the everyday scene. Thus, Steven Jhangiani decided to re-create them, and to take this ahead, he joined hands with yet another creative brain from Mumbai, his cousin-in-law, Hansika Jethani. Together, they gave breath to what is named "Funky Maharani" in January 2020.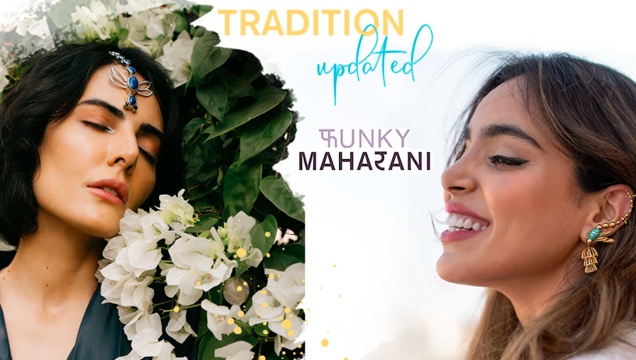 Pooling Up The Resources:
Hansika Jethnani is a photography graduate from the University of Arts, London. When they both decided to start their new venture, they were living in two different places. While Steven operated from Singapore, Hansika had to manage from Mumbai. Moreover, the COVID-19 pandemic seems to pose challenges to their start-up activities. But when there is determination, nothing seems to be a hurdle. They communicated through WhatsApp and got into a loop, a designer, few artisans, and also a third party from Delhi to work on packaging. Hansika took onboard, a freelance jewellery designer who can give designer shape to their thoughts. A team of artisans from Surat contribute their skills in designing not just the maang tikkas but also jhumkas, anklets and other pieces of jewellery.
They manufacture all these out of recycled brass. Those who would like to experiment with non-traditional jewellery and those who would like to give the conventional style, a goodbye, can just check out their designs and be WOWed with their collections. The prices of the products range between Rs 890 and Rs 3050. Since October 2020, the team has sold about 52 maang tikkas until May 2021. Between November 2020 and March 2021, the first wave of COVID-19 cases has decreased a bit. It is then that Hansika displayed their products at various pop-up stores in Mumbai and Goa. One such store in Goa's night market has drawn everyone's attention and was a hit. What started in India, started to attract jewellery lovers abroad. Thus, Steven and Hansika started to pitch their products in the markets of US and Canada. "I think at the end of the day, we would really like to see people from all walks of life, and different cultures, be able to enjoy our creation," shares Hansika.
Challenges To Overcome:
COVID-19 pandemic has been one big hurdle to many businesses - small, medium and big. Amidst people struggling to survive, when it comes to the point of a business that deals with something that doesn't fall under basic necessity, the ethics of a good business don't agree with the products being promoted widely. That's what is giving doubts to the team of Funky Maharani to market their products in a cheerful way. Though the products were ready, they were being hesitant to take them to the customers
"We've had to rely a lot on social media marketing. Even so, with a pandemic going on, it wasn't the best time to talk about fashion products being launched in the market in a lighthearted way. There were graver issues going on," Steven said. With the ongoing tensions pertaining to the second and third waves, Hansika says, "As of now, we keep going, knowing that eventually the pandemic will be over and there will be some kind of normalcy". Though there is little competition for accessories like maang tikkas, there are a lot of challenges to take these to the appeal of people.
We wish the road clears soon for this duo and may many people come to know about their unique designs and contemporary collections.

CheckOut Funky Maharani Collections