Women of the valley! Be ready! Pulwama wrestler is all set to teach you self-defense, seeks govt support.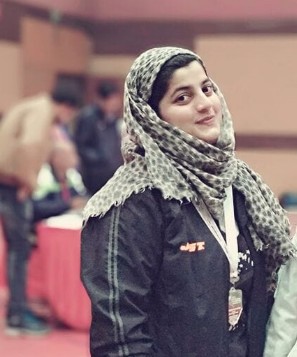 When she expressed her interest in something unconventional, she was not supported even by her parents. Neither she had a coach nor the support of her family but she could manage to bring medals from the national and international tournaments. She also came to be known as the first lady wrestler of Kashmir. She is Syed Rashida Simnani.
A Determined Soul:
Syed Rashida Simnani is a 21-year-old girl from Drabgam village in Rajpora area of Pulwama district. She is currently pursuing her graduation degree from Women's College Srinagar. Rashida said that she was interested in sports since childhood and has been taking part in numerous competitions since her school days. This girl from South Kashmir who started her wrestling career when she was 17 years old, was first selected in a school-level competition. She did not have a coach who could professionally train her in the game. She neither had the support of her parents initially as the region she lives in is still lagging behind with a conservative thought process and doesn't encourage a girl who wants to try out something new. Among other sports, Rashida took part in Taekwondo and baseball too. She participated in a school level belt-wrestling competition at 17. "Belt wrestling is a form of martial arts and self-defense in which we have to grab our opponent's belt and pin him/her down to the mat," Rashida explained. In the year 2017, she was selected to participate in a belt-wrestling competition at Pampore Higher Secondary. That very instance she fell closely attached to the game. Talking about her further association with the game, Rashida said, "It was all about learning more". With no coach to train her and with no belt-wrestling associations in Kashmir, Rashida learnt wrestling by watching the videos of wrestlers like Sunil Kumar Solanki, Navjot Kaur, Divya Kakran, and others. She participated in several school and district level competitions finally reaching the National level by becoming a part of the National team in the same year.
Wanted To Empower But Realised It's Not The Right Time:
Rashida felt that the girls in her community needed her skills to empower and strengthen themselves. "Girls needed to be trained in martial arts so that they can ensure their self-protection", she thought. She worked with more than 200-300 girls from 10 different schools in the Pulwama district for around 20 days in 2017. Keeping in mind, the fear of girls coming out to take up self-defence coaching, Rashida used to train them in a health centre. She showed them how to protect themselves when they are attacked. The response from the girls and their parents was so overwhelming that Rashida felt the need to do more especially for the rural Kashmiri women. However, within no time, she realised that she needs the help of the administration to do something like this. To achieve the support of the administration, she should try to build herself as an accomplished sportsperson first.
"Kashmir is already a tough place for women. I couldn't teach self-defence anymore as it became evident to me that an initiative like this needed the help of the Administration," Rashida shared. Thus, the difficulties laid down by a conservative society led Rashida to go back to fine-tune herself as a sportswoman first.
Carving Her Niche:
Rashida was selected to represent Jammu and Kashmir at the National Belt Wrestling competition in Maharashtra. There, she bagged a Bronze medal. In 2018, Rashida was selected for the National Baseball Tournament held at Chandigarh. She went on to receive training under an eight-week certificate course in Health and fitness from the National Sports Authority of India (NSAI) in Patiyala. Then, she was further selected to represent India at the international Stage in Taekwondo where she got a silver medal. It is then that she represented Al Jawad Sports Academy at the 3rd International Taekwondo tournament in Delhi. Under the female under-68 kg category, Rashida Simnani bagged the Silver medal for India. When she bagged medals at National and international circuits, her parents and other family members understood her passion and came forward to support her. "Wrestling is my game. For a girl from rural Kashmir, there are already so many hurdles. Even my parents didn't support me initially, but seeing my passion and dedication they gradually started recognizing my ability.", she said. For the next two years, Rashida involved in receiving education and on the parallel lines kept educating others as well. She joined the Women's College, Srinagar as a student of Arts. She was later appointed as a fitness coach on a contractual basis for one year in the same college owing to her achievements in sports. She is now in the final year of her graduation. "My journey to inspire Kashmiri women has only just begun.", she quotes. She also started a camp at a government school in her locality to teach women self-defence.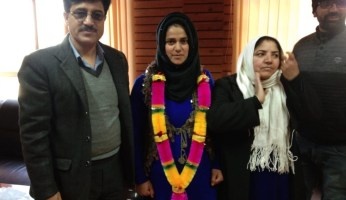 Her Plea To The Officials:
Rashida Simnani says, "The government must provide me with a coach or a trainer so that my capabilities as a belt-wrestler don't get wasted. I want to learn further and get more and more qualifications under my belt. I hope someday I will be able to set up my own wrestling club where I can teach girls various forms of martial arts, like self-defence." - a deserving appeal.
Her Words Of Power:
Rashida feels that with growing crime, there is a dire need to teach girls about self-defence and other basics to protect themselves. She also quotes that there is a need to empower girls and give them freedom of choice so that they can face any challenge bravely and choose their future by themselves. "I strongly believe that girls should have a free choice to choose their vocation for which they have passion. Once you select a profession for which you have passion, you will naturally excel in that field". She urges the government to provide ample resources to encourage young talent who can further become the glory of the country.
"The government especially the Sports Authority of India and local sports councils must reach every athlete especially of rural areas so that their talent won't go waste and they won't go discouraged," she said.
Let more girls and women come up with self-defence careers like that of Rashida, may crimes against women cease to happen owing to their physical and mental strength and may the nation walk towards a peaceful tomorrow.

Follow Her Work