Five-year-old girl became a chess trainer. Celeb's kid but Celeb herself now.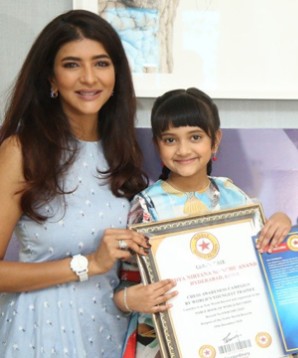 Skills and talents are innate. With proper guidance and training, these innate abilities can be sharpened irrespective of the age, gender, economic status and other aspects. What if you are from a celebrity family? Is it that hailing from a family of big heads will get awards and accolades your way? Not at all. A well off family might clear the thorns your path, but it's you who has to gear up with the walking shoes. Here is the success of a 5-year-old kid, Nirvana Manchu. Let's know more about this Chota packet that's making bada noise.
Lockdown Little Champ:
Vidya Nirvana Manchu Anand, the granddaughter of the popular actor Dr Mohan Babu and the daughter of Tollywood actress and Producer, Manchu Lakshmi Prasanna emerged as a 5-year-old prodigy. When she was four years old, the Chess trainer Karthik advised Lakshmi Manchu to enrol her daughter for chess training. He observed a distinct flair in the girl back then. But Lakshmi, owing to the girl's young age, didn't go ahead at that time. However, she also understood her baby girl's aptitude for the game. With the onset of Covid lockdown, Lakshmi Manchu decided to put her daughter into chess training and little Nirvana landed in the hands of a skilled chess coach Karthik. It was just four to five days that this enthusiastic little girl received the training that she started teaching the moves of the game to her friends. Karthik noticed this and spoke with the representatives of the Noble Book of Records.
The Record Setter:
We observe numerous instances where children do everything at their own will and pace. If you wish to display their aptitude in front of everyone and they are not in your shoes that day, your efforts are gone!! But little Nirvana didn't disappoint her coach. When the representatives of the Noble Book of Records came to her and conducted exams under the supervision of Dr Chockalingam Balaji, Nirvana gave her best. She was thus honoured with The Noble Book of World Records for being the "`Youngest Chess Trainer" on 19th December 2020.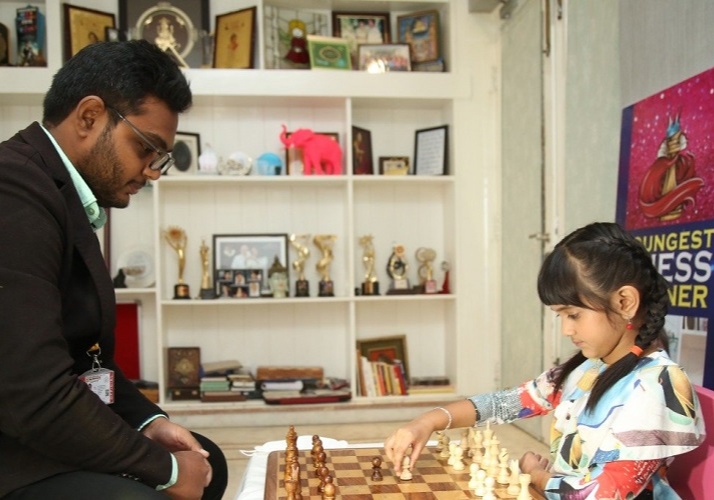 Dr Chockalingam Balaji, under whose watchful eyes the test was conducted, said, "We might have seen four to five-year-old kids playing chess, but giving training at the age of six is a great thing. Our organization really feels happy to honour Vidya Nirvana with the award."
Proud Family:
Who doesn't enjoy the bliss children shower upon with their achievements? Lakshmi Manchu looked elated at her genius kid's victory. She said that according to her, the game of chess is a life skill and for this very reason, she said, she wanted her daughter to get the best out of it at a very young age. But to her astonishment, little Nirvana not just learnt the game in the blink of an eye but also started training her friends.
"Her coach Karthik came to me and told me that she was playing chess very well and we should apply for this record. I told him to wait for a few more days. But, then, I said OK as when she is ready why shouldn't support her. As a mother, I am really proud of my daughter Vidya Nirvana for holding the Noble Book of World Records as Youngest Chess Trainer.", said Lakshmi with glittering eyes.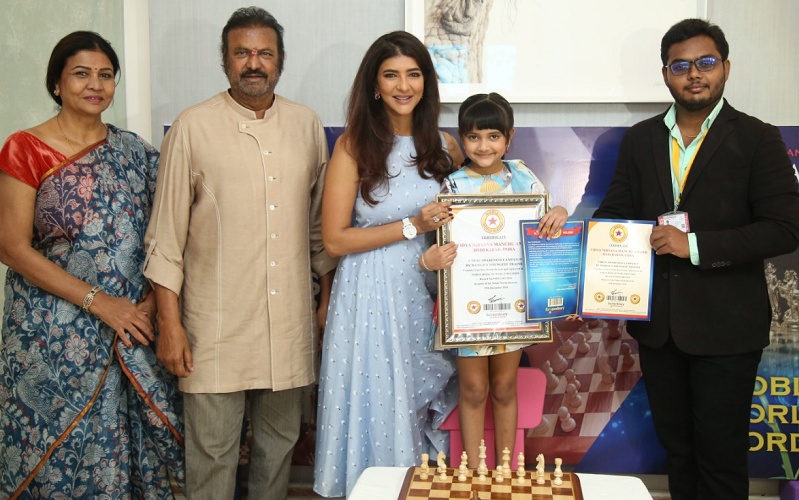 The dialogue king also felt really proud of his granddaughter. He, as an enthusiastic learner, always wanted to give the gifts of fruitful learning to children. When his own granddaughter has achieved so much at a very young age, his joy had known no bounds. On this note, he advised all the parents to recognize and encourage their children's talents so their performance in academics also goes high.
"Even today, I do not even know how to play chess. As a grandfather, I feel proud of Nirvana for achieving the record at such a young age. I suggest parents encourage their children in the fields they are interested in, other than studies, and they will reach great heights.", he said.
This baby girl proved that it's your skill and love for what you do makes it big for you one day. Now, Nirvana is not just the daughter of someone, she is already herself. She has a name and made it big for herself. We wish her great success in all her future endeavours.