Fearless Monkey Man Kothi Raja in his forties, continues to entertain thousands at the Chitradurga Fort by his gutsy rock climbing stunts.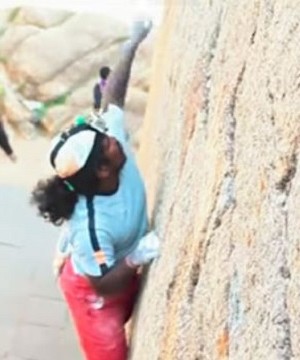 Who is Kothi Raja?
Jyothi Raja is appropriately nick-named as Kothi Raja (Kothi is Monkey in Kannada) for his extraordinary and sensational ability to climb rocks, forts, and mountains exactly like monkeys. He hails from Tamil Nadu and now lives in Chitradurga district of Karnataka and found this monkey business lucrative.
Early days.
Like every child, he would always fear punishments and one day just ran away from Tamil Nadu and landed in Bagalkot in the hands of an elderly man who in the pretext of being protective, abused him. A child of only 7 had to do odd jobs to survive and faced a lot of humiliation and later on when he worked as a domestic help in chitradurga, the family had accused him of stealing. Devastated, frustrated, frightened and losing all hope he wanted to commit suicide.
Fate Sealed Forever.
The best available option to end is life was to jump from the Chitradurga Fort. Strangely he had no fear of heights and as he reached the top and all ready to jump off the cliff. He looked down; to his surprise the people started shouting, clapping and cheering him expecting some sort of Spectacle of stunts. He suddenly stopped for a moment and changed his mind and now wanted to live.
This was the turning point and his fate is sealed forever. If this could bring so much joy in people, he knew he could not only make a living but truly a successful monkey business.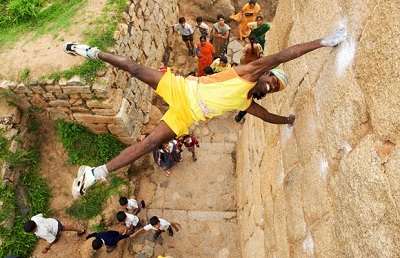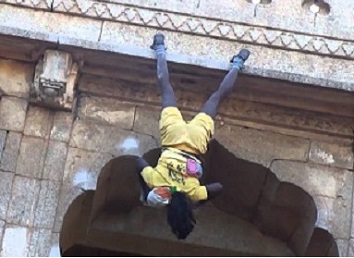 Celebrity Climber.
Jyothi Raja is no ordinary rock climber but a celebrity rock climber. His pictures and videos went viral and that's when he gained popularity. In appreciation, people started offering money which was pretty good. Visitors love to meet him, talk to him, take selfies and he thoroughly enjoys the attention. The entire village respects and treats him like their own. He is so popular that it has attracted tourists from across the country and even overseas.
He is special as he doesn't use any protective gear but of course, uses his climbing shoes. Protective gears only during competitions. Other professional climbers dare not attempt what this monkey climber routinely does and with ease.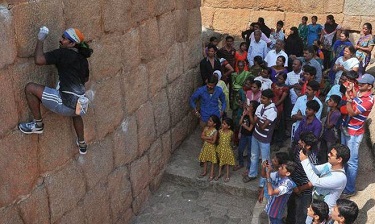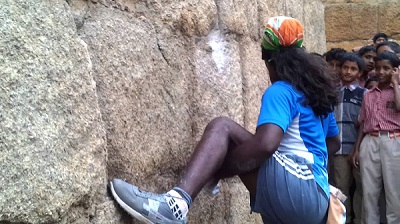 Share of Injuries
There is no gain without pain and he has been through a number of injuries and has broken his legs, hands and lower back but he doesn't let his heartbreak.
Well, he had done the Jog Falls climb of 830 ft a couple of times, but he wanted to take a tougher route along the waterfall. Halfway through, it began raining and this genius monkey man slipped and fell on to some hard rocks. Kothi Raja faced injuries during this fall but brushed aside saying it was not really anything major. He was quick to get on his feet and continued to finish the climb.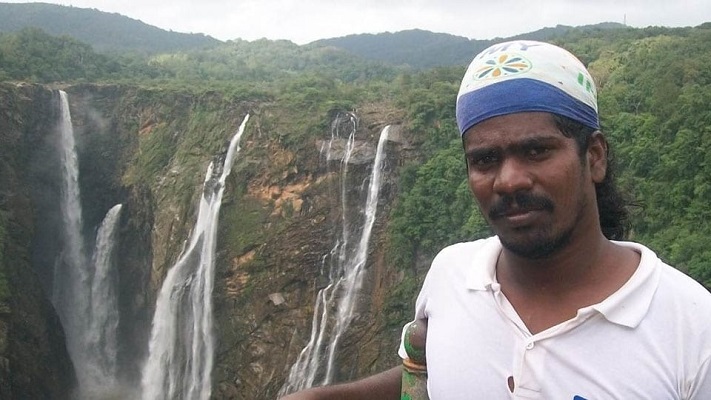 Risky Business
This Monkey business is highly risky too but Kothi Raja loves it when he brings smiles and joy on the faces of people. A fall where he is able to hold on to a branch or a rock is not something that bothers him, but if the fall is a major one then that's the end. He has a great sixth sense when he knows when he is successful or fails.
Practice made him perfect
Anything in life needs a lot of practice, perseverance, improvement and dedication and most importantly the will to risk. He has spent days, months and years to perfect this art and continues practising with the same zeal.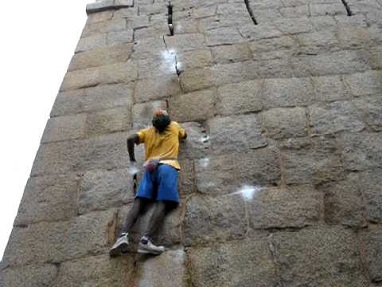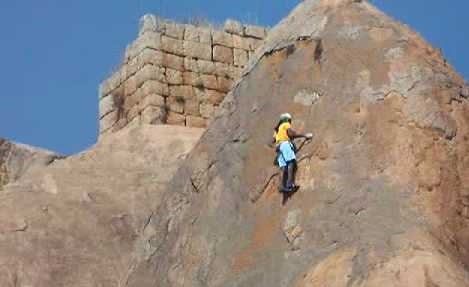 Dare Not.
No professional climber dares to do what he does and they say that Kothi Raja is a natural climber and its impossible for anyone to emulate him and probably he is the only competition for the monkeys.
A Good Heart.
When there is a need for his services he generously offers. He has, in fact, helped many times in retrieving dead bodies and rescuing people in the mountainous terrains. He is ever ready to offer his services.
Lost and Found
Ironically, in Feb 2018, Kothi Raja and his team were not able to trace a body till sunset and headed back, only to be noticed that Kothi Raja was himself missing.......Immediately, the police, the fire brigade and a team of ten got into action. The Monkey Man surfaced at the bottom of the Falls in the wee hours of the morning after spending the whole night in the cave. What a brave and a courageous man.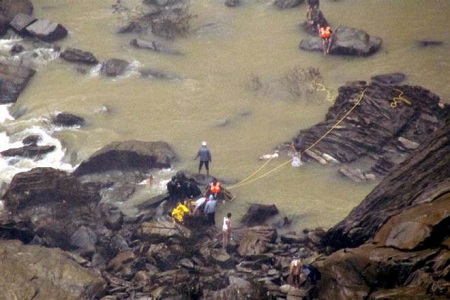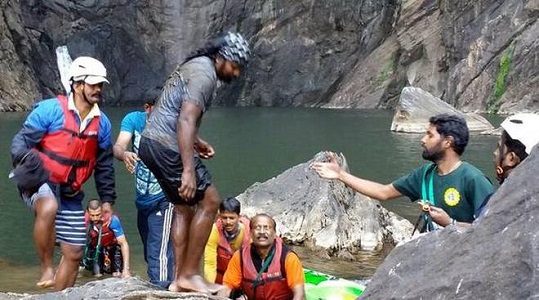 What's his mission?
He wants to improve and climb greater heights. He is here to create awareness of the sport and has also climbed buildings in Bangalore and is on a serious mission to get the government to build a climbing wall so that many more could take up the sport.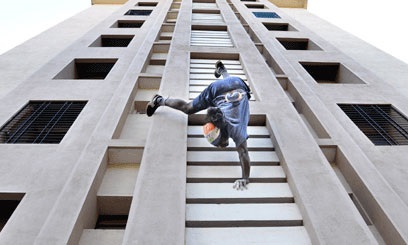 He concludes by stating that he is the One of his kind who will continue to win the hearts of the people.
A Movie is in the making of the Monkey Man's amazing story.
Don't miss it...It's worth a trip