Cancer survivor who emerged as the nation's top sport climber. Its the will and courage.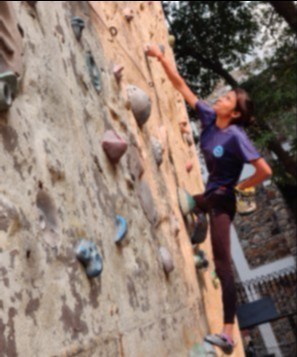 It was 2009 and 9-year-old "Laddu", as Shivani is called in the family, suffered acute pain in her stomach at her cousin's birthday party when she was rushed to the hospital. In the ultrasound, ovarian cancer was detected. With basic to mediocre medical facilities in Jammu, Shivani was taken to Chandigarh for treatment. Shivani spent a large part of the next three years in Chandigarh for treatment. She underwent surgery and chemotherapy sessions. When she reached the age of 12, Shivani was declared cancer-free. Okay now! Who is Shivani and why are we talking about her today? India's No.1 Sports Climber, Shivani Charak, the girl of mettle, is the idol of our inspirational story.
Girl of Grit:
Born in Jammu to a college teacher and a staff nurse, Charak has three siblings, an elder sister, Shilpa and twin younger brothers Arun and Ajay. Having fought ovarian cancer and emerged victorious at the age of 12, Shivani Charak started going to school and continued her education. Shivani, very soon after she got back to school wanted to pursue sport climbing inspired by her sister. When she expressed her wish of taking up this sport, Shivani's sister ruled it off as Shivani is still frail post her cancer treatment and sport climbing is a strenuous activity. However, looking at how determined she is, Shivani's father sought doctor's permission and thus she was waved a green flag. "I didn't know where the climbing wall was. So one day, my brothers followed my sister and found out that it was at a school called Apple Kids. We landed up there and watched from the sidelines. We told the coach even we wanted to climb and he was game enough to give us a go.", Shivani recollects. Shivani trained with her brothers and as they don't have a professional coach, they used to learn the sport by watching YouTube videos.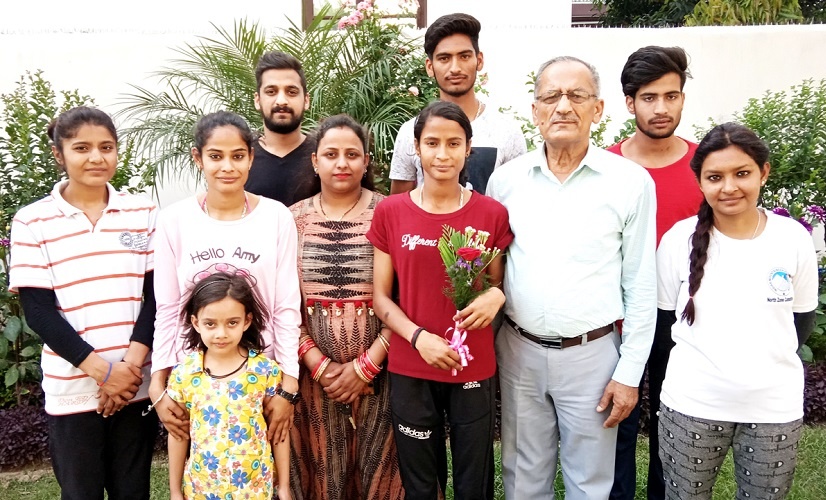 Sport Climbing - Passion Became the Goal:
Charak entered her first competition in sport climbing at school level and bagged silver while her sister bagged gold in the same category. Charak and her siblings strived and trained hard even without proper resources. They raced through the local, district, state and national level events being consistent performers. At the National Championships held in Bhubaneswar, along with Shivani, his brother Arun won two silver medals while Ajay bagged bronze in the Junior category. Shivani Charak learnt one-finger push-ups all by herself. "I can do two-finger, one-finger push-ups," she says proudly. "Also pull-ups with weights. All my physical training is done at home in Jammu. I watch videos, to see what all exercises are required to be a good sport climber." says the confident climber. As there is no proper training facility in Jammu, Shivani either trains in Delhi or Bhubaneswar whenever she has competitions to attend. "In Delhi, it's usually at the IMF (Indian Mountaineering Foundation, the apex body for mountaineering and allied sports) facility. A lot of people from the Army also train there, so they also help me.", she said. Before lockdown, Shivani used to practice the sport scaling the walls of a nearby school but those are good for beginners. As competitions came by, she would shift base to the Indian Mountaineering Foundation in Delhi. However, with the pandemic lockdown, she had to pickup her practice with home equipment that includes a training board for pull-ups and neighbour's wall for climbing.
Efforts Pay Off With Patience:
Shivani received the J&K Government Award-2020, that, she said, further strengthened her zeal to perform well at higher levels and bring more laurels for the Union Territory of Jammu and Kashmir. Shivani is the only sport climber from J&K to win a bronze medal in the Asian Youth Sport Climbing Championship held at Bengaluru. "It is a proud moment for me, my family, and the mountaineering association and above all for J&K from where I belong", she said. In the year 2019, she took part in the IFSC ACC Asian Championships held in Indonesia and the Asian Combined Youth Championships in China, and at the Asian Youth Championships held in Bengaluru. By 2018, that is, by 16 years of age, her victory bag already had three gold medals, two silver medals and a bronze medal from nine national-level events.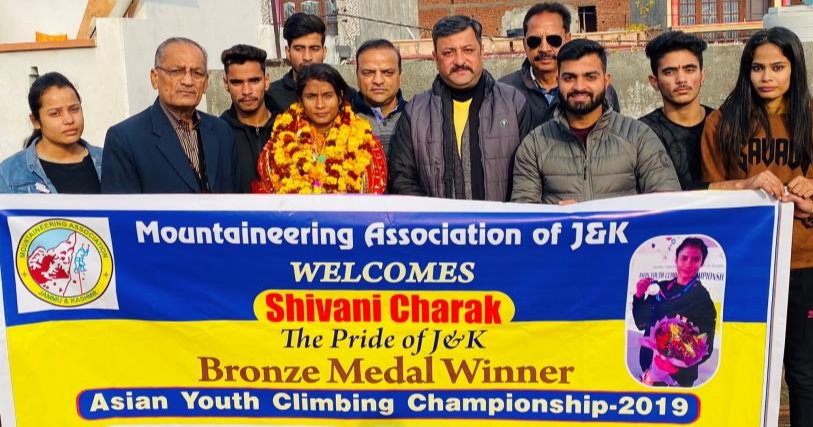 I put a lot of effort into my sport. Ever since I started competing, I have always wanted to win international medals. It's a very proud moment for me and for all those who have supported me, she says.
For the first time, she represented India in the 2017 Asian Youth Championships held in China and was positioned ninth at the 2018 Asian Youth Championships, 11th in bouldering at the senior women's Asia Cup event held in Bangkok, Thailand and won Junior bronze.
"The Asian Youth Championship 2019 was happening in India for the first time and I trained in Bhubaneshwar and Bangalore for it. I am glad I was able to win my first international medal at home," Charak told a release.
Rocks All Along the Way - An Urge For Clearance:
Shivani says that lack of support and sponsorships is forcing her and her family to take up everything right from training travelling for the events - all upon their shoulders. While she trains at Delhi's IMF before competitions, she says that it's her family who invests for her travel and training. Moreover, Shivani is forced to plan her own regimen due to lack of a professional coach.
I could not participate at the World Youth Championships this year because I did not have enough money. So, we often skip such competitions because of money issues. Earlier, there used to be at least two major competitions in the state, but now it has become worse, she laments.
Despite having talent and zeal to win laurels for the nation, Charak says that players like her don't have the proper infrastructure in Jammu. Lack of financial support from the state government towards developing sport climbing is where the players are stuck as they cannot afford to pay for coaches, training, travelling to competitions etc. If the government takes the burden of paying the coaches and sponsoring the travels, then wouldn't that be relieving to the sportspeople? They would concentrate more on the sport rather than on managing everything else surrounding it.
When we help brighten up the talent shining in the nation, fresh talent dares to come up. But when the talent is ignored, we are afraid if fresh talents dare to bloom! We wish sports like sport climbing that are still on the rear side of the government's eye take the centre stage like the rest of the games and may we become inclusive to every sport and sportsperson.

Follow Her Work

Follow Her Tweets