The first Indian to bag a bronze at the Gymnastics World Cup is all set for the upcoming world championships.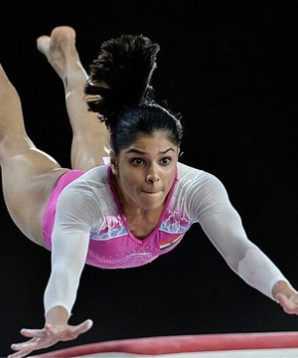 When you are destined for something big, life sends angels to guide you through the right path and once when you are dropped on the right road, to drive smart and to reach the destination is in your hands. When you read the story of this young Indian gymnast, these lines hold true. She is Aruna Budda Reddy, the pride of Hyderabad, the young fire that has set the world stage on fire. Born in Hyderabad, Telangana to Subadhra and Narayana Reddy, an accountant, she completed her Intermediate from St Mary's Junior College in 2013 and B.Com from St. Mary's College, Hyderabad in 2017.
The Karate Girl turned into a World Class Gymnast:
Aruna's father Narayan Reddy wanted a son. But he was gifted with two daughters. Therefore, he has encouraged the elder one towards academics and walked the younger one to the stadium. When Aruna was 5 years old, her father recognized that the girl holds the flexibility and build for a gymnast. So, he withdrew her from Karate and enrolled her in gymnastics. Aruna didn't like the sport initially but her father had a strong belief that she would excel in gymnastics. Eventually, as the medals started pouring in, Aruna developed a zeal to improvise and excel in the sport. "After every hard day, there was a medal as a prize," says Aruna.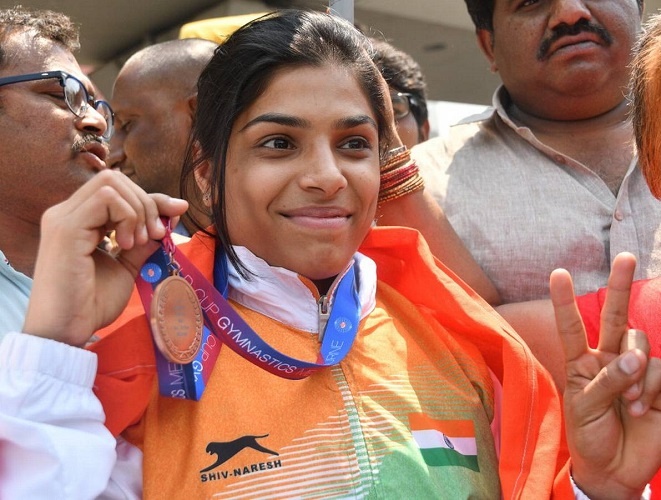 Bloomed under the tutelage of fine coaches:
Narayan Reddy brought Aruna under the mentorship of coaches Swarnalatha and Ravinder at the Lal Bahadur Shastri Stadium in Hyderabad. Later, Swarnalatha's husband Giriraj noticed the spark this young girl bore and since then, the girl became his responsibility. Unfortunately, he passed away in an accident in 2008 and since then, Aruna has been receiving training from coach Brij Kishore. Under his guidance, she won medals at three National games and has participated in the 2013, 2014 and 2015 World Championships at Antwerp, Nanning and Montreal respectively. The little girl who toiled in buses to her stadium, 16km away from her house, eventually evolved to be a high-spirited woman and an outstanding gymnast.
Honey-filled life had to taste the Venom of Bee Stings:
Life is a roller coaster. Sometimes it takes you to the sky and sometimes it lands you on to the bottom most core. In 2012, when she was 14, Aruna lost her father. The cardiac arrest her father suffered arrested the family's happiness and locked the girl's flying dreams. She became the responsible one and shouldered the duty of her at-home mother using the cash incentives and prize money she won at gymnastics. However, these funds never came on a monthly basis. She got them whenever she participated in a tournament. Her sister, Pavani, 12 years elder to her, who worked as a Company Secretary and her brother-in-law, Janardhan Reddy, a Civil Contractor stood as pillars of support to Aruna and her mother in their tough days.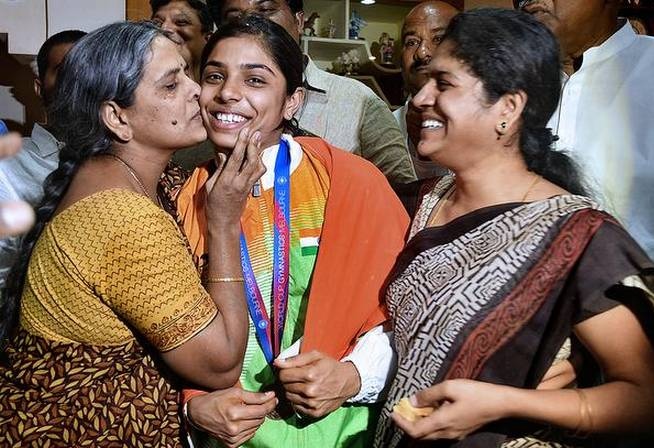 "Life was very cozy as long as my father was around. Dad used to look after all other things and I just went to school, hit the gym and played. After his demise, I was on my own, feeling responsible for my career, dealing with and sorting out problems and moving on in life," said Aruna. Post her father's death, Aruna lost focus and even resolved to quit the sport. Thanks to her sister and brother-in-law who instilled in her the fighting spirit and made the girl bounce back with double the speed.
A tribute to Dear Father:
She swore before her father who had even sold his house for her training that she is not going to settle for anything less than gold. She stood by her word and in 2012, a few months after her father's death; she bagged Gold in vault and beam at Senior National Championships held in Udaipur. This winning, she dedicated to her father. This boosted her confidence and she was determined to achieve greater heights and aimed for world championships. Supported by GoSports Foundation through the Rahul Dravid athelete mentorship programme, she competed at world championships including the 2013 World Artistic Gymnastic Championships in Belgium. However, in 2010, she was not allowed to enter the Commonwealth Games as she was under-aged. But she roared like a lion and took part in the 2014 CWG. In 2018, she created history by becoming the first Indian to clinch a medal at World Cup Gymnastics in women's vault event in Melbourne. This Hyderabadi scored 13.649 average points in the vault event to beat Slovenian Tjasa Kysslef (13.800) and Australian Emily Whitehead (13.699).
The Chief Minister of Telangana accoladed her with a cash award of Rs.2 crore. After her win, Aruna said, "I owe everything to him and if he'd been alive and seen me on the podium today, he'd have been so happy. He was there in my days of struggle, but couldn't watch me win."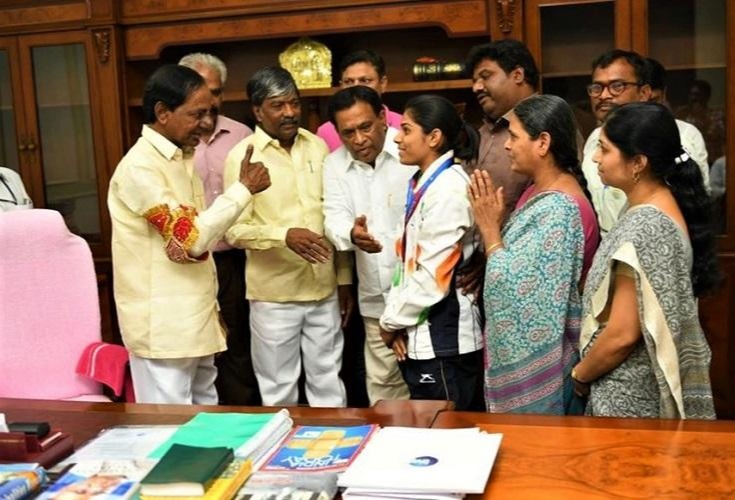 Unforeseen Accident

:
In a sport where there's seen early retirement, Aruna wanted to prove herself while it's still sunny. Once the player crosses 25 years of age, he loses flexibility to play the sport. Thus, as a gymnast's career is short and Aruna wanted to make the most out of things before she turned 23. But then, life turned topsy-turvy when she suffered an injury in the final Olympic qualifying event at World Championships in Stuttgart, Germany. She underwent a surgery and this kept her away from the sport for a year. Thus, she ran out of sources to enter the Tokyo Olympics. However, she cut down on her rehabilitation programme and started training to participate in the World Championships and performed extremely well in the selections until she suffered the same injury again that buried her dream yet another time. She couldn't represent the country in the main event.
"I was aware of the risk when I started my preparations for the final qualifying event World Championships. My doctors also had advised me not to rush given the severity of the injury. But I wanted to give it a shot."She made it clear that no one has forced her into participating and it is solely her decision. She then focused on rehabilitation before thinking of any competition. As there are no events in 2020, she is gearing herself up for 2021. The World Cups, the Commonwealth Games, Asian Games are ringing in her mind and she is tuning herself up to show her flair to the world in her "Comeback". From 2023, she said, her focus will be on 2024 Olympics.
Lockdown is a Boon:
Aruna turned this Lockdown period to her benefit following a strict training regimen. The morning two hour session is focused on improving general fitness and cardio while the evening two hour session includes specific drills to strengthen muscles. She is learning new methods to stay fit. Using basic equipment like chair and own body weight, she is discovering new methods of improving fitness before hitting the apparatus.
Spreading the

knowledge to the young and spilling the perfume of Inspiration:
Reddy is also conducting online classes for local school students and teaching them how to stay fit while being indoors. "I demonstrate step by step each exercise and then watch them on the laptop screen whether they are following it or not'' she says.
Grateful to all those who supplied her with Strength:
Aruna expresses her gratitude to her family, friends and coaches who kept her going when she decided to stop. She feels grateful for the support she received from the Sports Authority of India and her coach Biseswar Nandi. Under the Central Government's TOPS scheme, she could train abroad and hone her skills. She also feels indebted to the managements of St Mary's Colleges in Basheerbagh and Yousufguda, where she did her Intermediate and Degree, as it is because of them that she could balance both studies and sport.
An IPCC Aspirant:
This Telangana Gymnast who has drawn inspiration from the Indian Gymnast Dipa Karmakar and the US Gymnast McKayla Marconi, aspires to become a C.A. after her retirement. The determined girl who sacrificed all that she loved as a child to keep herself fit for the sport says that the sport itself is risky and can surprise you with unexpected injuries anytime. One needs to focus on fitness and bounce back as quickly as possible.
Life always has different plans in store for everyone. Sometimes they might help in our journey, while at some other times, they might cause hindrances. End of the day, we learn, grow up to be strong and wise. Her story tells us how to learn and grow from the adversities of life. Let's wish Aruna a fulfilling career and may her journey inspire many more young people out there!!!