BMX rider whose stunts are bringing pride back home. Don't try unless trained thoroughly.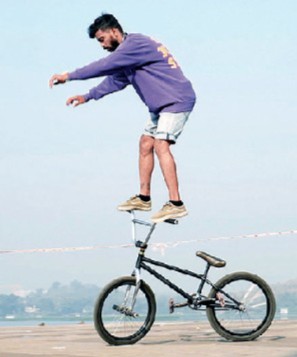 Preference is being shifted from normal sports to those that push the adrenaline levels up. Youth is walking towards adventure sports and those that challenge their abilities. One such sport that, though hasn't gained much prominence yet, has been slowly finding a place in the Indian scene is BMXing. Not even one BMXer per state yet, but the sport is sure to find its place very soon. The efforts of Pravin Habib, the first and only Indian to represent India internationally in BMX, the Godfather of the sport in India give hope that it doesn't take long enough for the nation to know that there's not only a sport called BMX but the nation also has got international champions in it. Let's BMX into the story of Pravin Habib and know more about his exciting journey that kept the conventional bicycle away, bringing into the picture, the BMX.
All you need to take up this sport is just a BMX bike and that's all. It can be ridden anywhere, anytime making it the most accessible sport. Sounds simple, right? Okay, let's get into the details. As we proceed through the story of Pravin, we shall know more about BMXing too.
Encounter with BMX:
One day, while Pravin was watching X Games on ESPN, the BMX competition in which the contestants are flying their bikes in the air in 360 degrees left him jaw dropped. By the end of the show, he was already imagining riding a BMX. As destiny had played its role, one of his friends came to Pravin on a second-hand BSA-made BMX bike. Pravin's enthusiasm made the boy give his bike to him for practice. He also told Pravin that a group of BMX riders practice at Worli Seaface Link at 9 pm every day. Pravin asked the boys to teach him BMXing but the boys did not. But Pravin regularly went there just to watch the stunts every day and tried to imitate them back in his house but after a few days, the boys stopped coming, dropping water on Pravin's excitement.
Collected Money To Embrace Passion:
With an immense passion to take up this sport at any cost, Pravin saved money to purchase his own bike. He worked hard day in and day out by working as a sports trainer at Mumbai's one of the most prominent sports clubs, the NSCI club. There, he trained the children of prominent people in roller skating, kabaddi, Basketball, Ice skating etc.
"Children of prominent people in Mumbai loved me and specially came to be trained under my guidance.", he recollected. When his popularity started to build more than that of the senior trainers and he started saving good amounts to get his dream BMX bike they got him fired from the job.
On To the Track:
After losing his job, Pravin joined a medicine delivery service. Once, when he went to a 15-storey building to deliver medicines, he saw two boys doing stunts on a BMX bike. Be went running to them and asked them to teach him BMXing but the boys said that he can very well learn it through YouTube videos and introduced him to the YouTube tutorials. With high-rising hopes, Pravin went to a nearby Cyber Cafe and searched for YouTube videos, watched them regularly ever since then and practised the stunts accordingly. Eventually, he bought a Centurion Bike from Haro Company. As the stunts are rigorous the bike required frequent repairs and included a lot of maintenance. Lack of money and support from family made Pravin helpless at one point when he decided to quit. However, his love and passion for the sport didn't let him do that.
Challenges In Every Step:
Oh! what can we tell you about the roadblocks in Pravin's journey? The first and foremost aspect is that Pravin has chosen a sport that not even one in ten in India know about. When there is no clue about the sport at all, where can you find the dealers who would sell the bikes and where are the dedicated spaces to practice BMXing? Pravin somehow managed to purchase a BMX from outside and got the parts separately from the U.S.A and the U.K to make it stronger. Once the bike came into his hands, its frequent repair costs were a cause of concern. Another problem was that Pravin had to practice it in the streets and in some random open spaces as there were no dedicated clubs or stadiums to BMX. While he practised in the open lands and streets, he faced a problem with the policemen. Once or twice, he was caught by the police for doing stunts openly and was taken to the station. Pravin says that he will not even ride BMX on the roads but just carry it in his hands and walk because of the fear of policemen who would deflate the bike tyres if caught. On top of everything, there is no support from the parents at all. They wanted Pravin to take up a serious job that gets food on to the plate. BMXing is just a waste of time for them. Also, people in the neighbourhood often commented, "Are you a small kid? You always play with children's bicycles!" People teased him for what he does, they just saw it as a grown-up man playing on a children's bicycle. They never understood the sweat and toil behind the adventurous sport. No coach and no one to guide, Pravin initially didn't even know that there would be categories in the sport and he just rode the bike normally. "I just RODE the bike and did nothing more than that", he says. It's only after two long years that he came to know about various categories like Flatland, straight, dirt, park, etc. Once he got this understanding, he chose Flatland and stuck to it. The competitions organized in India are also so less due to a lack of awareness.
Beyond The Troubled Path:
Pravin felt depressed most of the times and every time he wanted to quit, he found a reason to stay. He remembered the love and support of those who understood the sport and his ability. He often used to introspect and motivate himself to move ahead. Things started paying off slowly.
The Sunshine:
One of Pravin's students hailed from the entertainment industry. While at practice one day, Pravin received a call from India's biggest theme park, Adlabs Imagica. They were looking for BMX riders and Pravin was right there grabbing the opportunity. Just one stunt and the job was in his hand with good pay, accommodation and other perks for a contract period of one year in Pune. His popularity grew and he started doing more shows in Mumbai and Pune. In 2016, Pravin participated in the Indian Championships and stood in the Top 3. The same year, he was selected for the Chuncheon International Leisure Games in South Korea. There, he represented India and stood at 15 among 21 world champions. Now underline the point here - the young man from a country that has least or no knowledge of the sport, with zero facilities has represented the nation in the sport at the international platform and brought home pride. People back in India started to learn about the sport and the number of its admirers has been increasing ever since then. When seven newspapers of various languages like English, Hindi, and Marathi etc. have published features about him, it's then that he and his game started receiving acclaim and recognition. "Even then, there is no support from family." he laments. But things started changing for the young boy. Along with Pravin, BMXing is also becoming a matter of discussion on the Indian scene these days. Thanks to the pioneer, Pravin Habib.
Biggest Aspirations:
Going forward, Pravin wants to change the face of BMX in India. He wants to represent India in the Olympics and X Games. "Every sport has been popularized by a revolutionary player. I want to be the one to popularize BMX in India.", says India's BMX sensation. Pravin who always helps people who approach him with doubts on BMXing runs online BMX tutorials on a mission to spread awareness on the sport as well as to fit its roots firmly on the Indian soil.
To All the BMX Aspirants Out There!
Pravin says that children and youth though love BMXing, hesitate to take it seriously because of the complexity of the sport. Fear of losing is the biggest factor that controls them. "How much ever you practice, end of the day, all that which decides your win is that final 2min performance. It doesn't matter and is not related to what you have done all the years. You can still go wrong in the main scene." he says. He says that it takes around 6-7 months for learning a single trick in BMXing. Lack of resources, scope and most importantly, the right coach is what stops people from taking up this sport. Pravin says that when the thorns are cleared and the path is laid, people prefer to walk and that path, he says, he is laying now. He is also ready to coach and help enthusiasts. So why late? If you wanna choose a sport that gives you a good adrenaline rush, then take the BMX challenge and join Pravin in bringing India on to the world stage of BMXing.