Mathamagic Mam's Video on innovative finger-counting unique Calculating Method has gone viral on social media.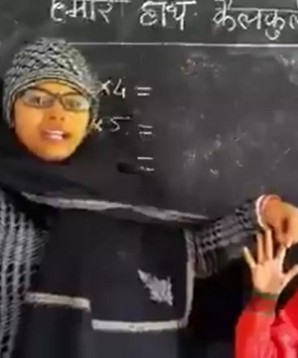 MathaMagic.
With Math one has to constantly find creative ways to make it fun and simple. Here's one such teacher from Bihar whose favourite hobby is exactly that.
Some loath it, some fear it, some love it but whichever category one belongs there is no getting away from learning the basics of calculating but one can surely adapt to new fun ways to do it says the extraordinary Mathamagic Mam.
Always puzzled about the trauma and stress the young kids go through with Math, Ruby put on her Mathamagic cap and has created several fun and short cut methods to solve simple everyday calculations.
Much watched about Ruby's video
Ruby's instant fame - A Video demonstrating a short-cut method of using fingers to multiply to her students went viral on FB, Twitter and social media; with thousands of likes, comments, shares, tweets and retweets. After the tweets from Mr Mahindra the industrialist "Whaaaat? I didn't know about this clever shortcut" and Shah Rukh Khan's "Can't tell you how many of my life's issues this one simple calculation has solved, wow!". Since then the video has caught on like wild fire and it continues to do the rounds.
Overwhelmed and overjoyed, this teacher is over the moon and tweeted back to the superstar and the leading industrialist thanking them. She is ever so grateful and happy that the 'Teachers of Bihar-the Changemakers' group has given her the perfect platform to showcase some of her magic tricks with Math.
Fingermagic Table.
Students love her class and wait for their Math Mam to demonstrate something new, exciting, fun and easy.
On that particular day Ruby demonstrated a simple short-cut method of multiplication of 9x4 using fingers.
Step 1 - Hold/Bend the fourth finger on the left hand.
Step 2 - Count the fingers to the left of the same hand which gives 3 (three).
Step 3 - Count from the little finger on the same hand and continue counting on the right hand that gives 6 (six). Then just write down the answer 36. Innovative indeed !.
Now, this Rule need not apply for all the tables but it is the idea of activity-based learning that appeals and generates interest.
Bihar is changing
The much maligned government school system has seen a steady change and improvement under the leadership of CM Nitish Kumar. The concept of 'Unnayan Bihar' is to ensure access to innovation and technology quality based secondary and higher schools. The Director of Mass Education Mr Vinod Anand Jha said teachers like Ruby must be recognised. Ruby is an inspiration to all other school teachers.
May this MathamagicMam continue to inspire through her exemplary teaching skills.