At 90 this Intl athlete recollects and relives her memories of winning medals. Deserves recognition.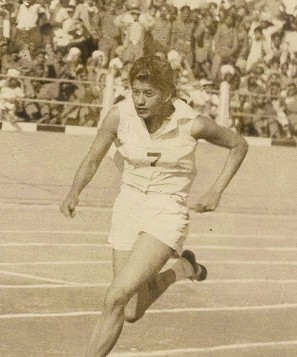 During this time when India is proudly sending her contingent to the prestigious Tokyo Olympics, we bring before you, the pioneer of all, all women who are stepping into the track of the Olympics today. Mary D'Souza Sequeira is an Indian female Olympian who competed internationally in both Track and Field and Field Hockey. Meet the woman who is the First Indian Double International.
"It was a much smaller event for women, more like a college event. In our time, athletes were all amateurs and we could not receive any money, advertisements or sponsorships because it would compromise our amateur status", Mary spoke about the difference between the Olympics event of the present day and the one in her time. Further adding to her comparison, she said, "The present generation has so much more funds, facilities and nutrition, things we did not have. I remember we had to sleep in the army tents during our training camps, or during track and field competitions. Our toilets were often just holes on the ground, and we had to have our showers in makeshift outdoor facilities. We have come a long way since then, and I would love to see the beloved women of India seize the day with all the opportunities they have in this century and to surge ahead"
Born on 18th July 1931 in Bandra, 90-year-old Mary D'Souza is currently staying in Atlanta, the USA with her daughter Marissa Sequiera. As she follows the present-day Olympics on TV now, she recounts the days when she roared like a lion on the field and brought home glory.
The Woman Who Laid The Foundations:
It was 1951. The First Asian Games were held in New Delhi. Mary D'Souza competed in the 4x100 meter relay and bagged a silver medal. She also competed in the 200 meters winning the Bronze. Setting foot in the time, just a few years after independence, when the nation was undergoing several changes socially, politically, economically was a great challenge, that too, for a woman. Mary D'Souza, who always had a love for outdoor sports, made it happen. In 1954, the Second Asian Games were held in Manila where she won a gold medal in the 4×100 meter relay thus becoming the first Indian female to clinch a gold medal in the Asian Games. She set national records in track and field in 100 metres, 200 meters, and 80 meters hurdles from 1951-57. She set the Asian record for clocking in 12.3 seconds, a distance of 100 meters and in 12.5 seconds, a distance of 200 meters. And there you go, the moment of pride came in when she became the first Indian female Track and Field athlete to compete at the 1952 Helsinki Olympics. There, she represented India in 100m and 200m. Recollecting those moments that filled her with mixed emotions of pride and anxiousness, she said that when the government couldn't fund her trip, it was Bandra who came together to send her to the Olympics. "I was so thrilled to represent India at the Olympics. It was my first flight. I couldn't believe I was on an air plane and going to Europe. I still remember after I was selected to compete in the 1952 Helsinki Olympics, I was told the government didn't have the money to send me. I couldn't ask my family to send me to Helsinki. But then my friend Vincy D'Mello heard about my woes and he and other friends organized a dance and a whist competition to raise money for me. Eventually, the government did contribute some of the funds".
In 1956, she represented India at the Australian International Women's Field Hockey Tournament. She was the top scorer for India in goals in the tournament. She was the Field Hockey Player with India's First Women's Field Hockey team representing India in the First IFWHA International Women's Field Hockey World Tournament in Folkstone, the UK in 1963. This female athlete who has been bringing glory to the country was also selected for the Melbourne Olympics, but the Indian Government declared that it had no funds for a women's team. She has also represented India in several hockey tournaments simultaneously. She worked as an Indian Railways Sports Officer where she coached and recruited sportspersons for Indian Railways teams as well as conducted Inter Railway Tournaments. Though it was a late recognition by the Indian government, she received the Dhyan Chand Award in 2013 from the Government of India.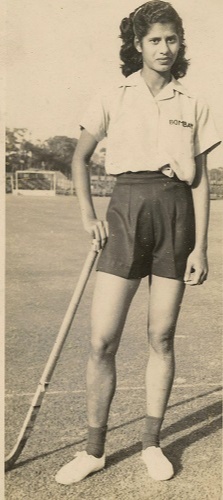 It All Started Without A Plan:
Mary said that she has never planned and trained to become an athlete. She went to all-girls St Joseph's Convent School in Bandra where they had no grounds to practice or any facilities. They usually played games like marble and spoon race, gunny sack race, frog race, book balancing, jumble shoe race and other silly made-up games. But when she played outdoor games in the municipality ground, she usually took to Hockey. That's when one of her cousins recognised her speed and suggested she run track. She had no coach but just looked at how others were doing and followed. "I still didn't have a place to practise so I used to jump over the compound in the evenings at St Andrew's boys' school and train on their track at night. There was a watchman at the front gate and he had no idea that I was on the grounds", she recollected. It didn't take much time for Mary to reach the Nationals. She became a part of the Bombay team and was the youngest in the relay team that won nationals. She also won the 200m and was selected to play for India. Only after that, she took official coaching under Jai Pardiwalla who was coaching the other relay girls at the Brabourne Stadium.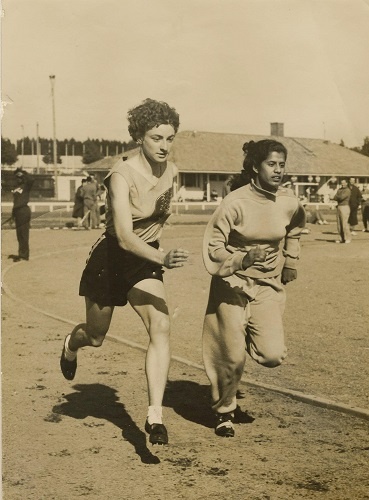 Triumph Was Never Acknowledged:
It wasn't like today where athletes receive a grand welcome and are given prize money and other appreciations for their victory. Mary recollects how little attention they received even after bringing home medals.
"We didn't draw a lot of attention after the Asian Games. We were felicitated by President Rajendra Prasad and later we were also invited for tea by Prime Minister Jawaharlal Nehru and his daughter Indira Gandhi. I didn't get any prize money like athletes today do but I was given an autographed picture of Nehru and an autograph by Lady Mountbatten. There was nothing for us after the Games either. There was no reception after winning in New Delhi nor back home. My mother did not even make me my favourite chicken xacuti when I returned home!"
Though there was no recognition, appreciation and support, this girl from a family of 12 made sure she didn't step back. She represented India in various national and international events and never regretted the lack of recognition. Even to date, this sportswoman who also represented India in Hockey hasn't received the honour she deserved as the trailblazer of Indian women athletics. However, with the increase in exposure towards sports and games in India, with everyone looking forward to the athletes and their performance on the world stage, everyone is flipping the pages back to know more about the frontrunners and the pioneers. We are sure that path setters like Mary D'Souza get their much-deserved prominence very soon so at least in her 90s she can cherish.

Follow Her Work