Young Athlete cum Coach is looking to book a Berth for his 17 year old trainee at the upcoming Olympics.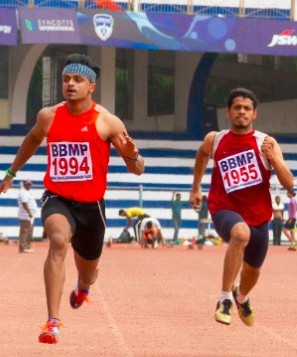 Father passed it on.
Athletics is his heart and soul. This has come from his father Ajay Kumar who is his lifetime mentor and a International athlete himself in his younger days, a NIS trained coach who has spent quite a few years at the Sports Authority of India. All his Dad did was take him to the Kanteerava Stadium from the age of 3. Till today he says his love for Athletics and Athletes will never die.
Trainee and Trainer
Switching OFF and ON as a Trainee and a Trainer can be quite traumatic but Arjun seems to be transitioning smoothly and says it's all about disciplining the mind and flawless planning. This is clearly evident from the way he trains himself and is still on the national circuit taking part in the seniors and one of his upcoming promising youngsters, Nihal Joel in Juniors. He has made a mark for himself as a successful coach and already kids are wanting to join his camp. Arjun currently stands 4th at the Senior State Level in 100 meters sprint at 10.6 seconds.
Progress of Nihal Joel
The day he met this prodigy, Arjun concluded that he was an Olympic material and says it is a great privilege to be a personal coach for this teen. It has got to be two way traffic and Nihal has been co-operating in every way backed by the immense support from his family.
At Moodbidri State level meet recently concluded, Nihal Joel 17, broke the 17 year old record 400 meter (U-18) by clocking 48.7 sec. Just a few weeks later bettered his timings by creating another New South Zone Record in Trivandrum by clocking 48.32 sec. Arjun and Nihal both are busy preparing for the upcoming Nationals at Vijayawada from 16-20 November, 2017. Arjun adds that Joel unquestionably and undoubtedly will wear the Indian Jersey at the next Olympics.
Cool Coach.
His athletes say he is cool, calm, friendly and fun to be with off the field BUT he means serious business during practice. Arjun reckons that it's not a job but a passion and feels it is imperative to build a strong bond and understanding. What sets him apart is that he value adds a lot by constantly encouraging, supporting, planning variety of work-outs, time management, dietary advice and lends a shoulder whenever required. Bubbling with positive energy which is so contagious and spreads like wild fire. It's a humongous task for a coach to ensure that the athlete has the perfect arm actions, strides, fabulous start, building a strong body, stamina as it all literally boils down to split seconds...
Coach for Adidas
Adidas noticed that Arjun had a young, energetic approach and were quick enough to offer him an assignment as a Coach.
Aspiring Athletes.
Arjun categorically endorses that being a great Athlete doesn't happen by chance or accident but sheer determination, hard work and focus. Anyone interested (in Bengaluru) can contact him on 9738281171 or mail him at arjunajay400@gmail.com. You can also follow Arjun on Instagram – arjunajay400 and check out some of his workouts too.
Bookofachievers.com is thrilled to feature this young coach and wishes him good luck and hopes that he and his Athletes make India proud at the Olympics.