Jyothi Surekha Vennam the young woman archery champion who makes India proud year after year.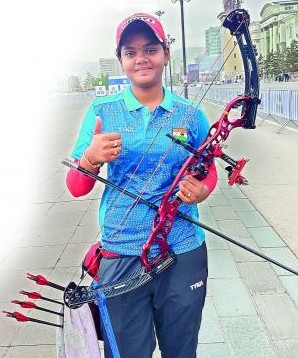 Archery is an age-old activity. Thousands of years before it was considered a competitive sport, this beautiful activity provided men with food and clothing. Over the centuries the bow and arrows became weapons of war and today they are the tools of one of the most beautiful precision sports in the world.
In India there are epic stories like the Mahabharata and the Ramayana where the bow and arrow are legendary weapons, it is part of the historical heritage of the nation. Inscribed in that millennial history is Jyothi Surekha Vennam, a young Hindu archer who with her skill and precision won awards and recognition from a very early age. Among her achievements, she counts achieving a gold medal in the Mexican Grand Prix at the age of 13.
Lineage of sportsmen
Miss Jyothi was born in Hyderabad on July 3, 1996, and comes from a lineage of sportsmen. Her father Mr.Vennam Surendran Kumar was a former Kabaddi player and is currently working as a veterinary doctor in Vijayawada and her loving mother Mrs. Sri Durga is dedicated to housework ensuring that the family stays together.
The Hyderabad champion of archery completed her secondary education at Nalanda High School. Later she started her B Tech studies. And currently, she is studying for an MBA at KL University. Jyothi was for years very concerned about the high costs that the sport of archery represented for her family, however, her father proudly told her not to worry: "When you try to achieve something big, you should not worry too much about finances".
Early career as an athlete
This extraordinary girl achieved a sporting feat at the early age of 4, when she swam three times across the Krishna River for 3 hours, 20 minutes and 6 seconds. It was a total of 5 kilometres covered by a little girl winner. Jyothi won 70 medals as a swimmer until she gave up the sport to become an archer.
Miss Jyothi, at the age of 11, at her father's request, began training in the elegant and demanding sport of archery. The training was intense, with hard repetition routines and physical exercise, but all that intensive training led her to become the world's top junior archer. Experts credit her swimming training with the perfect breath control that Jyothi demonstrates in every competition.
Archery competitions
The five medals won by Miss Jyothi during the celebration of the Mexican Grand Prix of archery, at just 13 years of age, catapulted her to international fame. At the age of 16, she won three gold medals in the national archery competitions, reaching an average of 9.46, a good score within the parameters of the world archery associations.
Miss Jyothi's participation in the 2011 Asian Archery Championships awarded her two bronze medals. Since then her victories have not ceased. She won the gold medal at the Asian Archery Championships.
In recognition of his great sporting achievements in the year, 2017 Chief Minister N. Chandrababu Naidu awarded her a cash prize of 1 crore along with a 500 square yard house in Vijayawada or Amaravati. Jyothi Surekha Vennam is the youngest sportswoman to achieve the Arjuna Award. During her international journeys on the archery circuit, she has travelled to 15 countries.
She recently won two bronze medals at the World Archery Championships in Hertogenbosch in 2019. At the end of the same year, she won the gold in the mixed pairs competition in archery, together with Abhishek Verma. She and her partner won the mixed archery category at the 21st Asian Archery Championship in Bangkok on November 27.
Records and pressure
Abhishek Venran and Jyothi SurekhaVennam are a winning couple in archery. Together they won silver at the Asian Championships in 2017 and four bronze at the four World Cups in 2018. They have been training together since the age of 12: "Abhishek bhaiyya is like a brother to me. We came together perhaps because we have been attending the national camps together since 2012," says Jyothi.
Regarding her first world championship medal, Miss Jyothi said, "This is my first individual medal at the World Championships. I was a little nervous, but I thought I would do my best". She also shot very well and kept up the pressure. The competition showed that Jyothi was in a stellar position by accumulating three perfect shots, and the victory was the result of keeping her cool under pressure. Many have taken up archery as a competitive sport and hopefully she will make it to podium if she represent India at the 2020 Tokyo.