Another Golden Girl in the Wrestling Ring made India proud at the Athens Cadet World Wrestling Championships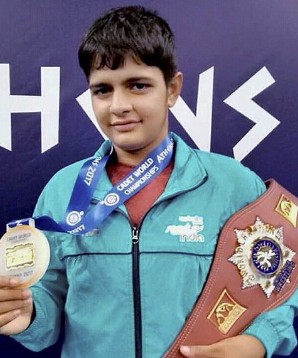 Women wrestling is a favored sport now.
sisters Geeta and Babita and the famous Dangal movie seems to have inspired many women to take up this male dominated sport. The mere fact that India is churning out so many women wrestling champs proves that women, in general, have come a long way. Thanks to the various sporting associations and coaching centres especially in the north; who have succeeded in tapping the talented young girls.
Who is Sonam Malik?
She is a 15-year-old girl from Madina Village in Sonepat in Haryana who recently made headlines for all the right reasons. A 10 standard girl has been quietly spending more than 4 hours each day at the wrestling Ring since she was 8 years old. Her coaches when they first met her knew that she was the medal winning material and have truly invested in this young wrestler.
Heard of Cadet World Championships?
The Cadet world championship is an annual event where Freestyle and women wrestlers in the world under 16 or 17-year-olds compete or more like a junior world championship. To tap the young wrestlers it began in 2014. Also, if one wants to hold an event it has to go through a rigorous bidding process.
Bout Perfect.
know name in the wrestling circles at the national level. The best way to get to the internationals was to take part in the Cadet event at Athens in 2017. She competed in the 56 kg category with her strong opponent from Japan Sena Nagamoto. Having taken the 2-0 lead in the first round, conceded a point in the second and bounced back just before the final whistle with a perfect bout in the third to clinch the Gold. The Indian girls finished with a total 69 points behind Japan with 94.
Olympics Next.
This exceptional victory has motivated Sonam and the other girls to give it all their best for the coming Olympics and will surely make India proud.
BookOfAchievers.com congratulates her and hopes she gets all the support, exposure and training required.