Despite Pandemic blues, this swimmer is all set and waiting to compete at the Olympics.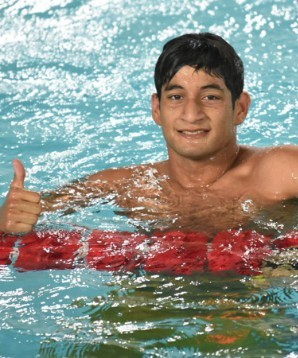 "I am so proud of you. Keep doing the good work. Take care of your health now as well.'' When Kushagra Rawat received the above text from India's ace swimmer Sajan Prakash, his joy had known no bounds. It feels glad when you are praised by someone who is considered an iconic figure by the entire nation. Kushagra also felt the same when praises poured in on him from Sajan Prakash who is trying to transform the face of Indian swimming on the world stage and also an idol to many emerging swimmers like Kushagra.
If we quickly get into the details, Kushagra Rawat, the only Indian swimmer to achieve three B Cuts for the Olympics 2020, is the icon we shall celebrate today.
The Swimmer Who Broke His Idol's Record:
Delhi boy Kushagra Rawat whose lucky charm is his sister received an 'All the best' wish from her before he entered into the New South Wales Open Swimming Championship. With a Thank You reply he dived into the competition and finished with a bronze medal. The cherry on top of the icing came when he broke the mark of Sajan Prakash's 3:52.75 in the 400m national freestyle swimming.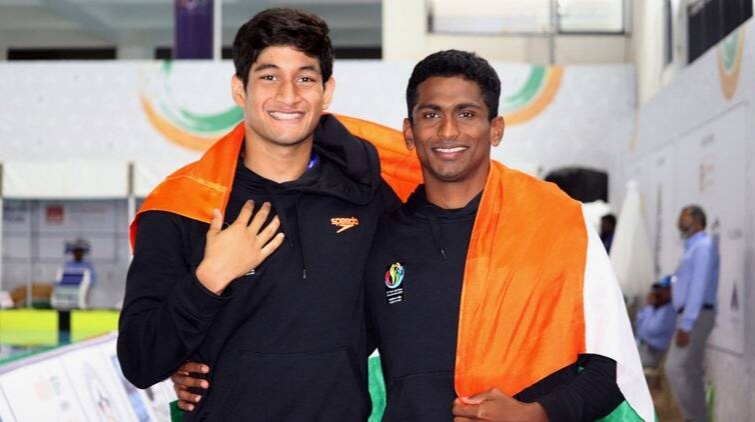 When young, I wanted to be like my sister and then beat her in the pool. Now she has to wish me, or it doesn't feel right, says Rawat.
With this achievement, Rawat got into the 'B' standard of Olympic qualification. On this victory, when Sajan Prakash sent a congratulatory message to Kushagra, the young swimmer felt overwhelmed with joy.
We are really close friends and he's always been supportive. He's one of India's greatest swimmers for me and my idol. That message meant a lot, Rawat says.
Rawat has previously cleared the 'B' marks over 800m and 1500m holding the Indian record, but he was keen on 400m and this has landed him in Gold Coast, Australia. He trained under one of the best coaches of Australia, Michael Bohl with the aid of Sports Authority of India-Glenmark Programme scholarship.
Setbacks Decelerated The Speed But Didn't Dare To Cripple Him:
Just four days before the competition, Kushagra developed a bad back. He suffered from muscle strain. However, once he was on the track, he didn't focus on his pain. "It was a good race. My splits were almost evenly paced," he said.
Not-so-good Beginnings:
The first year of Delhi state, Kushagra came second last in heats. At the 2015 age-group nationals in 200m Individual Medley, he ended up to be the last. Though he got a medal in 2017, he was rejected by the SAI academy. He kept on getting rejected so often but surprisingly, those rejections only built up his motivation. He never got tired of trying. His sister was his inspiration.
My sister was my inspiration for swimming. And my parents are my biggest motivation. My dad is with me in Australia and has been looking after my physical training. And he cooks everything for me too – cuts fruit, bread butter, makes my Whey protein shake, cooks daal, subji, rice, and boiled chicken breast. My family will do anything for me, Rawat says.
Training In Waters:
Kushagra Rawat trains at SAI Glenmark (GAF) TIDM academy which helped him move closer to his dream of qualifying for the Olympics when he secured his 3rd B Cut for the 2020 Olympics in the 1500m freestyle, clocking 15:25.22 at the 2020 NSW Open Swimming Championships at Sydney. This is the best time achieved in the 1500m achieved by an Indian and eclipses the B cut time (OST) of 15.28.02. He had earlier in 400 FS and set a new India best time of 3:52.75 as he bettered the B cut (OST) of 3:53.58. Kushagra had cleared the B Cut in the 800 m Freestyle last year at the Thailand Open in Bangkok and he bettered his time to win silver with a time of 8:01.71. Thus Kushagra became the only Indian swimmer to have achieved 3 B Cuts (OST) for Olympics 2020 and is the fastest Indian in the 400 m and 1500 m Freestyle events.
Kushagra trained under Coach Partha Pratim Majumder at the SAI Glenmark TIDM Program at SAINSA Talkatora. He was sent to Gold Coast, Australia to train under Coach Michael Bohl in order to push him into being a top middle-distance swimmer.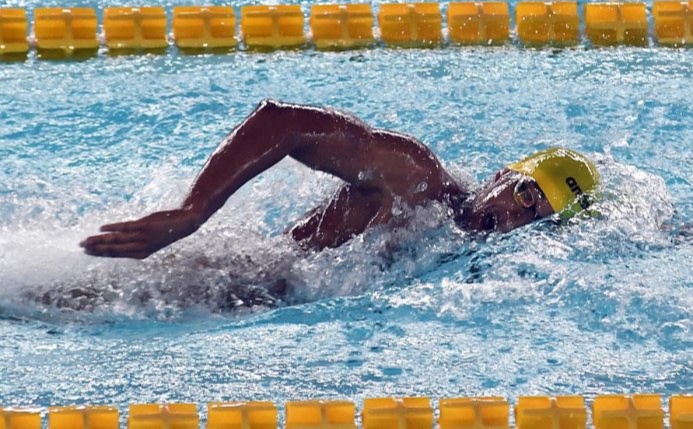 Kushagra has shown his potential and has taken Indian middle and long-distance swimming to greater heights with his sincere training efforts. I thank Micheal Bohl for tirelessly working with him in the past few months and his parents for taking good care of him. As his coach, I am very proud to see him becoming first Indian to surpass the OST (B Cut) in 3 events. We at SAI Glenmark TIDM program are aiming to produce multiple swimmers for India and Kushagra's performance will go a long way to motivate other swimmers, said Partha.
I just keep in mind the words by the GOAT — Michael Phelps — the difference between the good and the great is that good athlete perform well when they are feeling good, but great athletes know how to perform well even when they are uncomfortable, said Kushagra.
Dreams Postponed But Not Cancelled:
The only swimmer from India for having achieved B qualifying mark in 3 events for the 2020 Olympics is now looking forward to the upcoming 2022 Asian Games and 2024 Olympics. Owing to the coronavirus pandemic, dreams of numerous enthusiasts who wanted to prove their caliber in the 2020 Olympics were drowned and Kushagra is no exception. Hoping that there will soon be Olympics scheduled.

Follow Him For More Updates