Youngest Kashmiri girl brings gold in Kickboxing International Championship.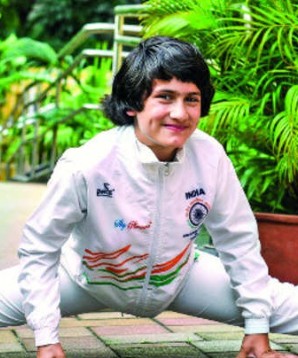 One day, a little girl aged around 4-5 years old questioned her father if she were not his child just because he didn't enrol her in the martial arts class like her siblings. Appalled by his daughter's determination, the father decided to get her trained in martial arts. The girl is Tajamul Islam from Kashmir who made it to the headlines when she brought a gold medal to the country in 2016.
All Cheers to This Young Martial:
It was 2016. The audience held their breath while Tajamul was competing with her rival from the US in the Under-8 category of the World Kickboxing Championship (2016) in Andria, Italy. Cheers filled the air when Tajamul, a class II girl from India's Kashmir knocked her rival down and became the world champion. This was not the first time that this Kashmiri young girl surprised everyone. In the year 2015, National Kickboxing Championship was held at Talkatora Stadium in New Delhi. Tajamul participated in the event in the sub-junior category. Her opponent was much elder to her, a 13-year-old. However, it just took 15 minutes for Tajamul to knock her down and bag the gold medal. "I was a little afraid when I saw her (opponent). But then I said to myself that age or body structure does not matter. I will remain focused and give my best shot," Tajamul said. Prior to this, she swept the rink in the state level championship held in Jammu. The chief coach at the state level championship was impressed by Tajamul's skills and made her compete with the one 8kgs more than her. Weighing just 25kgs back then, Tajamul didn't fumble in front of her rival. This winning declared her as the best fighter of Jammu taking her to the national and international championships. Surprisingly, kickboxing was not her primary choice. She excelled in Taekwondo.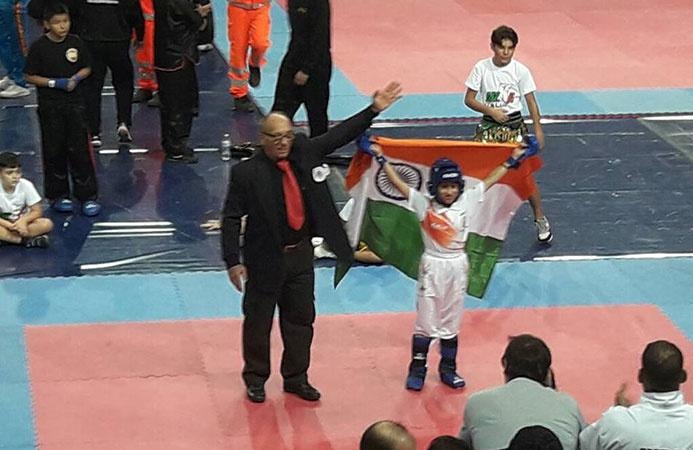 "In Italy, I defeated six girls from different countries, including, China, America, Australia and I must say it was an experience of a lifetime. After that when I got back home, I received a memorable welcome. My father and family were waiting for me and couldn't believe their eyes when I handed over the medal to them. On my arrival from Italy, the villagers welcomed me with overwhelming celebrations. Italy gave me experiences of a lifetime and many memories. I made so many friends to play and practice with. My coach Rahwat sir trained me to be a good fighter. The rest is history" the little Kasmiri Kickboxer says.
Supporting Family and an Amazing Coach:
Islam hails from the Tarkpora village in Bandipora district, 65 kilometres from Srinagar. Her father, Ghulam Mohammad Lone, is a driver for a construction company. Islam has two sisters and two brothers who also are Kickboxers and have won several medals in various events. Islam, a student of Army Goodwill School, went to Dar's academy along with her siblings go train in martial arts. "I was walking near the stadium here when I saw many young boys and girls training. I saw them punching and all that and told my father that I want to join them and he let me," Tajamul said. "I spotted Tajamul from the distance. She wasn't yet completely conversant with the rules of the game but she had the speed. I found her instinctively aggressive," Dar, her coach had said.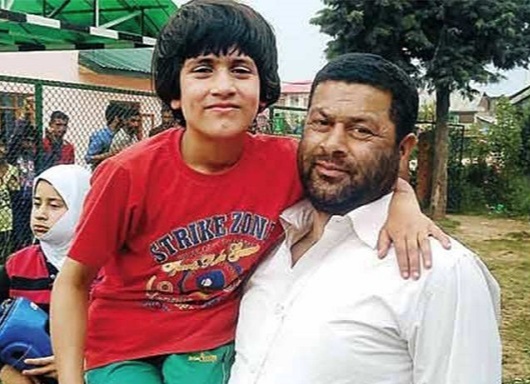 A Not-so-easy Journey to This Little Girl:
Tarkpora's Army Goodwill School is where Tajamul's capabilities in Kickboxing were recognized. There was no proper infrastructure or a sports complex in the district where Tajamul can be nurtured with the required skills. Her coach Faisal Dar thus trained Tajamul in the chilling open field of Kashmir with options of makeshift apparatus. Determined Islam didn't care for the rugged conditions in the open field and practised for 25 hours a week to gain professional skills in the sport. In a region where conservative mindsets ruled and girls were never ready to take up martial arts, Tajamul broke the stereotypes and astonished everyone by being the youngest girl from the valley to bag gold for the nation in an international championship. "Girls from my area usually don't peruse sports and go abroad to participate in tournaments. Also, I started young, so my family was a little sceptical about me being able to balance my studies. When I convinced them, the main problem was to collect money to compete in the games." Tajamul recollects. This India's hope at the international podium never wanted to disappoint people back who had bundle of hopes on her. She thus moved to Delhi at a very young age to receive proper training under qualified trainers at a place with good infrastructure. Islam's father who is a driver did not even care to spend one lakh for her training sessions in Delhi. All the sacrifices made by the girl and her family came back in the form of Gold. At one point of time, when it became hard for the family to collect money for the girl to travel for the championship abroad, Islam received help from the Army who sponsored her travel to Italy. She feels extremely grateful for their kind help at the right time. "Without the Army's help who sponsored me to fly to Italy, nothing would have been possible," Tajamul says.
Tajamul's Words Of Maturity:
Tajamul is an inspiring soul today to all the girls in the valley. She says that Kickboxing is a good self-defence activity and should be learnt by girls and women for their own safety. With Islam's inspiration, many girls in Jammu including Islam's younger sister started training in this game of mettle. Talking to a news portal about the infrastructure and facilities, Islam said, "Kashmiri players are in dire need of facilities and exposure. We are achieving so much with so little. Think if we are provided equipment like any other state or country, we will be unstoppable."
Tajamul, who aims to become a doctor with the Indian army when she grows up, is sure to achieve whatever she wishes to.

Follow Her Work