$ 1 Million prize money to a teacher ? Why is the world taking notice ?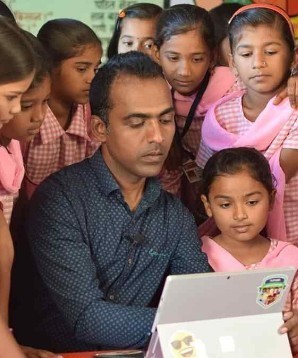 The CEO of Microsoft, Satya Nadella looked at a teacher from Maharashtra, India who teaches in a ramshackle school building driving tribal girls to school. In his 2017 book "Hit Refresh", Satya Nadella acknowledged the service of Ranjitsinh along with two other Indian success stories. Ranjitsinh was named as the Innovative Researcher of the Year 2016. He was also honoured with the Innovator of the Year award by the National Innovation Foundation in the year 2018. Various newspapers have published his articles summing up to more than 500 and many television discussions hosted him to speak on educational topics. Above all, on 3rd December 2020, there was a great announcement from London, UK. He received the prestigious Global Teacher Prize 2020 presented by Varkey Foundation in partnership with UNESCO. Who is this man? A teacher from Paritewadi, a small village in Maharashtra made sensation internationally and if you are wondering what was so exceptional about his work, then keep reading.
Ran Away From Bullies and Became a Change-maker:
Disale joined an engineering course but he was subjected to severe bullying and ragging. Unable to handle all that he left the course. However, this incident did not leave him angry on the education system. His father suggested him to join the teacher training course. Though Ranjitsinh hesitated initially, he decided to step into the training college. The everyday experiences and learning at the college made Ranjitsinh realize the importance of teachers in shaping and nurturing the world. He developed a huge respect for the profession and resolved to bring considerable changes to the field of education. Thus his wish to become a teacher and upgrade the lives of children grew as tall as an oak tree with time and there you go, his journey started in a school at Paritewadi in Maharashtra.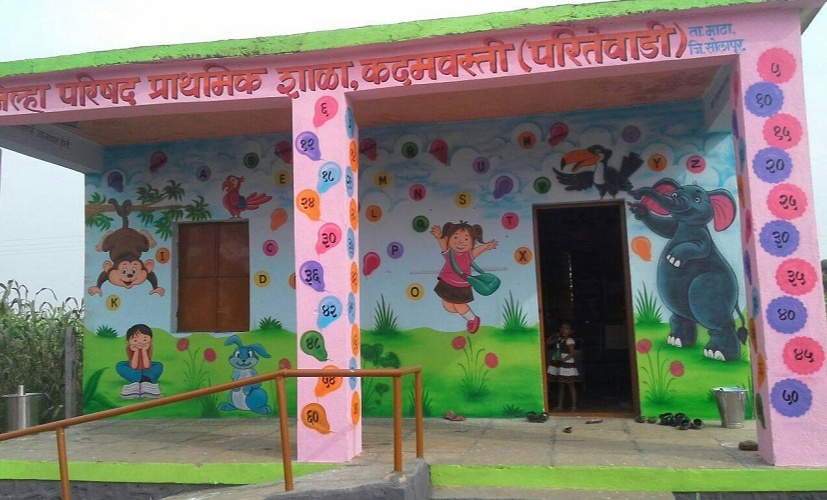 From Dilapidated School to the Best School in the District:
Ranjitsinh started as a teacher in a school that's set up in a ramshackle building which had cattle shed on one side and a storeroom on the other side. The girls who studied here were from the tribal communities whose priority of life is definitely not education. In a place where teenage and early marriages are most common, Ranjitsinh had to strive hard to get girls to school. Another serious concern that kept the girls away from education was the language in which the curriculum was designed. It was not in the students' primary language, Kannada. Noticing the loopholes that are stopping the girls from reaching the school, Ranjitsinh decided to change them. With intense efforts, moving to the village, he first learned Kannada and then translated all the textbooks of grades 1-4 into Kannada.
He didn't stop here. He went on to embed the textbooks with unique QR codes that gave access to audio poems, video lectures, stories and assignments in Kannada. These uniquely designed QR coded books benefited many girls when schools were closed due to a terror attack, as they were able to continue learning. By analyzing students' reflections Ranjitsinh would change the content, activities and assignments in the QR coded textbooks to create a personalized learning experience for each student. He also upgraded the QR Coded Textbooks with the immersive reader and Flip grid tools to aid girls with special needs. Students started coming in and the attendance that was once as low as 2%, rose considerably and 98 per cent of students have achieved their expected learning outcomes before completing the school year. Say hurrah that now there are no teenage marriages in the village at all. 85% of the students achieved 'A' grades in the year-end examinations. 100 per cent attendance by girls at the school is Disale's biggest achievement. One girl from the village is now graduated from University - a historic achievement indeed! His school was the first in the state of Maharashtra to introduce QR-coded textbooks. For all this, the school was awarded as the Best School of the district in 2016.
The QR Code Revolution:
Ranjitsinh submitted a proposal for the QR-coded textbooks to the government and after successful pilot scheme; the State Ministry announced that they would introduce QR coded textbooks across the state for grades 1-12 in 2017. Once this was successful, HRD Ministry of India asked the National Council of Education Research and Training (NCERT) to study the impact of QR Coded Textbooks and report on how this can be scaled up nationally. Finally, in 2018, HRD Minister Prakash Javdekar announced that all NCERT textbooks shall come with embedded QR Codes.
Not Just Education But Beyond That:
Ranjitsinh wants his students to apply their classroom learning to solve real-world problems. Being in a drought-prone district of Maharashtra, his school could now successfully handle the concern of desertification. In the last ten years, they could increase the green cover from 25% to 33% and an overall 250 hectares of land surrounding the village was protected from desertification. For this, his school won the 'Wipro Nature for Society' award in 2018.
Ranjitsinh also strived for building peace between young people living across conflict zones. He initiated a project called 'Let's Cross the Borders' that connects young people from India and Pakistan, Palestine and Israel, Iraq and Iran and the USA and North Korea. In this, students are matched with a peace buddy from other countries and closely interact with them. They prepare presentations and listen to guest speakers together to identify their similarities. An outstanding number of 19,000 students from eight countries were initiated into this programme.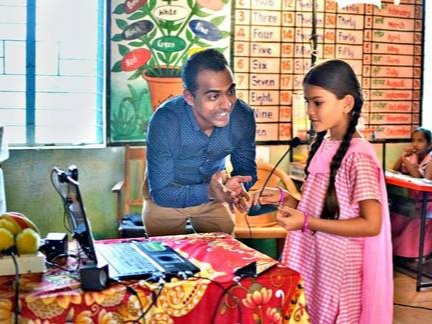 Also, using the Microsoft Educator Community platform, Ranjitsinh takes his students studying in schools with depleted resources from around the world on virtual field trips over the weekends.
He demonstrates scientific experiments from the science lab in his house teaching above 85,000 students from over 1400 classrooms in 83 countries through these virtual lessons. With an intention that whatever he learns should be passed on to other teachers as well, during summer vacations, Ranjitsinh Disale has trained more than 16,000 in-service teachers throughout the state of Maharashtra on how they can impart technology into their teaching.
A Decision worth Praising:
When Mr Disale was selected for the Global Teacher Prize that was initiated to recognize one exceptional teacher who has made an outstanding contribution to the profession from among the 12,000 nominations from over 140 countries around the world, the world looked at India in awe.
On top of that when Ranjitsinh received one million dollars as the prize money with the Global Teacher Prize, he announced that he would share 50% of the prize money equally among his fellow Top 10 finalists to support their incredible work.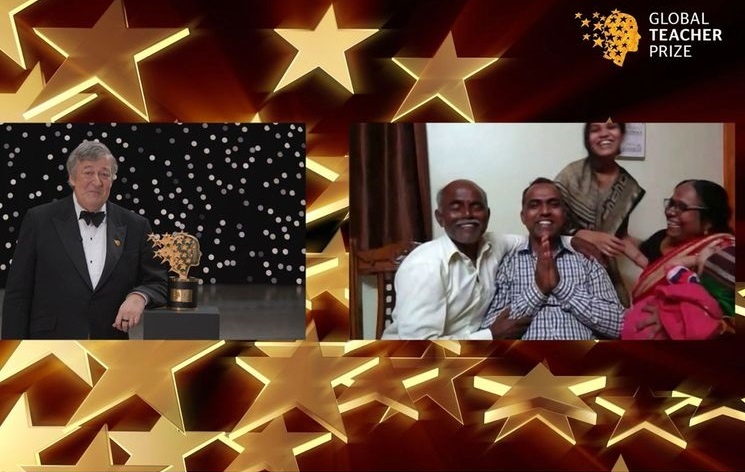 "I believe, together, we can change this world because sharing is growing", he said.
"I want them to feel like winners and be equally happy," Disale said.
The nine runners up of the Global Teacher Prize 2020 are:
1. Carlo Mazzone, ITI "G. B. B. Lucarelli" in Benevento, Italy,
2. Doani Emanuela Bertan, EMEF Julio de Mesquita Filho, Municipal Public School, Campinas, Sao Paulo, Brazil,
3. Hà Ánh Phượng, Huong Can High School, Phu Tho province, Vietnam,
4. Jamie Frost, Tiffin School, Kingston-Upon-Thames, UK,
5. Jeong-hyun Yun, Suncheon Technical High School, Jeollanam-do, South Korea,
6. Leah Juelke, Fargo South High School, North Dakota, USA,
7. Mokhudu Machaba, Ngwanamago Primary School, Polokwane, Limpopo, South Africa,
8. Olasunkanmi Opeifa, Government Day Secondary School Karu, Abuja, Nigeria,
9. Samuel Isaiah, Sekolah Kebangsaan Runchang school, Muadzam Shah, Pahang, Malaysia.
Thus, as per Ranjitsinh's announcement, these other nine finalists would receive over US$55,000 each. This is the first time in the six-year history of the Global Teacher Prize the final winner has shared the prize money with other finalists. Disale also wants to donate some of the prize money to establish a Teachers Innovation Fund to help teachers like him bring ideas for students.
Students Are His Love:
Though Disale's name has been trending on social media and congratulatory messages from celebrities including Amitabh Bachchan are pouring in endlessly, Disale is most excited to celebrate this achievement with his students in Paritewadi.
"I am going to meet the students soon and will celebrate with them. I have already shared the news with them and they are too happy. Now I want to see the happiness on their face," he said.
A teacher can make all the difference and that difference can change the world. Salute to this teacher who not just taught from the books but redesigned them for his students. He not only taught his students to read and write but moulded them to face life with courage and thought. May he continue to live a healthy life and May many young girls are brought to school and educated