Successful Covid entrepreneur. The opportunity glared so hard that he plunged without a second thought.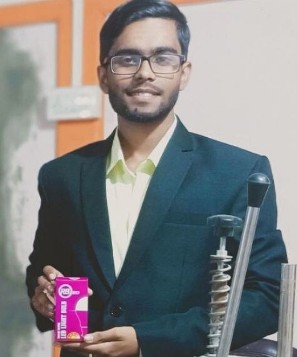 In January 2020, the LED bulb in Rohit's room stopped functioning. He didn't find any electronic shops in and around his vicinity. Finally, he decided to open the bulb and look at its components but didn't find much. He then watched YouTube videos to understand the components and their functions. Though there aren't too many components apart from the chip, drivers, cap, and body; their capacities varied and none of the components needed processing but they required careful assembly. After observing and comprehending their assembly and functioning, the man decided to set up an LED manufacturing unit altogether. This is the story of Rohit Bhattacharjee whose one damaged LED bulb led him to set up an LED bulb manufacturing unit by even selling his bike.
Student Who Turned Into An Entrepreneur In the Lockdown:
22-year-old Rohit Bhattacharjee from Algapur village, Tripura, is a second-year English honours student. His parents are both retired government teachers. Rohit was always disturbed by the unemployment in their village and wanted to do something about it. When the LED bulb in his room turned defective leading him to ponder over its components and functionality, the thought of setting up an LED manufacturing unit struck his mind. This, he thought would create employment for people in his village. When he expressed his thought to his parents, they were appalled at this initially. As the family has never been into something like that before, they were sceptical about Rohit's decision but didn't stop him from doing what he wanted when Rohit assured them that he would make something work out of his initiative. Instead of asking Rohit to concentrate on his studies, Rohit's father Pulak gave him a chance and encouraged him.
The Beginnings:
There's an idea but Rohit needs resources to give some shape to his idea. To pool up the resources, he needed money. As his parents are retired government teachers, they couldn't offer much to him. Rohit too did not reveal all of his plans to them but told them that he wants to sell the bike his parents gifted him. He also convinced his parents that they can trust him and somehow they managed to arrange Rs.3.5 lakh out of their savings. The next question was where to set up the unit. A small piece of land beside their house stood as the choice for setting up the unit. Money and space for the unit are now in hands. The next challenge came in the form of sourcing the components. Rohit couldn't get equipment locally. After rigorous search and days of turmoil, he could find vendors from Delhi. Thus, the equipment he ordered from the vendors arrived by the end of February 2020. Rohit then started making LED bulbs by himself. After a few futile attempts, Rohit was finally successful. The first three bulbs he manufactured were used to light up the rooms of his home. He then went on to make 50 bulbs all by himself. This gave him the required boost and from there on, he didn't look back. He named his LED manufacturing unit R B Illuminations and got it registered.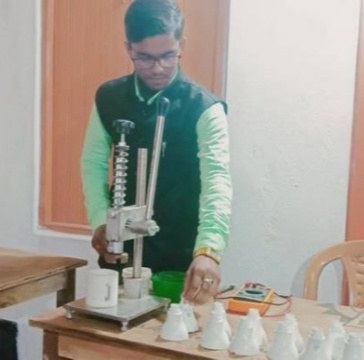 The Marketing - Making His Product Stand Out Of The Rest:
Rohit approached the local shops to sell his product at Rs. 90 each. While there were already many LED bulbs being sold in the market, how would Rohit's bulb become a choice to the consumer? Rohit says that the bulb he made is much cheaper than that of others available in the market. Moreover, the usage of high-quality components makes the bulb shine brighter than its available counterparts. The components used are such that the bulb's longevity is also ensured allowing Rohit to offer a two-year warranty on his product. What else does a buyer need? A brighter bulb with durability and longevity at a comparatively lesser price! For this very reason, Rohit's R.B bulb started making good sales and received good feedback from the customers. By this time, COVID-19 lockdown was already imposed across the nation. However, this didn't stop the acceleration of his business. The sales kept picking up. After gaining confidence that he could earn well, he asked seven people in his neighbourhood to join him in manufacturing the bulbs in order to cater to the increased demand. Three of those seven people lost their jobs during the lockdown and returned from Bengaluru. Rohit's offer to them was like a mid-summer's rain as they could get back to earning. Rohit trained them and paid Rs.12000 per month.
"It takes ten minutes for a trained person to make one LED bulb, and 100 bulbs can be produced in a day," Rohit says. Eventually, Rohit appointed a manager with 15 years of industry experience to assist him. Rohit's R.B LED is now making good sales and has also become the source of bread for people in his village as he envisioned. "The effort my son has taken has been appreciated by the government at the Ministry level. It's growing to become a trusted brand," his father says.
Brighter future days.
The demand for R.B LED bulbs has been increasing day by day as the customers are preferring locally-made bulbs over the brands that charge high. This, Rohit wants to expand the frontiers and sell his bulbs beyond his region. For this purpose, he is currently looking for partners and dealers.
Congratulations to the young student who not only made something for himself during the lockdown but also "created" livelihood for the people of his village who are suffering the ill-fate that resulted from lockdown. Prime Minister's "Vocal For Local" seems to be coming true indeed!