IIT graduate designs Triwizard Chess - a battle on board among three kings.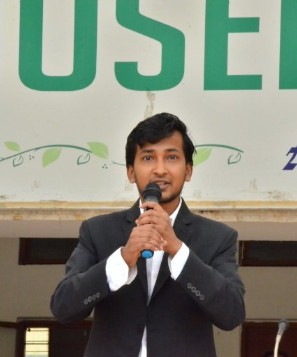 Enhances creativity, improves memory, increases intelligence, develops perspective, protects against dementia, enhances planning skills, builds confidence, exercises the brain, builds problem-solving skills, and the list goes. Eager to know about the activity that brings about a whole lot of benefits like the ones listed above? It's the most powerful board game that tickles every nerve cell in your brain - Chess. A two-player board game that puts you through complicated phases just by sticking you to where you are in the most effective game that brings out the knight in you. The whites and blacks on the board paint numerous colours on your face while you proceed them to attack your opponent. The game dates back centuries ago and ever since then, it has been a matter of engagement, entertainment, prestige and power. Today, India has so many prominent chess players who have placed the country's pride on the world map. Furthermore, a young graduate walked few more steps ahead and re-defined the game. Aditya Nigam, who was playing chess since he was 5 years old, came up with Triwizard Chess, a mental battle among three kings instead of two. Let's get into the details to know more about how Aditya got into all this.
Strict No-no To Waiting:
Aditya Nigam who finished his schooling in St. Joseph's School, Bhopal, went on to pursue Engineering in the Indian Institute of Technology, Roorkee. A 2014 graduate, Aditya used to play chess ever since he was five years old. He usually played chess with his brother and friends. While two people were playing, the rest had to just sit and watch, which they didn't like. Little Aditya thus started to think, "What if the game is modified including more players?" This thought followed him in his growing up years. It is only after his first year of graduation that Aditya ventured into working upon it seriously. His research into re-designing the game began in 2011. Even before he kickstarted his Triwizard operation, he designed a financial technology-based app called 'Passbrook.' This is a game that is more intense than regular chess. Ideal for classrooms, family day-outs, and fun time with friends, this game gained immense popularity. The success of this app also acted as a booster to Aditya, to head forward for his Triwizard project.
Taking The Game To A Next Level:
With a sole aim to take the game to the next level, Aditya worked on developing the potential code. Triwizard is a game of chess intended for three players. The original rules of the chess game remain unchanged. "This game is of Chess lovers, by Chess lovers, and for Chess lovers", said Aditya. Triwizard Chess is a game that increases the player's concentration levels allowing them to develop patience and focus. With three players, one has to battle with two other minds instead of one. The white plays first thereafter the next turn comes of grey, followed by the black, turning clockwise. The player must focus not only on attacking and protecting their own pieces but also offer to protect the player threatened by the third one. This unique version that comes with tri-coloured chess pieces (white, black and grey), involves several complex permutations to make it an exciting battle among three.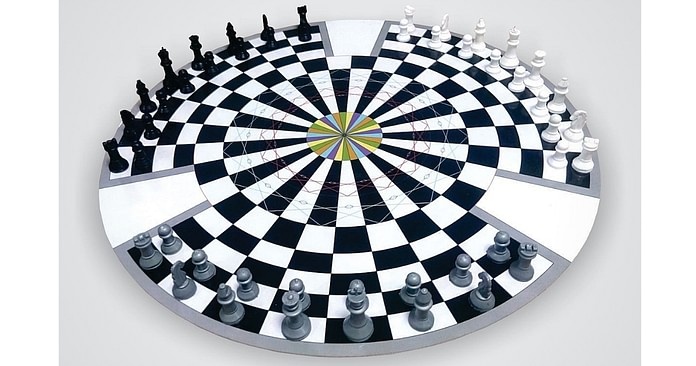 With the main idea behind the game being encouraging youngsters towards playing chess, this unique board game allows the viewer to be the player ready to change the entire dynamics of the game. It all came to being when IIT, Roorkee organised the first-ever three-player tournament using his invention, the Triwizard Chessboard in August 2018. The participants were all IIT Roorkee students, with a wide range of chess experience, ranging from beginners to advanced. One of the winners of the competition, Vivek Varma said, "In this version, the complexity of the match meets new heights as you now have to battle two minds. You have to take care of attack and defence at the same time, while quickly calculating and making your moves. What makes it even more challenging is that you can't use your old theories or strategies to win this game. Triwizard chess demands that its players are quick and on their fingertips at all times!" Aditya further said, "Three player chess combines all of the infinite varieties of a classic game of chess with the addition of complex psychological elements. Alliances are formed and broken if players so wish."
The Start-up Problems:
It's likely that new innovations face hardships while taking baby steps. Likewise, Aditya's unique game also saw several roadblocks. People discouraged the boy initially. There were numerous logistical issues. When the prototype design was ready, challenges came in, in the form of convincing the manufacturers to create a custom chessboard and chess pieces that too in limited quantities. Lack of resources was also a hurdle. The weapons he had to overcome these challenges were hard work, patience, perseverance above all, family support. Once the game was out to release, it received great appreciation.
"The user's response is phenomenal and their feedback has been very encouraging.", Aditya said. Triwizard chess kit is made available online on Amazon at Rs 1699.
The Road To Future:
While Triwizard chess cannot be played online at present which Nigam is planning to launch soon. In the online version that he plans, the players will go head-to-head with the computer. Nigam also plans to start training and grooming classes for those who are interested in the game. "Chess is believed to have originated in India, and I hope that with this invention, we will be able to hold an international Triwizard chess tournament in India, adding another feather to our glorious hat!" he said.
It takes guts to modify and more than that to make people accept the change. With numerous setbacks on his way, Aditya could par them courageously and has made his mark in a unique sphere.

Follow His Work