To make plastic more sustainable and greener, this graduate from ICT, Mumbai is walking a long way.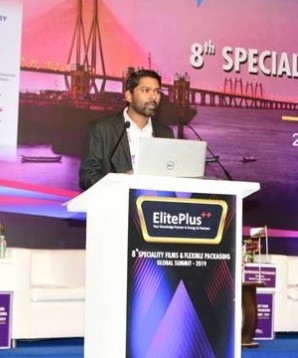 It is considered toxic to the environment and the mother earth. It doesn't make a good companion to the soil nor is it friendly to nature. It is not suggested for wide usage but the irony is that its usage is unavoidable. It is nonetheless the most eco-threatening product, the earth's foe, the Plastic. However, efforts are being put across the globe to reduce plastic consumption and the ill effects of its usage in industries. On the same road, walks an Indian entrepreneur, Suhas Dixit, who founded a company back in 2007 that focusses on showing how best Plastic can be reused for a better purpose.
A Green Goal:
Suhas Dixit is a student of the Institute of Chemical Technology (ICT), Mumbai. He wanted to prove that Plastics can be well-engineered and can be made sustainable and eco-friendly. He researched various ways to recycle plastic waste that generates from industries in the most sustainable and cost-effective manner. With the sole aim to clean and purify as much plastic as possible, he founded AP Chemi, a company that supplies machinery and technology required to convert unrecyclable plastic and tire waste into fuel.
Expertise That Made Everything Possible:
Converting waste plastic from industries into fuel using cost-effective methods and deriving sustainable benefits out of the "toxic" product is not a small thing. It requires a great deal of observation, understanding, analysing, research and expertise in the field. Suhas thus has become the right person and under his leadership, Agile Process Chemicals and GreenJoules Pvt Ltd have made their mark in the plastics conversion industry. What is it that made Suhas lead these gems effectively? Suhas has hands-on experience in technology development and technology licencing in the sphere of pyrolysis. He has good knowledge in the Pyrolysis of mixed plastic, multilayer plastic, flexible packaging films, PET, PVC, RDF, tyre, biomass, waste oil, waxes, soap and sludge. He has a great understanding of Pyrolysis plant design, manufacture, EPC, installation, commissioning, operation and maintenance. He worked as a Consultant in the domain of Pyrolysis for troubleshooting, planning, turnkey solutions, research and sustainable development. So, what more a leader requires to effectively lead his team and set the company's vision on the right track? Suhas Dixit, a staunch believer of the transparency of intentions, paved way to plastic management.
AP Chemi - The Plastic Manager:
With a vision to promote the recycling of end-of-life plastic waste in a sustainable fashion, Suhas Dixit, an inventor with a number of patents in the domain of Plastic and Biomass Pyrolysis, founded AP Chemi in 2007. It emerged as a leading technology licensor for recycling the toughest and the dirtiest of plastics including 'multilayer-packaging' and 'municipal solid waste segregated plastics.
The main aim of this company is to review faulty plastic waste management systems and promote the necessary innovation to make progress. AP Chemi is leading in the recycling of plastic waste for the last 12 years now. The company is backed by Shell Petrochemicals and Dr JB Joshi Research Foundation. It has established over 30 pyrolysis plants globally. The company promotes chemical recycling of the toughest and the dirtiest plastic wastes in a very transparent and sustainable manner. AP Chemi's plants use pyrolysis technology that uses heats to chemically convert unrecyclable plastics and MLP. Currently, APChem recycles 80 metric tons of end-of-life plastic waste into fuels and petrochemicals every day.
Efforts Towards An Intelligent Living:
Suhas is also the director of Greenjoules that recycles biomass and produces Euro 6 grade diesel using Agile Process Chemicals' technology. Numerous intellectuals are working towards creating a sustainable living on the planet that has been subjected to toxins for so many years now. The process of cleaning and purifying the planet is in its way wherein, irrespective of age, gender, educational and societal background, many people are coming forward to make the mission successful. Let's encourage and pat the spines of innovators like Suhas for saving the planet, creating employment opportunities and setting the nation on the world stage.
Know More About APChemi