Honey is as good as it gets provided the nectar is collected by bees from the right source.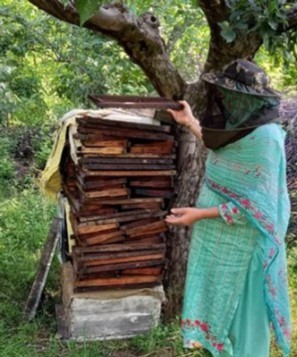 Hobbies when turned into professions and business ideas, become successful all the way undoubtedly. People embrace various hobbies and most of them turn their interests and hobbies into their means of living. Rahila Kousar from North Kashmir is one such person who embraced her hobby and turned into an entrepreneur providing employment to others with her business. This is her story and let's get into knowing about this woman from the valley.
A Unique Hobby That Turned Into A Business Opportunity:
Rahila Kousar is a 38-year-old woman who hails from Nambla village of Uri area of North Kashmir's Baramulla district. Rahila had the hobby of beekeeping ever since her childhood. This interest in bee-keeping grew with age and she successfully turned her hobby into a business model and launched her own venture in 2011 under the brand name, Uri Honey. The name, she says, struck her mind from her native town. "I thought why not Uri and promote my own place," she said Rahila started this venture under the Self Help Group scheme launched by the then Chief Minister of Jammu and Kashmir, Mehbooba Mufti. After taking a month's training from the Apiculture department, she started with 10 Apiaries that she bought from the Apiculture Department and as the business went on well, she bought 300 more apiaries. She said that one apiary produces 5 kilograms of honey.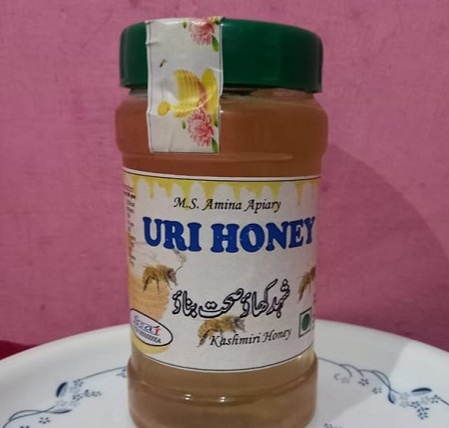 A Careful Watch Over Things:
Rahila Kousar who carefully does the honey production says that her business depends solely on the weather. Production of honey happens mostly in the hot weather as it is then that the bees go for the breeding process making the extraction process easier. Rahila says that they move in search of pleasant weather to continue their work of honey production which is done four times a year. "Till April, we work in Jammu as Kashmir still remains under the grip of cold. Afterward, we come to the valley till December and then Gujarat for two months and back to Jammu," Kousar explained in an interview. Rahila said that they pack the honey mostly in packs of 500gms and sell at Rs. 500 each. They also make packages of one kilo and more, depending on the customers' demand. They do the process of extracting and packing at home. With their bee colonies producing around 25 kilograms of honey per year, they earn around Rs 6 lakh through the business. Rahila who is providing employment through her business says that currently over four men work with them and have settled in their lives. She said that she employs more people in the days to come.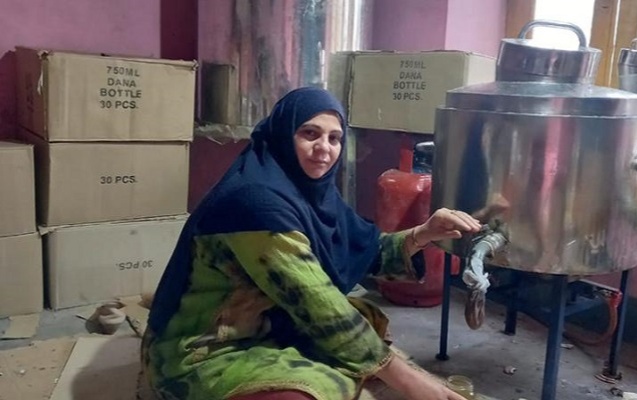 Darkest Days:
While every venture has its own dull phase, Rahila's venture saw its darkest days during the Article 370 and COVID-19 lockdown. She said that they incurred losses of lakhs unable to deliver orders to the customers. "During the abrogation of Article 370, everything was shut and even all the communication lines were down. No movement was allowed during the COVID-19 lockdown. I hope the 4G Internet is not affected anymore. We have customers in Gujarat and other parts of J&K and they too have suffered for the want of unadulterated honey as our one is homemade and pure," she said in an interview. She also talks about how in a place like Kashmir, it is not so easy for a woman to do something on her own. "At a place like Kashmir, it looks difficult for a female to start something of her own but my husband supported me a lot and made my dream come true," she said.
Seeks Support From The Government:
With a lot of scope in the business, Rahila says that I'd government doesn't keep a low sight on them, the business would flourish more. Government attention, she says, would help them and their business come out of many struggles they experience on a daily basis. "We demand the remuneration from the government for travelling that they have been providing to other districts of the valley. Bandipora and Baramulla districts have been dropped from the list. There should be the free movement of our vehicles on the Srinagar-Jammu national highway as the stretch remains closed for days during winters. Also, the forest department should plant Kikar trees which attract the nectar," she tells her opinion in an interview. She also opines that training and sensitization programs on honey bees and their management must be held so as to help the beekeepers enrich the production.
Kausar says that she is looking for the Geographical Indication (GI) tag that will give a special identification to Kashmir's honey which is considered the best because its nectar is collected by the bees from the meadows, orchards, forests and gardens. "The tag is the need of the hour," she said.
Not only is she creating employment she is aiming at providing pure honey.