Meet the woman entrepreneur who started e-commerce even before there was any social media - her art platform is now a brand.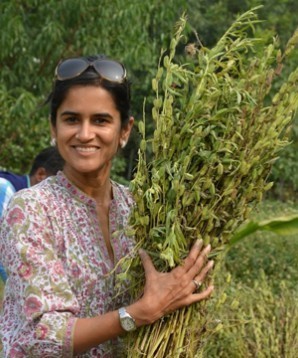 There's a saying "Art for Art's Sake". Yes! If you love what you do, everything is as beautiful as art. When art is reasonably made to reach people, then the magic of art spreads and overflows. If you are an art enthusiast, you must have visited public art platforms, art galleries etc. to take a look of the latest art pieces or to procuring them. But most of the times, lack of transparency and few other constraints at the art galleries stop you from owning the art you love. Manisha, a 44-year-old Indian entrepreneur is all set to fill such gaps. Her enthusiasm for art coupled with her huge work experience gave way to a moonlighting project which she finally developed into a wholesome enterprise. Let's see what she has been doing to take art to the art-admirers.
Hobby That Turned Into a Habit and Later Into an Entrepreneurial Idea:
Manisha Lath Gupta graduated from IIM, Bangalore in 1997. In 2002, she started collecting art as a favourite pastime activity along with her husband. What started as a hobby slowly turned into a habit. She started exploring art and visited numerous galleries. She treaded deep into the industry but to her dismay, she realized that the art mark is extremely inefficient. There's little awareness about art and the transparency in the art market is totally nil. So she decided to host a platform where art collectors could share their collections along with purchasing and selling their collections without the involvement of any intermediaries. Thus, she built an online community where art collectors connect with each other and thus Indian Art Collectors (IAC) hit the digital platform in 2005. Even before social media and online marketing took a swing, Manisha got together numerous art collectors who further started requesting her to expand the platform from being just a community. Upon requests, Manisha converted the site into a commercial hub by developing a "click and buy" option. Thus, the artists who were vexed with the glitches in the physical avenues till then became active members on IAC. The expansion of this online community happened solely by word of mouth.
From Moonlighting To A Full-time Entrepreneur:
Manisha has over 20 years of experience in the fields of consumer goods, banking, eCommerce and fintech. She started her first job in 1997 with Unilever and then worked for eight years with Colgate Palmolive since 2004. She later shouldered the role of CMO at Axis Bank and continued until 2014. While working with Axis Bank, to avoid any possible conflict of interest, she handed over the responsibility of IAC to her sister. In 2014, she decided to leave Axis Bank and dedicate her complete time to IAC. By 2014, as the e-commerce started to take its swing, Manisha felt nervous if some competitor would snatch IAC's position and thus she decided to keep with the pace to stand in the race. She drove all her efforts into it and set up a team, collected customer experiences and introduced distinct categories like the digital prints etc. thus giving the site a whole new look, functioning and purpose. Thus what started as a moonlighting project in 2005, turned into her full-time e-commerce enterprise in 2014.
IAC to Mojarto:
In 2015, Manisha met Tara Roy of NDTV through Neha Kripal. It was the time when NDTV was looking for some art gateway to venture into e-commerce. When Manisha met them with a hope that IAC is the best platform for NDTV to build their business, things started working well. Her experience spanning around two decades and the learning she underwent in her previous job roles helped her to meet the challenges like curating the market, drawing the users, and driving the conversions forward. She could efficiently engage with the board members and investors and that's how NDTV acquisition came up. The team gave IAC a new name rebranding it as Mojarto. Mojarto evolved into a platform that hosts above 17,000 original and curated artworks and products.
"Several times in the past, I considered rebranding the site myself, but couldn't dare. Having known the media reach of NDTV and its ability to establish a brand name quickly, I was happy to change the name to Mojarto – a name derived from Mojo and Art.", Manisha gleefully says.

Mojarto - Setting a Path of Her Own:
To fill the gaps in the current art market like the lack of awareness about art, the fragmented market, non-transparent pricing, zero credibility etc., Mojarto has set its way wherein customers can think of only one aspect - good and honest art. While taking customer experience into account, Mojarto keeps upgrading herself. The recent initiative called Artify has been receiving good response ever since its inception. The concept of Artify is to combine art with what people love. That means it allows customers to convert their photographs into artwork like realism, sketch, pop art, expressionism or drawing. This way, Mojarto is trying to enhance the appreciation and attention that art receives breaking down the barriers and confinements. Along with curating the art, they are rich in video and written content. Every product and work at Mojarto is curated thus this curated discovery platform, sets herself apart from the rest of others in the field of art.
Manisha - Beyond Entreprenuring:
Manisha is an environmentalist. She is also a permaculture farmer. She says that one must be conscious of the carbon footprint. In view of this, she also started an FB forum called EverydayEco where ideas are presented and shared towards leading a carbon-neutral life. She also practices permaculture and organic farming in her 10-acre farm called Aanandaa. What was just a piece of barren land has grown into a dense forest with almost 5,500 trees, ponds and pools and water harvesting pits that harvest over 100 lakh litres of water every monsoon. Grains, pulses, spices, vegetables, oil, fruits, etc grown in the farm make them self-sufficient with respect to food. So, Manisha is much more than an entrepreneur - an eco-thinker and a self-made organic farmer.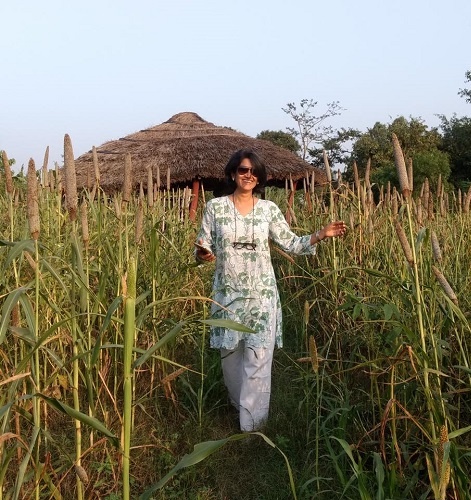 A Word to The Budding Entrepreneurs
Manisha says that an entrepreneur must have problem-solving skills. If you want to be an entrepreneur, then you must be able to identify a problem, empathize and attempt to solve it. If you can think out of the box to solve problems, then, she says, you have all that to become an entrepreneur. She advises the budding entrepreneurs to validate consumer idea and start with seed funding before getting into full-time entrepreneurship.
We wish Manisha many successful projects in the future and may her attempt to take art to people in the most honest way bloom far and wide.