Mansukhlal Failed in SSC is a successful entrepreneur. Created Marvels out of Mud for a healthy life-style.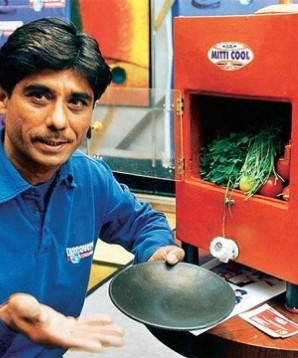 Failure a stepping stone to success.
Who said that intelligence is based on the terms of pass or fail? If it is so, then our nation wouldn't have seen an entrepreneur whose innovations are helping the globe breathe.
The Man Who Kissed The Mud :
Mansukhlal Prajapati, the son of a Potter who hails from Gujarat, developed an entire range of earthen products right from a frying pan to the refrigerator.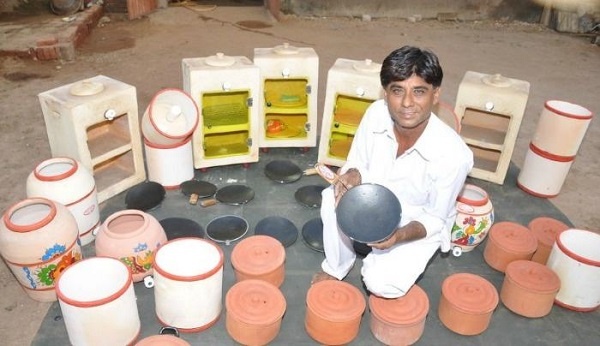 From A Tea Seller To Being A Tycoon:
Parents never give up on their children whether its fail or pass. When Mansukhlal failed in SSC, his father had to find something for his son so that he could learn to be independent. He decided to set up a tea stall for him but Mansukhlal had little or no interest at all.
Mansukhlal promptly quit the tea stall biz and took up a regular job at a Tile manufacturing unit. He was quick at learning the ways, processes of tile making. He wanted to venture out on his own but the tile manufacturing is an expensive business and was next to impossible.
Creative bent of mind
Mansukhlal deep down had the yearning to do something with his restless creative mind and hands. "Since I know the process, why not try and make earthern ware utensils etc" he thought.
Literally got his hands dirty and resolved to create tawas (cooking pans) using the experience of the tile manufacturing technology with a Rs. 30000 loan. Thus started this young boy's tough journey as an entrepreneur.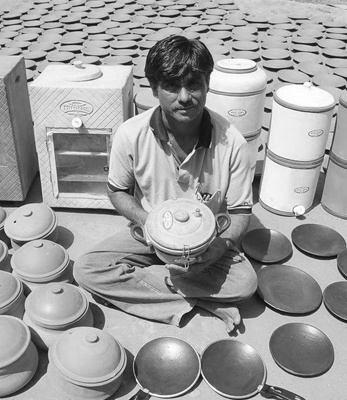 Marvels out of Mud
He did'nt stop at pans but started creating new useful products. He observed the impoverished drinking contaminated water from a local pond as they could not R.O water filters. Moved by this, Mansukhlal made an affordable water filter out of 0.9 micron clay at a minimal price of Rs. 300 in 1995 and named it MITTICOOL . And Boom!! The poor man's water filter was ready!!!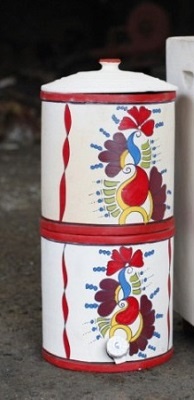 The next idea that germinated in this genius brain was in 2001, when Gujarat was hit by a disastrous earthquake. A paper caption read, " Garibonka fridge toot gaya" and Voila!!! There came an idea into his brain to create an eco-friendly and affordable refrigerator.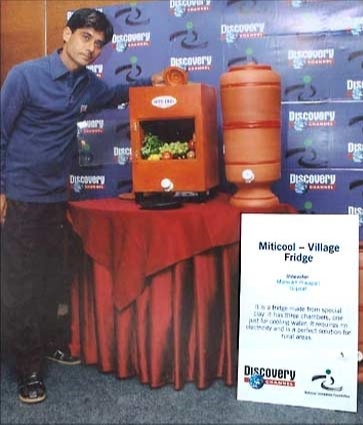 Genius indeed - In 2014, he invented a machine that manufactures firewood out of cow dung.
Click here to Explore the MittiCool Product and Buy
Rural Based Earthenware Being Embraced By Urban India :
Not just in his local town, not just by the rural India, these earthenware products are being loved by the people in the cities as well. While Mumbaikars are attracted towards the water filters and cooking pans; refrigerators and cookers are being extensively chosen by the Hyderabadis.
Success all the way.
Look at the huge health and money benefits. Would anyone say NO ? Its the need for shifting to more of an eco-style living that has created such a huge demand. It is a win-win for all. Right from affordable prices, to easy cleaning and maintenance, earthern material offers huge health benefits, no electricity required...And thus this innovator received a wide acceptance for his products.
Eco-sensitive Mitti-Man
What does this man have in store for this world in the days to come?
This eco-sensitive man is now on a mission to develop "Mitticool House"
- a house without electricity that would naturally keep the ambience cool. WOAH!!! We wish that this idea takes shape and then, every poor and middle class family can afford a natural AC.
"Irrespective of the troubles you face, never lose hope. Struggle hard for what you love and always keep faith in yourself.", says Prajapati.
Presenting with great pleasure, a man who FAILED IN SSC but was addressed as a SCIENTIST by A.P.J KALAM.