Uneducated single woman manages to run a successful Food truck business and gives lessons at the top colleges.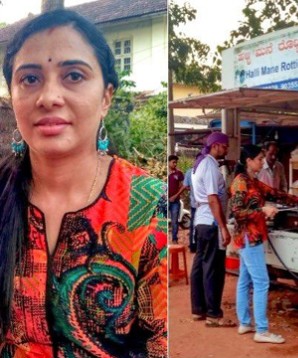 Life throws arrows at you many times. It doesn't mean you will stand right at their pointers and allow them to drain your blood. Hold the bow of will tightly in your palm, collect the arrows that life shoots at you and aim them at your troubles, shatter them and emerge as a warrior. That's what life is all about. It doesn't give you time to enjoy every day and every moment. It throws you in the blink of an eye into pitch darkness. It is your duty to lift yourself up and light up your way. No one has time to do it all for you because everyone is fighting their own battles. So, never look up to someone for help instead remeber that you have feet to stand up for yourself. Have faith that they will take you to the right place but all you need to do is start walking. When we came across the story of Shilpa from Mangaluru, we decided to share it with you as it serves inspiration on to your full plate. Without much ado, let's get into her story.
Broken Family, Broken life:
When one day Shilpa, the 36-year-old iron lady from Mangaluru had to wake up to the fact that her husband went missing, the earth beneath her sank. Her life seemed to have come to a standstill and she found no way to go. This happened in 2009. She had no money and she was left with very little savings. However, she didn't want to go back to her maternal home. She thought of taking up a job but lack of education and work experience made it difficult for her to secure a decent job. She lived in conditions where she couldn't afford milk to her son and mixed water in milk to fill his stomach.
Rejected Often:
While Shilpa was in a confused situation and was unable to figure out what must be done to locate her husband, she already has a baby to think of. So, she decided to first take up the responsibility of the baby, feed and nurture him and resolved to give him better life. She decided to take up a job but it seemed not so easy for her. On top of her personal struggles, she had to face the taunts from distant relatives and neighbours. To further fuel the burnings, she was rejected by every employer she met.
Every time I went for a job interview for a receptionist, cook, cleaner or saleswoman, people asked me about my husband. My skills were ignored and I would be turned down due to the stigma, she recollects.
A Ray Of Hope:
While Shilpa was at the verge of losing all the hope for survival, all she could see is the future of her child. So she decided not to give up and do something that would change their lives making them worth living. Moved by her sister's lone fight, her brother Chiranjeevi shifted to Mangaluru and started working as a security guard. Shilpa also worked menial jobs to support herself and her little son. She worked in a salon, cyber cafe and a factory but it still remained hard for her to get through the hardships. Shilpa wanted to do something to enhance their financial status as it is only then she shall be able to afford her son, a quality life. She started exploring options to increase her income and then, came like saviour, a conversation she had with her mom. Shipla's mother always loved her cooking skills and often said that she wishes there would be a hotel that served Shilpa's style.
"Why not bank on my culinary skills, and do something?", Shilpa thought. This life-changing thought struck her mind in the year 2015.
Started With Nothing But Emerged To Be Something:
Though Shilpa thought of starting a good business, she knew that she doesn't have enough money to lease or rent land to open a food outlet. Thus, she decided to buy a second-hand truck by withdrawing Rs.1 lakh, the amount she saved for her son's education. She feared that she was risking this out by spending her complete savings on something she is totally new to. But she didn't go back. Her apprehensions about how people at Mangaluru would reveive and relish the North Karnataka food were all failed infront of her will power. She marched ahead like a warrior.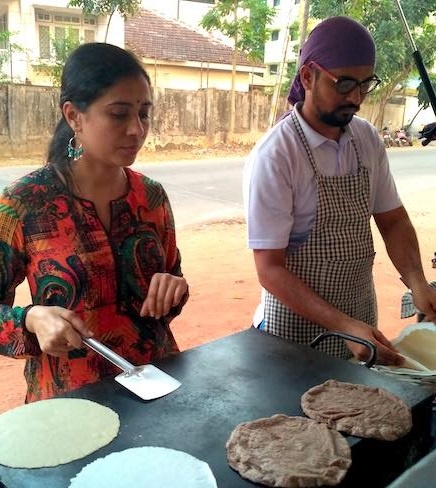 The Delicious Days:
Shilpa started her mobile canteen in 2015 and began to operate it near educational institutions, offices and malls. Her brother Chiranjeevi also quit his job and joined her in the business. The very first day the truck went on wheels, it saw huge profits. The inexperienced but witty business lady kept the prices lower than those in the hotels. Along with a wish to gain good income, she also thought that everyone should be able to afford the food she served. Within no time, the popularity increased with just mouth publicity and today one can see her food truck being swarmed by working professionals, doctors, students, etc. Her daily income ranges to over Rs.5000 every day. The secret behind the success is the tasty and healthy food she makes keeping it away from added colours or any sort of additives.
We serve healthy North Karnataka delicacies like roti made from jowar, rice and bajra, ragi mudde, rice and traditional spicy gravies, She says.
Recognition Followed :
A local newspaper covered her life story which turned out to be a life-changing moment for her. Reading her story, Indian business tycoon and philanthropist Anand Mahindra was deeply moved and gifted a Bolero Maxi Truck Plus to Shilpa.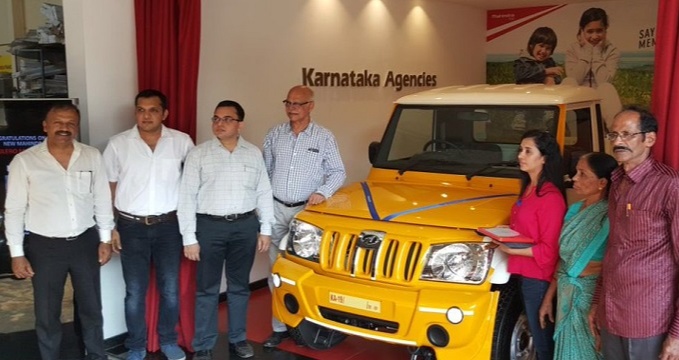 She has also been invited by reputed educational institutions like Welcomgroup Graduate School of Hotel Administration to share her inspiring story with their students. That lady who hasn't received good education is giving business lessons in the topmost colleges today. She has also been receiving several collaboration offers from various food ventures but she is turning them down as she wants to remain independent. Her aim is to climb a little more up the ladder and establish a hotel of her own one day.
With god's grace and hard work, I have reached a better position today, and I have secured my 12-year-old son's financial future. My only wish now is to open a hotel of my own someday, and I am working hard to make that dream come true, she smiles.
Nothing can beat faith and nothing can burn down the determination in you. If you decide to achieve something in life, your lack of education, broken relationship or distorted financial status - nothing can stop you from marching ahead. Let strength be your capital and you will be successful one day.