Weaving of Lotus Fibres provides a source of income to the local weavers. Manipur entrepreneur who taught the art.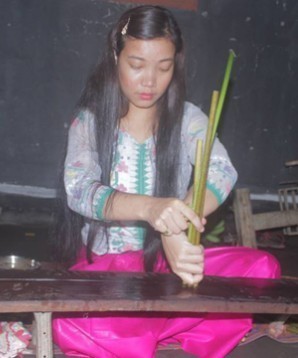 I have always longed to develop a lotus pond in my backyard and in my early teens I finally did. We used the beautiful lotus flowers as decors and my mother adorned them to god on special occasions. But what I recently came across about another exceptional use of Lotus surprised me. A 27-year-old from Manipur showed how fibres can be extracted out of lotuses and thus paved way to create livelihood and employment for the women in her district. She is Tongbram Bijiyashanti Devi and let's look at her unique walk into entrepreneurship.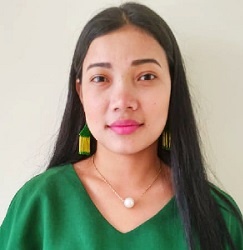 The "What Next?" Question Gave Way To A Perfect Answer:
Bijiyashanti belongs to a village named Thanga Tongbram in the Manipur's district of Bishnupur. She completed her Honours degree in Botany from GP Women's College in 2014. Though she made multiple trials, she couldn't find a job that greeted her passion. So, she wanted to establish a business of her own but was confused about what business to set up. So, she started working upon the same and looked for a business plan that could cater to her as well as help create employment to others. While she was on this search, she happened to attend a programme on 'How to become an entrepreneur' at the Ministry of Micro, Small and Medium Enterprises (MSME Centre) in 2018. In the 10-day programme, she learnt the basics of setting up a business and the marketing procedures. Once she finished the course, her eyes fell upon the lotus flowers that grew widely in their area. She thought of doing something out of them. Post extensive research, she came up with three ideas. One was to make tea out of the flowers, the second was to start a lotus garden and the third was to extract thread from the lotus stems to make fabric. She found the last option to be more appealing to her spirit. The following few months were spent reading extensively and watching online videos about extracting fibre from the lotus stems. Bijiyashanti has finally learnt the process of extracting fibre from the lotus stems. These threads are further used to knit scarves, stitch ties, and prepare masks. What was just confined to Myanmar and Cambodia until then was introduced in India by Bijiyashanti.
How She Extracted The Fibre From The Flowers - A Tiresome Exercise:
Bijiyashanti observed that before the locals took the flowers to sell at the temples, they cut their stems and thus a good number of stems are just wasted. So, she collected all these discarded stems and soaked in water for three days post which a sticky substance is produced inside the stems. Now to extract this sticky substance which is the fibre, she broke the stem from one end and split it open post which the gum-like fibre is produced which is further spread on a wet wooden table and rolled by hand to extract one strand of thread, 40cm long. She found it challenging initially but with rigorous practice, she mastered the art. She finally let the thread dry under the sun and then went on to spinning. For her to knit one scarf it took over a thousand stems and about 30 days. She used organic dyes for colouring.
Empowering Women Around Her:
Bijiyashanti initiated the project and started making fabrics out of lotus fibres unlike the routine natural and synthetic fibres. She established an enterprise in 2019 and named it "Sanajing Sana Thambal". She taught the fibre extraction and production process to other women in the community. Initially seven women joined her and they learnt extracting the fibre and mastered the art of weaving. Slowly, by the word of mouth, the count increased to 15 and by January 2020, the number of women rose to 40. While 20 of them involved in making thread, 7 women worked from Bijiyashanti's home-unit whereas the rest of them have their own wooden tables and spinning wheels to extract the fibre. Bijiyashanti buys fibre extracted from them and makes ties, scarves, and face masks. Garments are made using the traditional bamboo-based loom.
"This time-consuming handicraft kept me occupied throughout the lockdown. Initially, I did not know that thread can be extracted from lotus stems but now I have been doing it for one year now", says Ayingbi, a 50-year-old weaver who joined Bijiyashanti's enterprise in 2019.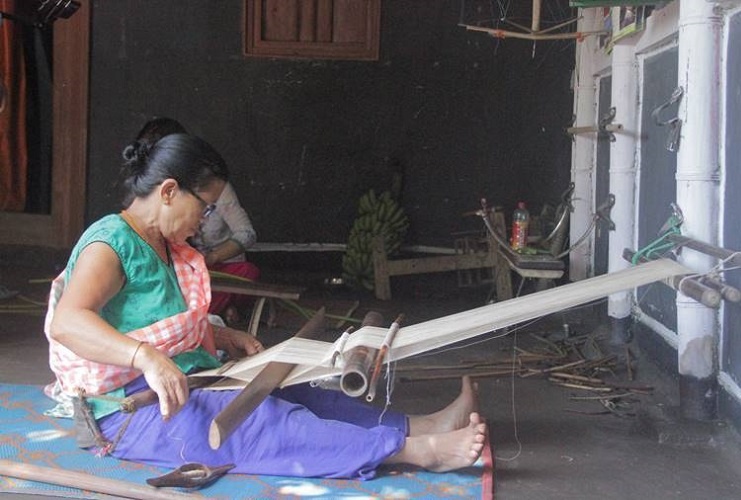 A Walk To Make It Bigger:
Bijiyashanti who made it a successful enterprise within a year if its inception soon wants to expand it further. She wants to open an online store featuring all the products she is now manufacturing. By February 2021, she wants to export her products beyond her region.
Success is not when you keep walking ahead of others. True success is when you take others along with you. When you make others a part of your triumph and lift them to higher levels, you become the leader. A true leader. May Bijiyashanti's journey inspire many women and may her all-woman enterprise reach great heights.