From Rags to being Featured at the Paris Haute Couture Week ? Meet this fashion icon.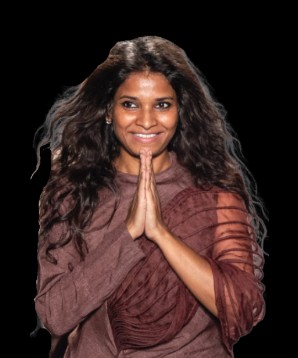 "We're all about celebrating the exquisite handloom weave. And there is at least one in each of the 29 states of the country!", these words are found on the website of Vaishali S, an eponymous brand that took birth from the creative genius of the fashion designer Vaishali Shadangule. This enthusiastic and passionate designer recollects how "No cloth was wasted" in her childhood and she says, she grew up observing the pampering of fabric on handlooms. What her mother did for years was assimilated very well by the girl and today, she has proudly shared the stage with illustrious fashion icons of the world. Let's get into the rags to riches story of Vaishali Shadangule, the first woman Fashion Designer from India to take part in Paris Haute Couture Week.
43-year-old Vaishali Shadangule belongs to a small town called Vidisha in Madhya Pradesh. She grew up in an environment with no idea about bigger cities and towns. Her house didn't have a television because of which the girl did not have exposure to the outside world. However, whatever she observed from her mother and the people in her locality, she says, make her everything today. Vaishali was inquisitive ever since childhood and she used to love art so much that she participated in almost every event of dance and music in school. She remembers how her mother "artistically" weaved the fabric on looms. She recollects how "No cloth was wasted – no matter how old or used it was," talking about the recent words in trends like circular economy and sustainability. She said that the clothes of her elder sister were worn by her and once they were completely worn out, they were re-used as curtains and table cloths.
The Bold Decision Of A Small Town Girl:
Vaishali would have got married at the age of 18 but she made a narrow escape from it when she decided to leave the house at 17. This small-town girl who had no idea of the outside world resolved to live by herself and moved to Bhopal with the sole intention to explore the world beyond Vidisha. It was the time when she still did not know how to hold a conversation with people and how to deal with alien circumstances and situations. She didn't even know the way of the world. All she knew was that there is something bigger on the other side beyond Vidisha which she wanted to explore. From the Bhopal railway station, she managed to reach a hostel, where, after repeated requests, she was given accommodation. She took up a job as an office assistant at a builder's office where she was paid Rs.5000 per month. During her tenure there, Vaishali used to suggest to her colleagues the dressing style that would suit them. People who tried her suggestions often used to come back and appreciate Vaishali for her advice. Their appreciations served as a boost to Vaishali and she discovered her interest in fashion and styling. However, she understood that, in reality, she cannot pursue a designing course owing to her financial constraints. Instead of enrolling herself in a designing course, she downloaded and photocopied the curriculum and started to self-study. She moved to Vadodara, Gujarat and started to design on a small scale while also working as an illustrator. She saved money and then moved to Mumbai in 1998 to upscale herself. There, she did whatever job she found to make her ends meet. She worked as a designer in an export house and also worked in a gym as a nutrition and diet advisor. "When I look back today, it almost feels like I have lived three or four different lives. It all seems too surreal to me.", says Vaishali.
The Dream Come True:
Vaishali took a bank loan of Rs.50,000 and along with the money she saved, she opened her first boutique in Malad, Mumbai in 2001. Though it was a small space, it was her own proud space where she started to design blouses made of chanderi material. She worked hard with no track of the clock and within a span of 10 years, she opened two more boutiques in Mumbai. It was at that point in time; she became financially stable and could afford her dream of pursuing fashion studies. But she had a 1.5-year-old daughter to take care of at that time. "I didn't want this opportunity to pass me by again and so I decided to take my toddler along to Delhi, where I had enrolled for the course. Nothing was easy but at the same time, everything just happened," she said. Vaishali, with due support from her husband and friends, completed her graduation from Delhi's Pearl Academy and later went on to pursue post-graduation in Fashion from Domus Academy in Milan. All these years, she juggled between various roles she had to play – a mother, a student and a designer but the struggle was all worth in the end.
A Brand Of Her Own:
When in March 2001, Vaishali opened her boutique, little she must have known that her eponymous brand is going to create ripples in the fashion industry. Her passion and interest in Indian classic weaves are reflected in her work where she added the fragrances of culturally rich India into her designs. It was 2011, a decade after the inaugural of her eponymous brand, Vaishali got an opportunity to present her work at the Lakme Fashion Week. Her apprehensions about her "unconventional and 'not-suitable-to-the-fashion industry' looks were blasted when she happened to present herself and her work at the New York Fashion Week in 2015. "My mother's words about haath se Bana Hua kapda (handwoven cloth) being the best, have always resonated and stayed with me," she said. The one fabric that Vaishali creates wonders with is chanderi. "While it is the material that I started working with, it is also what I saw my mother always draping as a sari. It is a material that reminds me of her, my childhood and all those wonderful memories I have of Vidisha," she says. This woman of sheer grit and perseverance grabbed an opportunity to represent Indian Fashion on the most coveted stage of Paris Haute Couture Week. With this, she became the first Indian woman to participate in the Paris Haute Couture Week, held from July 5 to July 8. This first Indian woman designer was only the second Indian after Rahul Mishra to be featured in the show. Vaishali shared the stage with the most prominent designers like Dior, Balenciaga and Jean Paul Gaultier. After the announcement of her participation in the Paris Haute Couture Week was announced, she posted on her Instagram handle saying, "I think the dream of any designer that is in love with her mission. I am. I have always dedicated my work to revive the treasures of India hand-weaving tradition, through the Indian traditional way of life, which today has become mainstream: Sustainable (socially, environmentally, economically), Circular, focused on intricate handwork," she further said, "I hope this achievement at this time will somehow help us see what we are capable, the world see what India is also capable of making the headlines for,"
Her Words Of Value:
To all those who fear taking that first step, Vaishali advises them to realise the potential they have within them. "Dream – as much as you can and then work to chase those dreams. Nothing can hold you back from achieving those dreams. Just be conscious of the power that you have within you. Once you are aware, go get what you want.", she says.
To a determined lady who feels that she has just begun her journey and quotes that she has a long way to go, we wish great success in the years to follow. May her work continue to display the elegance and beauty of Indian hand-woven fabric.