Starting a business with Rs 3,500/- is now a successful first Naga Online Fashion Brand.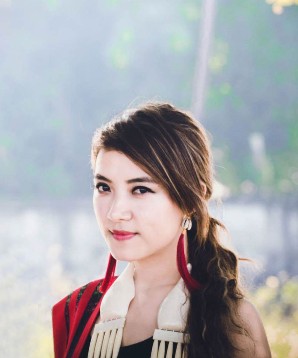 Passion.
With so many opportunities around, today one can choose to follow one's passion or interest. Humtsoe has always been fascinated with dolls and especially the Japanese ones loved art, nature, fashionable clothes, beautiful photography and anything that needs a creative mind. Her creative angle is seen, admired and appreciated by her work.
Dealing with hardships.
Humtsoe was nursing her father who was hospitalized and knew the end was near. Perturbed by the mere thought of losing her dad and taking up a job to support her family gave her goose pimples. To add to the injury, everyone in the family was pushing her to take up a secure government job. She was certain that she was not the government job material.
A brilliant idea.
Tough times bring out the best and this brilliant idea of starting a small unit of making dolls kept flashing in her mind. How to go about doing this while in a financial crisis was the question?
Incredible.
With a college scholarship of Rs 3500/- she started her venture in 2011. Gathered and picked up leftover fabrics and there she was with her few Nungshiba dolls (means "love" in Manipuri) being sold under the brand "Precious Me Love" PML. This must have been such a thrilling moment and adding women to her team and be generating employment in her own little way and empowering women.
A Fashion House
It's been a few years now, and they have a collection varying from formals to casuals which are comfortable and stylish, accessories and handicrafts. She needs to constantly create, innovate, improvise to stay in the race. A creative bent of mind; it surely is not very difficult for Humtsoe.
Like a family.
The workplace for this all-women team is like a family where they follow the Japanese style of working with everyone being equal and believe in the dignity of labor and hard work.
First Naga Online Brand.
Many a time, she was tired and wanted to give it all up but her girls were so supportive and helped her through and that's how the launch happened. She credits her success to the girls who continue to put their heart and soul in churning out stuff.
Award deserved.
PML team was overjoyed when they received the award from the Ministry of Women & Child Development along with a cash prize of Rs 1 Lakh. You reap what you sow and this team has been sowing for so many years. She proudly says that it is the result of all the hard work, financial problems, challenges, sacrifices, and perseverance.
Entrepreneurship?
It all about attitude for this young entrepreneur and one has to be strong as there is no thumb rule for success and it's never guaranteed. She loves to know about other entrepreneurs but it says that Facebook has truly been revolutionary and provided a platform for small-time enterprises. She finds positive criticism and feedback very useful and helps her in improving.
Bookofachievers.com congratulates her. For upcoming entrepreneurs remember it's not all about Money.