Appeared in Forbes 30 Under 30- 2018 for his unique brass material furniture design concept.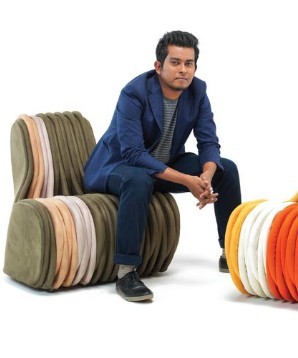 In October 2017, at the Singapore Red Dot Award held on Design Concept, wherein a Guwahati-based furniture artist, Ranjan Bordoloi, was the only Indian leaving with duo awards, including the Best of the Best, in the category of the furniture and the conceptual Design of Kaathfula Chair, made up of ethylene-vinyl acetate (EVA) fabric and supported without the use of metallic or timber casings that appears in a traditional seat plan. He showcases his passion for unfamiliar art, where he includes traditional beating techniques. Pitoloi, his milestone assortment, combining new-era stylish counter stools & chairs with conventional Assamese hand-slashed brass artwork, embellishment, and welding methodologies, made him a star at Red Dot Award night.
At age 27, Ranjan Bordoloi, the founder and innovative head of Studio Bordoloi, has caught the global eye of Italian artistry chief, Milan, and Germany. He hit successfully as a furniture artist with his workshop in Assam and has prominently been on Forbes' 30 Under 30 rundown for 2018. He took a degree in Furniture and Interior Design at IIT Guwahati. He invented the concept of utilizing brass during his university days while he was studying various modern manufacturing strategies. The Chair of Pitoloi, built for his last year's graduation venture, received the 2015 Park Elle Decor Graduate Competition. Ranjan Exhibited at India Design ID in February 2015. His work spotted by Giulio Cappellini, craft head of Milan-based Italian plan firm Cappellini, and he was chosen to grandstand at the Salone del Mobile in Milan in April 2015.
Path to creativity.….
Ranjan consistently had a great deal of enthusiasm towards art since childhood, yet he longed for a vocation in designing. Ranjan grew up in Assam, observing his mother weave handloom, his uncle interweave bamboo buckets, side tables, and there he learned to weave bamboo. Manufacturing of handcrafts used to be the standard in rural Assam that inspired his thoughts about architecture.
When he got the leaflet for the National Institute of Design placement test, he instinctively picked a furniture plan and chose. In 2012, he joined the Department of Design at the Indian Institute of Technology Guwahati for a Master's in Design, with a specialization in Furniture Design. Ranjan is encouraged by works of incredible Designers, Artists, and Architects, for example, Peter Zumthor, Anish Kapoor, Alexander McQueen, Thomas Heatherwick, and Sabyasachi Mukherjee.
Challenges on the path of success…..
Ranjan clarified how the planned business in India is still at an exceptionally incipient stage. Unlike a developed nation, we don't have numerous brands and plan exhibitions supporting autonomous youthful originators with creation, promoting, selling, etc. Most creators here need to do everything without any preparation, directly from the underlying plan to retailing. He said, "Its just like shooting a script. Assume what it would be if you needed to do everything from creating a screenplay, performing, manufacturing, promotion, and distribution". Multi-tasking is detrimental.
Huge compliments on the first experience……..
Ranjan, soon after his post-graduation days, was offered to examine designing products at the Royal College of Art, London. However, he chose not to join because of monetary imperatives. Luckily, he won a couple of grants for his understudy works and was welcome to participate in significant designing showcases, for example, India Design ID, Milan Furniture Fair 2015, London Design Festival 2015, and Gen Next Designer 2015, among others. The reaction was overpowering and he began getting requests from purchasers. "What intrigued Capellini…"Ranjan shows his affection and hardship towards the materials. His designs are a blend of modern and revolutionary approaches with the use of production methods that are part of the craft heritage of his nation,"explains Cappellini.
The first impression of marketing a brand brought him a great deal of faith, so he launched Studio Bordoloi in Guwahati in 2015. At Studio Bordoloi, Ranjan incorporates both traditional artistry, including advanced high-tech methodologies, while assembling methods using metal to renew the perishing old art of making utensils and antiquities by pounding the amalgam, generally rehearsed by a network of Assamese artisans.
''Adroitly making the craft culture vibrant through his innovative approach"
A realistic way to deal with Pitoloi assortment…...
The assortment is a consequence of Rajan's ceaseless exertion to team up with the network of brass utensils making craftsmen in Kamrup, Assam. The future of the furniture designer relies on the act of this specialty. Regrettably, like other Indian arts, this well-established convention is increasingly fading out due to various problems, such as lack of imagination. The choice to collaborate with brass was indeed a tactical move. In an offer to create feasible business openings inside the network, he has been working with ace craftsman Emam Ali to restore crafts by creating items for a more extensive crowd.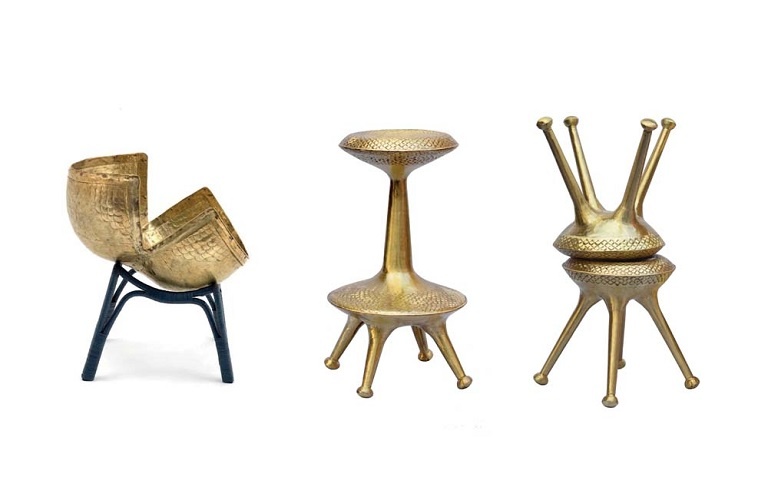 The elegance of the Kaathfula Chair …….
'Kaathfula' signifies 'mushroom' in the Assamese mother tongue. Its plan takes motivation from envisioning how it would feel to sit on enormous mushroom—distinct layers of foam combined by light metal bars inside the seat. The thickness and adaptability of EVA froth assist with making a comfortable and versatile outline.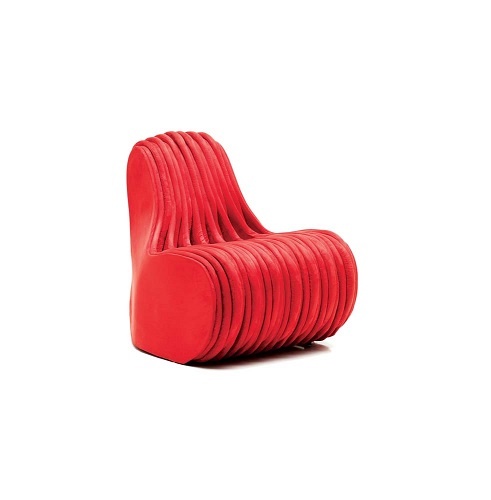 Ranjan partook in Godrej Design Lab, a yearly contest hosted by Godrej Interior in partnership with Elle Decor India. Annually, eight artists are shortlisted and assisted in the structure model through this stage. He presented a fundamental model of the Kaathfula Chair. Fortunately, it got chosen, and he worked at their model workshop in Mumbai for a month to get the finished version. That was his first experience working in an industrial manufacturing company.
Golden Advice to Young People …….
He believes that a Medal's benefit designers in terms of exposure and reputation, particularly at the earliest career stage. Youth fashion designers must possess the kind of inspiration and guidance to develop into an experienced designer. Yet, again, prizes and appreciation should never be the primary objective when operating on ventures.
His next step!!
Ranjan is currently setting up a studio space. Along with a group of enthusiasts, he might want to occupy all the more intriguing and significant ventures. Aside from training, he might want to educate youth. Ranjan has begun educating as a guest educator at the National Institute of Fashion Technology, Shillong, and has additionally got a couple of offers from different establishments. He trusts it's an excellent method to learn and explore simultaneously.

Follow His Works @Studio Bordoloi