Guna focused on Ability rather than disability to become a successful entrepreneur through her creative art of Quilling.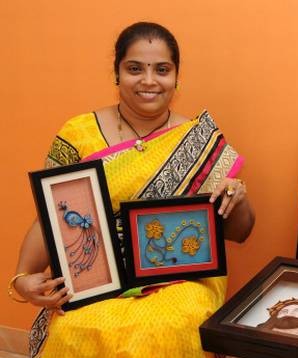 Guna with a Limp.
An unfortunate attack of polio when she was as young as two left Gunavathy Chandrasekaran, who is lovingly called as Guna with a limp. This not so loving nick name actually got her to think that she should do something and made her stronger. I couldn't walk even a few steps without support." says Guna.
Gunavathy found her solace in this simple hand-made art work, the paper quilling. Also today, Guna is an award-winning micro-entrepreneur from the village of Chinnalapatti in Tamil Nadu's Dindigul district. The variety of products and her craftsmanship is awed by a number of people. What had started as her passion project soon has become a business venture in the name "Guna's Quilling".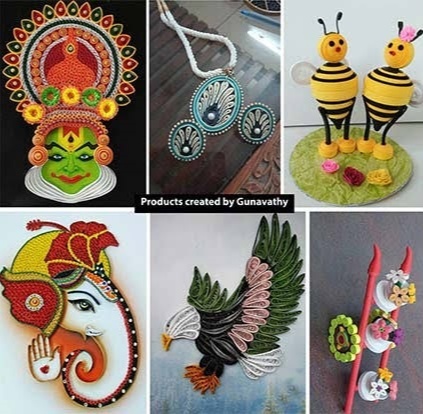 What is Quilling ?
Quilling is an art that is deeply rooted in world history. It is popularly believed to have come into being in China, after the very discovery of papermaking. It is said that the members of spiritual communities were the first inventors and users of this quilling process. Gradually, this enjoyable art form spread to various countries.
Quillings' main concept involves rolling multiple shapes individually and then connecting it to one another to construct a final shape or design.
Mom

'

s worry.
Its natural with all Moms especially when one child is handicapped. Guna's Dad was an eminent doctor, her siblings – a doc and an engineer. Will Guna be able to earn her living ? Will someone marry her ? The intelligent Mom decided that nothing is achieved by worrying …rather start ways and means to extend the much needed support to the girl who was already feeling like a black sheep.
Mom's motivational journey- narrating life stories of special children and normal kids, how to be grateful & thankful for what one has, how to make use of other senses, how she was fortunate to wake up to a loving, caring, encouraging and motivating parents and siblings. Then family members continuously started buying DIY things that she could be busy and find pleasure in making. All this just kept her happy but not independent – and that's what Guna always wanted.
"

Quilling Break

"
It was in 2003, her friend's daughter gifted her Earrings made from Quilling and this art really impressed Guna. She immediately started learning from the lessons available on the internet. Gunavathy in time experimented with wall art, miniature pieces, earrings etc., Her brother's friend ordered 40 pieces of wall art as giveaways with Guna's name and No printed on the sticker. Guna just couldn't believe how people appreciated her art and orders slowly started trickling in. Her family helped her take up a stall at the Jute fair in Mudurai and she had overwhelming response. That's how her start up 'Guna's Quilling" took shape. Guna proudly admits "Once I had the direction and a vision – nothing stopped me"
Successful entrepreneur.
Guna is happy to have achieved success in a short span and is financially independent and has created an identity for herself. She strongly believes that success is imparting knowledge and helping others to be independent. She has in fact helped thousands of women through training and workshops to become independent.
Today, she is one of the members of the Quilling Guild, UK. She was even invited by British Council to give a guest lecture on "How I was able to grow as a successful entrepreneur within a short period". Everyone is talented or skilled in something, its only a matter time until they discover it. Guna is a motivational speaker at many events.
Be grateful – complain you have polio ? wait until you see someone with no legs.
Email : gunasquilling@gmail.com