Floral Art is something beyond one's imagination. Got to get one made to see the beauty.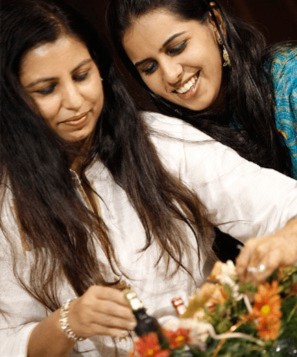 Flowers have always been an integral part of every occasion. Be it local, regional, national or international sphere, flowers are the mandatory "mehmaans" in every event. They make happy occasions brighter and offer solace with their fragrance during the times of distress. Be it welcoming a newborn or the newly weds, be it the baby shower or the cradle ceremony, small or big, high profile or low, we must admit that there's nothing that goes without flowers. Mumbai's Kavita Kapur and her daughter Srishti Kapur are re-defining events with their enchanting floral designs fitting them with the preferences of their clients. This story tells you how passion and love for something can become a lifeline, while giving you the well-deserved identity. This story tells you how dealing with hope and patience when weather isn't clear, can take you to the heavenly shores. This story is also the perfect example of how to upskill oneself in order to fullfill the ever-changing fashion statements of the younger generations. When this story has so much to offer, why late? Let's check it out.
The Fragrance Of Flower Art:
The bride walked in to meet the groom on her big day under a pretty floral umbrella wearing beautifully designed floral Kaleeras that complemented her lehenga. Both bride and the groom shined bright like sunflowers while the spellbinding floral backdrop added to the viewers' delight. It was all designed by Mumbai-based Floral Art, a gifting, design and décor studio that specializes in everything floral. The studio offers a wide range of services from wedding and party décor to wedding accessories, trousseau packaging and floral jewellery. Floral Art promises to make every occasion of yours creative, special and worth remembering. They offer unique collections that are an amalgamation of traditional and modern. From the vibrant colours that please a Rajasthani eye to the pastel shades and crystals that appeal to the Western taste, everything they design is based on the choices of their clients. Developing classy decor while keeping the Japanese minimalist look alive, the mother and daughter duo also offer various theme-based decor options for every occasion. Be it the baby shower, weddings, and other events big and small, Floral Art emerged as the one stop shop - not one or two years but for over 19 years now.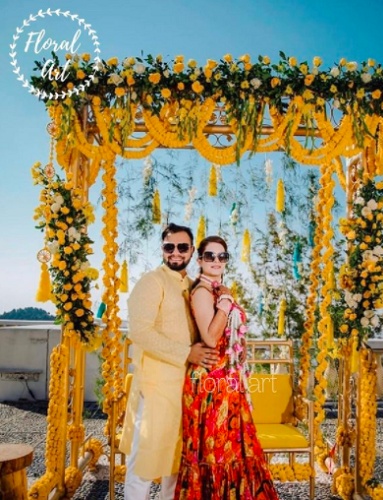 The Beginnings:
Kavita Kapur was a housewife initially who always had the thought of doing something worthwhile with life. Creativity was her best ally and she was artistic with flowers. She took up her love for flower decoration to keep herself engaged and started to decorate her house both for various small occasions. Slowly, she started to source exotic flowers from the local market to decorate friends' houses for small events. Eventually, this hobby of her's turned into an idea for business. When the family was on its financial lows, Kavita Kapur decided to make it big with her floral decors. Thus, the birth of Floral Art happened in the year 2002. Kavita received her third Master's degree in Ikebana, a Japanese art form of floral arrangements from Ohara school of Ikebana. Her daughter Srishti, who was 19 years old at that time also joined her mother's venture and together, they began to nurture "Floral Art". They took up large-scale floral decoration and gift packaging projects for various occasions like weddings, Engagements, Roka Ceremony, all Indian festivals like Rakhi, Ganesh Chaturthi, Diwali, corporate events, intimate dinner parties at home etc. Srishti recollects the initial days when they had very little money and when she, along with her parents did all the packaging and delivering.
"The initial few years were tough. We had very little money to start the company. My mum, dad, and I did everything on our own, picking up flowers from Dadar market, making the floral arrangements ourselves, and also delivering them personally. Our first few clients were family and friends, and soon, business grew through word-of-mouth.", accounts Srishti. Srishti, on parallel lines, finished her graphic designing course from Sophia's College and went on to pursue the Japanese art of flower arrangement from the Sogetsu School of Ikebana.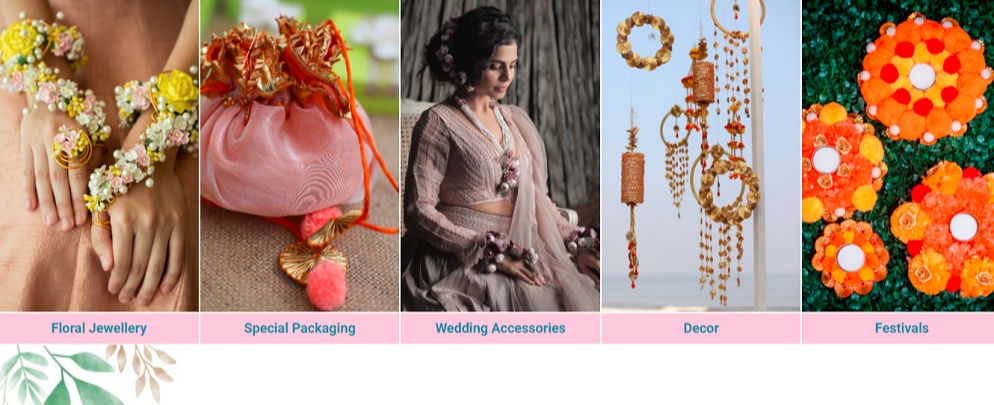 Generation Gap? Not In Creativity:
It says that people with at least 10 years of age gap don't think alike and that the generation gap creates ideological differences especially when it comes to the matters of entreprenuership and creativity. But this mother and daughter duo seems to have no concerns with it. Kavita knows the pulse of younger generation and the changing preferences of the fast-growing world. She adapted herself to emerge more and more creative each day giving tough challenges to her daughter too!! (On a lighter note!). Srishti also is learning through her challenges bettering herself each day. The mother and daughter make creative ideas together and they conclude upon what best fits the customer's bucket. They offer a wide range of theme-based decor options like Marine using shells and pearls, Royal Ruby, Vintage Courtyard, Tropical Madness, Organic Jungle, and an array of others.
"Our clients are happy with the kind of effort we put. They send us images telling us how we made their day very special. Some of them don't unwrap the packaging for days, and they love how we have customised it for them. We are also known for our punctuality and strict adherence to meeting deadlines," says Srishti.
What started on a smaller note as a hobby is now catering to celebrity clients as well. Floral Art designed the floral decor for Mukhesh Ambani's 50th birthday. They have also designed floral accessories for Sonam Kapoor, a floral tiara for Neha Dhupia, and made a gift packaging for Shilpa Shetty. "Our celebrity clients are happy with what we have done for them.", Srishti says with glee.
The Road Ahead:
Srishti wants to create more unique designs in the days to come. She wants to open a premium botique studio giving clients a bespoke experience. She also dreams of taking their venture to the global level.
Though the pandemic has its effects on their business, this mother and daughter are hopeful of the good days lined up for them. Our team wishes them the fragrance of a successful business and the aroma of global identity.

Know More About Floral Art

Follow Floral Art Work