Meet the 48-year old woman who is on a mission to convert plastic into fuel.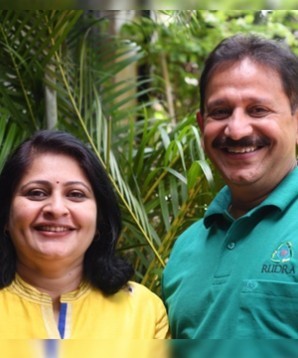 What does it take to bring about a change? A little observation, a good thought about it, one small question and an intention to find an answer to the question. That's what exactly has happened with Medha Tadpatrikar, Director of Mantraa Research & Consultants Pvt Ltd and an entrepreneur. Her small observation, empathy, rational thinking, and zeal to come up with a solution is now turning tons of plastic into fuel. And that fuel is available just at Rs.35 - Rs.37 per litre. Amazing. Isn't it? Let's see what was her observation and how she turned this into an opportunity.
An Empathetic Outlook Followed By a Deep Thought:
Medha and her friend Shirish had gone to visit a wildlife sanctuary. There, they were stopped from clicking pictures owing to the death of some deer. And the reason for the death? Plastic in their stomachs. This incident deeply moved the duo and they returned with heavy hearts. This incident had shown a profound effect on them and they had decided to do something about it. Post few days, they went to a party and the host had put four ice cubes in Medha's father's drink who just took three. So, he had placed one of the cubes on a plate. This small incident that is generally ignored by others triggered the duo's neurons. "If Ice could change its state, then why not plastic?".
The duo then turned their kitchen into a laboratory and started experimenting. They heated a few plastic bags in a pan and later in a pressure cooker but that yielded nothing. To learn more about plastic and its behavior, they took to several petrochemical engineers. After a few more futile attempts, they connected a pipe to the pressure cooker and heated plastic. They observed that this pipe, when immersed in a glass of water released small black pieces that floated that had burnt when lit. Through a friend, they understood that the smell emanated was that of methane. Thus, after a few more attempts, they noticed that the reversal of plastic making process yields a polyfuel and carbon black. However, there is a little downside to this. Methane is generated during the pro was and this is a pollutant. This, of course, they had re-used to fire their equipment instead of letting it go. Extremely small quantities of oxides of Sulphur and Nitrogen were released but they are negligible as compared to that of traditional fuel-burning methods at 0.017ppm. The carbon black that resulted from this process was sent to the municipal corporation who use it to add to the bitumen roads. Super duper! Am (Americium) experiment that resulted in a poly fuel which can be used for ignition and burning as well as a black powder that is a great add-on to bitumen roads!! All it needs is perseverance.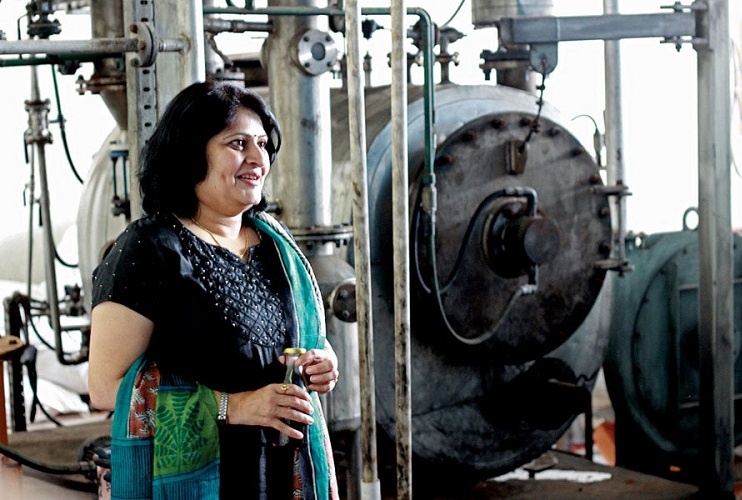 And They Took It Forward:
While plastic is made of crude oil, Medha and her partner reversed the process to ensure that it will no longer be piled up in landfills harming the environment, that no longer should plastic be consumed by animals further leading to their deaths. Medha started collecting plastic waste initially from a few friends. She, along with her driver collected plastic on a van from around six to eight homes in the locality.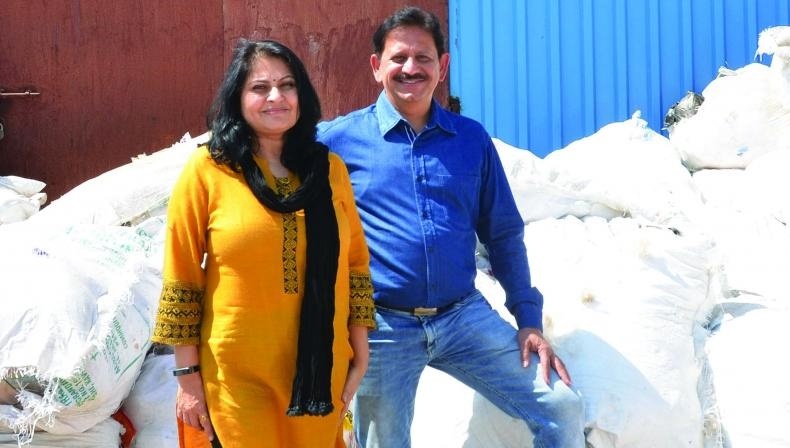 Later, they set up an NGO Keshav Sita Memorial Trust because, unless people come forward to collect and donate their plastic waste, whatever Medha and her team were doing would go waste. So, it's important to raise awareness among people regarding plastic waste and the harm it causes to the environment. This awareness has increased the amount of plastic waste they received. After collecting plastic from housing societies, they divert it into a shredding machine and later, onto the Thermo Catalytic Depolymerisor where it gets converted into polyfuel. This way, they have generated around 22,000 litres of polyfuel so far and sold it to the villages around Pune.
"Even though they have gas connections in villages, they still burn wood or plastic to heat water for bathing. We have educated them about this and sell it for Rs 35-Rs 37 a litre. We sell the remaining polyfuel to people who use generators and incinerators.", said Medha.
Rudra - The Birth of A Social Enterprise:
Medha Tadpatrikar, a Ph.D in Management set up Rudra environmental Solutions along with her friend and business partner Shirish. This Pune-based organization has two plants that convert plastic into polyfuel. Rudra recycled around 22 tonnes of plastic from close to 15,000 households in Pune.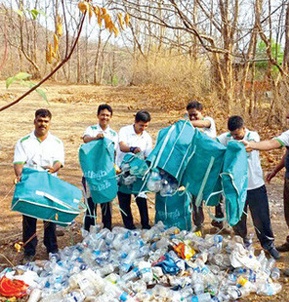 Four tonnes of plastic was collected from Thane and Dombivli near Mumbai and 3.4 tonnes from Baramati within a year. "We realized that we cannot be everywhere. So we now sell our equipment, which is undergoing the patent process, to NGOs and some companies in Hyderabad, Gujarat, Ratnagiri and Mumbai.", said Medha. The main aim of this social enterprise is to do something good and not to earn profits. Rudra hasn't earned any profits to date.
"But to be sustainable we have to make money. Which we will, once we execute our plan to reach all the metros. We are getting calls from Delhi particularly, since air pollution there is terrible.", concludes Medha. However, Rudra is not in the race to touch the profit peaks.
How Great Are The Possibilities For This?
Well, we don't have to doubt the possibilities at all. With about eight billion tonnes of plastic dumped in landfills or the ocean across the world, we can imagine the amount of polyfuel can be generated out of it. What if we can buy polyfuel at Rs 40 instead of diesel at Rs 65? So, with right approach and execution, possibilities can be turned into opportunities leading us to a sustainable future.
An Able-woman's Ability:
Medha, the creator of polyfuel, holds MBA from Nottingham University, UK, LLB from Pune University as well as PhD in Branding. She pursued MSc in Psychology and completed many diplomas in subjects like IPR, Journalism, Marketing and Forensic Science. She bagged numerous awards like "Yadnyawalka Award", Sukhakarta Award, Pune branch of WIRC of ICAI – Eminent Entrepreneur and Phoenix Leading Lady 17 award. She is also a trained Bharatnatyam and Kathak dancer.
There are many ways to process waste. Desirable products can be obtained by the careful and detailed processing of such waste. Medha and her Chartered Accountant friend Shirish would receive wide acclaim within no time as they have ventured into getting down the burning prices of fuel. Days are very close when we all can enjoy the lesser fuel prices. Let's encourage young companies like Rudra and become the epitomes of "Aathmanirbhar Bharat".