Meet the V-guard man whose vision expanded its wings into multifarious spheres and made him an icon of Kerala.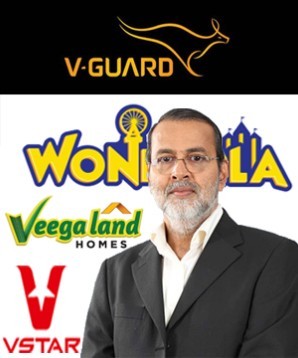 If you have to make a difference, then you must know how differently you can do something. And again, mere doing is just not enough. Sustaining what you have done with a vision to take it forward to the generations to come makes you an icon. This is what Kochouseph Chittilappilly, a buisness tycoon from Kerala has done. If we are presenting his story today, there's definitely something unique about him and you should by now understand that he is not just a businessman whose aim is to pool up profits but he is something beyond that. Let's go into his journey and see how he has been making a mark in various spheres.
Every Indian is sure to have one of the V-guard devices in their house. The electric water heaters, solar water heaters, V-guard domestic and agricultural pumps, inverters, V-guard fans, V-guard Induction cook tops, V-guard mixer grinders, or even the V-guard stabilizers - at least one item out of such big list will surely be a part of every Indian house. The foundations for this name to vibrate in every Indian heart were laid in 1977. Back when Mr. Kochouseph Chittilappilly, who was born to C. O.Thomas in 1950 in Thrissur District, Kerala into a family that was primarily engaged in agriculture, decided to make a difference by setting out to carve his own mark in the Indian electric and electronic goods market.
He borrowed Rs.one lakh from his father and has set up a voltage stabilizers manufacturing unit. What initially started with two workers has now grown to be a mighty bread-giver to thousands of families. His journey that started with voltage stabilizers expanded into a range of spheres and set into the manufacturing of Digital UPS, Inverter and Inverter Batteries, Electric Water Heaters, Solar Water Heaters, Domestic Pumps, Agricultural Pumps, Industrial Motors, Domestic Switch Gears, Distribution Boards, Wiring Cables, Industrial Cables, Induction Cook tops, Mixer Grinders, Fans, Rice Cookers, Gas Stoves & Solar Power Systems.
Now, it's not exaggerating to tell that there wouldn't be a single person who doesn't know V-guard. This wouldn't have happened if the sole aim was to expand his small venture of stabilizers. Just because the vision was broader, Chittilappilly's approach made him learn more about what people need. His constant effort to offer better to the consumers made him be assured of the product quality. With talented minds in his team and with a responsible approach coupled with commitment, V-guard has still been winning the hearts of the consumers. V-Guard has a vast network of distributors, dealers, retailers and service centers that help reach the products to the right people, through the right hands, and for a right purpose. The secret behind the success of V-guard is that the man behind it tried to get together the needs of the people and developed tools and appliances that can address their needs in the most reliable way. When the main aim is customer satisfaction, will any brand fail? With quality and reliability as pillars, V-Guard is a listed company with BSE and NSE having various electrical, electronic and electro-mechanical products to her credit running with a turnover of Rs.1700 crores. Over 500 distributors, 3000 dealers, 20,000 retailers and a network of service centers across India form the company's wide network. The company has an Indian market share of 20% in UPS segment, 15% in pumps, 12% in water heaters and 7% in the sphere of wiring cables - an amazing changeover from a small firm to a mighty business, isn't it?
A Supervisor's Desire to Build An Everlasting Empire:
The boy, whose early schooling was at the local church school and whose graduation was earned from the Christ College, Irinjalakuda, secured his Master's degree in Physics from St. Thomas College, Thrissur in 1970. He, in 1973, worked at Telics, an electronics company that manufactures voltage stabilizers and emergency lamps, as a supervisor for three years. Later, in 1977, he laid bricks to establish V-guard. When his factories were shut down following a workers' strike in the 1980s, Chittilappilly has introduced a new business model by total product outsourcing coupled with in-house quality control. BRAVO!!

While heading the V-guard group on one hand, he decided to venture into the field of entertainment. When we say entertainment, it isn't movies or TV. He wanted to initiate a water theme park. The man who greeted every household and addressed their technical needs then decided to provide immense fun and an exciting experience with an amusement park. And there happened to be the birth of "Wonderla"- the favourite amusement park of kids, teens, youngsters, adults, families, and of course everyone irrespective of age, gender and status. Again, the quality of the rides, meeting international safety standards were at the top in his priority list. With firm belief, in the year 2000, he started an amusement park and named it 'Veega Land', (now Wonderla – Cochin) which has become one of the most attractive destinations in Kerala. The success of 'Veega Land' made him lay foundations for another amusement park, 'Wonderla', in Bangalore, which turned out to be the biggest amusement park in India. Later, this amusement journey had spread to Chennai and Hyderabad. He ventured on to a construction business and named it Veegaland Developers which is a project consisting of ready to occupy flats and apartments in Cochin.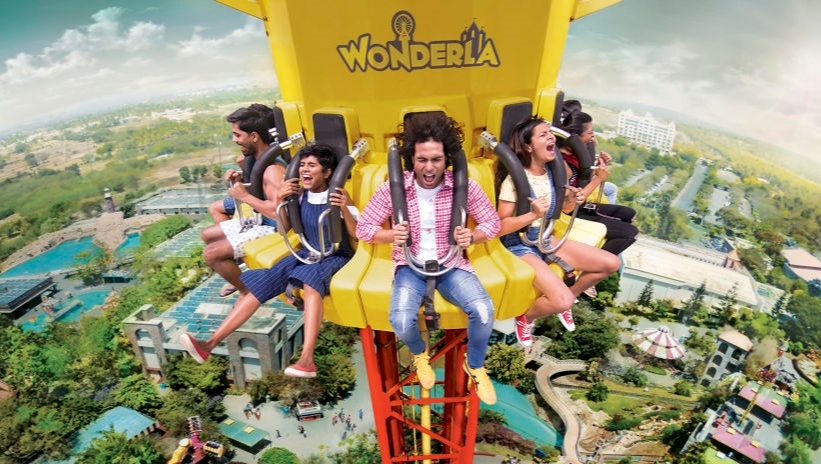 Family That Shares The Responsibility:
Chittilappilly's better half Sheila is the Managing Director of V-star creations. They have two sons. Arun Chittilappilly shouldered the responsibility of the amusement park business, Wonderla and Mithun Chittilappilly is the incumbent Managing Director of V-Guard Industries.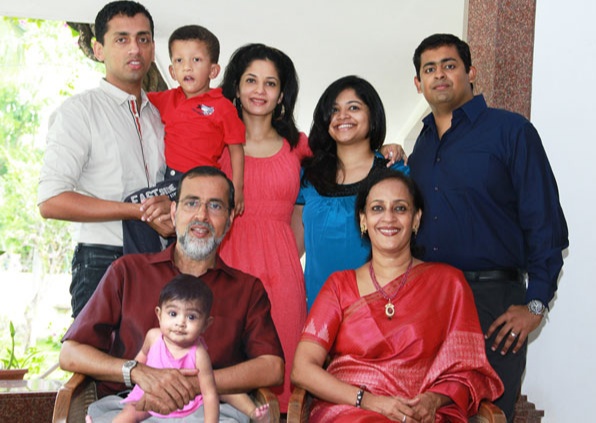 A Philanthropic Heart:
A multifaceted businessman has another interesting facet. In 2011, he had donated one of his kidneys to a stranger. Yes! A truck driver who is unknown to him received a kidney from Chittilappilly. Patients struggling with kidney ailments find it even more difficult to get a kidney donor. Chittillappilly wanted to do something about it and decided to donate one of his kidneys not for money but on a condition that anyone of the recipient's close relatives would donate the organ to another person in need and the chain goes on - a kidney donation chain. Along with a kerala-based charitable trust and The Kidney Federation of India, a kidney chain – the first of its kind in India, was thus formed.
Chittilappilly is also the chairperson of the Stray Dog Free movement that advocates action against the risks allegedly posed by stray dogs in Kerala, including the amendment of legislation forbidding the killing of these dogs. Chittilappilly has organized hunger strikes to protest this legislation.

Click Here To Know More About Stray Dog Free Movement
Chittilapilly Foundation, founded by Kochouseph Chittilapilly, is a non-profit organization that shoulders Philanthropic activities. The foundation is based in Kakkanadu, Kochi and it oversees the activities of Thomas Chittilapilly Trust, another charitable group of Chittilapilly named after his father. The trust runs two institutions, an old age home and Shantimandiram, a home for destitute children.

The foundation has also initiated an organ donation award for the people who come forward for organ donation and awards those who voluntarily donate their own organs. The awards are the cash tokens ranging from ₹100,000 to ₹500,000 each.
An Attempt to Share the Wisdom:
Mr. Chittilappilly had a royal journey like that of a lion. Come what may in his life, he never took a back step and became the king of a vast business empire. Practical knowledge is a million times valuable than the theories you read in the books. Moreover, when a man with immense strength and mettle who has successfully run various businesses and became successful sets to share his experiences, knowledge and life skills with others, wouldn't that be a perfect knowledge base? Mr. Chittilappilly jotted down all his experiences and thoughts over the years. All these, he presented as a book, "Practical Wisdom-1" - a management guide that serves as a holy book to the young entrepreneurs, management students, and managers. He later translated the book into Malayalam. He also released "Practical Wisdom-2" and compiled all his childhood memories into another book called "Ormakillivathil". "The Gift" is a book in which his experiences of donating a kidney were very well displayed. All these books are not fictional. They derived their content from the events of his life. So, they are real, existing, and efficacious in touching other's lives.

Buy the Books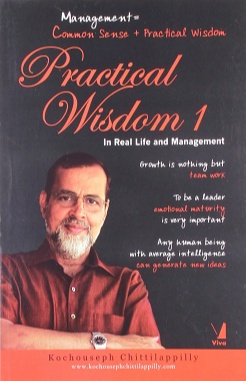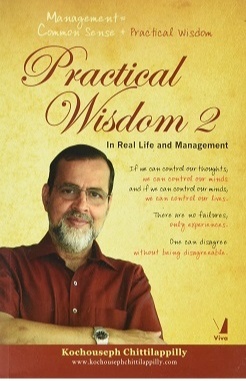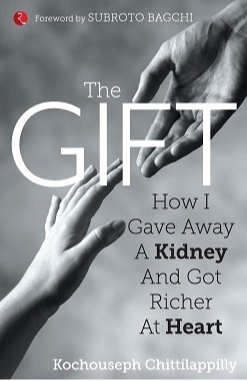 Rewards and Recognitions:
Chittilapilly bagged the Rashtriya Samman from the Government of India for being the highest taxpayer in India. He was selected as the Malayala Manorama Newsmaker of the Year 2011. He was awarded with the title Millennium Businessman of Kerala from Business Deepika and got selected as Tourism Man of the Year 2000 from Destination Kerala. He was lauded as the Manager of the Year 2000 from the Travancore Management Association and as the Tourism Man of the Year 2011 from the Association of Tourism Trade Organizations, India (ATTOI).
On the whole, this businessman was not just recognized as an entrepreneur but also lauded for his philanthropic work. When we look into his life, we understand the very basic fact that everyone overlooks- "Give back". Giving back what you have received gives you immense pleasure. When you extend your hand to those in need, you will live forever in their hearts. Long live Mr. Kochouseph Chittilappilly. May you flourish? May the society flourish because of you.

Know More About Chittilapilly Foundation

Know More About Him

Follow His Works