Automobile customiser designs ambulance and fire brigade bikes, creativity stands out among many.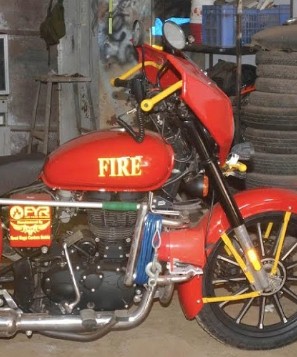 "This is a trend that is growing in popularity and I can say that everyone in this business has work. The people who are interested in this you should understand, have the money. So it is not for everyone. This is not a necessity but a luxury. Customers want something that no one else has. When they drive down the road they would like to have the eyes of everyone on their bike". These are the words spoken by India's renowned bike customiser, Gabriel Zuzarte. You must have understood what and who he is talking about - Bike customisation and the people who want their bikes to be customised. Having said that, bike customisation has been becoming a trend these days and intelligent entreprenuers, who got the pulse of such luxury-minded individuals are making fruitful careers out of this. Money flows like the burst of a fully loaded cloud when a bike is customised according to the tastes and preferences of a customer. Gabriel Zuzarte is one such amazing vehicle customiser who adds customer's needs to the bikes, thus becoming one of the best in the industry who is even being approached by the big heads of the cricket world. But more than the commercial aspect, there's something beyond that made him the talk of the town.
Interest Ignited From Family:
Gabriel's family was mostly into cars. Back then, when the family lived in Kuwait, his father George Zuzarte used to repair high-end vehicle models like the BMW and Mercedes belonging to the wealthy Sheikhs. Young Gabriel would see that very closely and his interest in automobiles got ignited. Eventually, his encounter with the customised designs for a few BMWs and Mercedes vehicles turned his interest into fascination and passion. He thus decided to get into vehicle customisation. Post finishing his academic years, he worked for a BPO for a brief period of time. Later, he decided to start with his dream of vehicle customisation and wanted to customise bikes. "I wanted to try first. If I fail, I thought I would get back to working in the BPO", says Gabriel who credits his job in the BPO with the virtue of providing him with addressing customer requirements honestly. He later went on to gain a 6-year-experience in automobile customization and design. He also gained an advanced diploma in design. With all this expertise in his way, he founded Road Rage Custom Builds, a vehicle customization and remodeling company started in 2009 in Mira Road East, Mumbai. Through his company, Gabriel makes exceptionally designed vehicles with quality products with customer focus, quality and trust as the core values. What started with modifying motorcycles to look like classic American Choppers, Road Rage Custom Builds then ventured into producing amazing designs for Body Kits, wheels, vehicle interiors and travel vans (RV).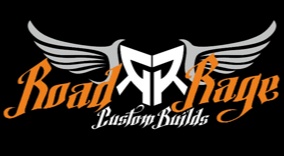 Beyond Being Just A Businessman:
Gabriel is not just into modifying the bikes according to the customer's requirements but has also been using his distinctive flair in automobile customization for the benefit of the society. In the year 2013, he made to the headlines when he designed a high-tech police bike for Mumbai police. He would visit small garages, closely watched the work of professionals, local mechanics and fabricators and eventually learnt how to build one. "I started building bike after bike, and making mistake after mistake. But I never repeated the same mistake twice.", he told a release. He got the approval from the concerned authorities for the first police bike but when he went to collect the papers, he was appalled at seeing the building's top floor catching fire. "My file was burnt down", he recollected. The earth beneath him shook but with the help of his mother-in-law, who funded his project going forward, he could build the first cop bike with front and rear cameras, a laptop, a printer and even Wi-Fi connectivity. WOW! After the police bikes, he went on to build ambulance bikes and added features like flicker lights and detachable boxes. He designed ambulance bikes in such a way that they can be carried to any tough location. His bike also comes with a high intensity siren and radium stickers that glow in the dark. In the January of 2019, he launched 15 ambulance bikes at the Thane Municipal corporation.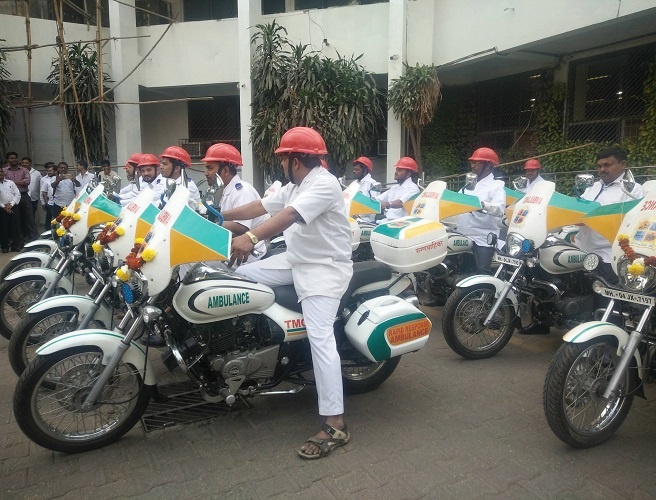 These bikes have been helping in providing quick medical attention during emergencies. He built and launched India's first Fire Brigade Bike in the year 2020. It's a two seater bike with all the features that a fire brigade has. Moving on his focus shifted towards developing environment friendly battery powered trikes. "It'll have a front handle bar and a front suspension. It will have two wheels behind, will be powered by a battery which is kept enclosed. Being a vehicle customizer, I want to design a vehicle that is more environment friendly. That is battery operated and doesn't run on any kind of fuel.".
The Words Of Value:
"Positivity combined with creativity will do wonders", Gabriel states.
Gabriel's story is surely the one that tells how important it is to have social consciousness along with self-growth. People like Gabriel who take the society along with them in their journey, who become conscious of other's needs are always the role models.

Checkout His Collections

Follow His Work