Monkey mask Man sells sandwiches while playing music on a cart. Some diff biz idea indeed.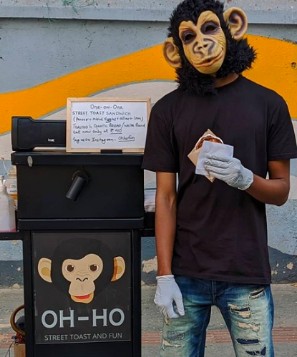 A man with a monkey head gives you sandwiches when you walk in Bengaluru's Church Street. Wait. What? Man with a monkey head? Well, relax. He wears a monkey mask and stands behind a small kiosk playing music. You don't have to just go to him, stand there, listen to music and give him some bucks. He is not there to entertain you and make money. He is a budding entrepreneur who believes that huge capital, loads of raw material, an established place are not the basic requisites of a business. All that a business needs is an idea, an idea that can fill the gap and provide what's not provided until then. Ankur Indoria is just 21 years old and his bigger than normal thought process led him to start his business right after he stepped out from his college with a graduate degree. One cart, one item, one man - let's see what it is all about.
No Waiting For Opportunity, Create One Instead:
Ankur Indoria is a 21-year-old graduate who pursued Business Administration from East West College of Management in Bengaluru. Like his friends and other graduates generally do, he did not attend the campus placements or didn't look for a job outside. He didn't even wait for the businesses to open completely to do an internship. He rather decided to start off his entrepreneurial journey as soon as he graduated. Having absorbed the classroom lessons deeply, this young business enthusiast decided to kick-start his own venture. The next question on the table was about the business idea. This again didn't take long for him. In a casual conversation with his brother, he filtered down the options he had thought of to one.
Street Food - Redefined:
Ankur very well knows that successful businesses always attempt to fill the gaps in the existing ones. While he was in a casual conversation with his brother in December 2020, they discussed about the issues faced by street food vendors. While they went on, they could list out various problems like lack of hygiene and how the sector is so unorganised. "We identified that the problems included issues such as lack of hygiene, the unorganised sector and how the job is viewed as a final resort.", he says. Yes, street food business is always viewed as a final resort only when all the other options fail or don't seem to workout. "Street food is popular among Indians. However, vendors often start the business assuming they are out of options or when they face a lack of funds. They feel like this is the best way for them to earn a living. I wanted to change that notion," Ankur says. With the motto to change this perception on street food among both the vendors as well as public, Ankur started his venture, thought of the business plan and materialised in 12 days.
A Unique Street Business:
Ankur decided to build an attractive cart for his business. He designed a small cart with dimensions of 18×18, and has fit in a music system, a cash box, a gas cylinder, lights and a compartment that could store inventory to last a week.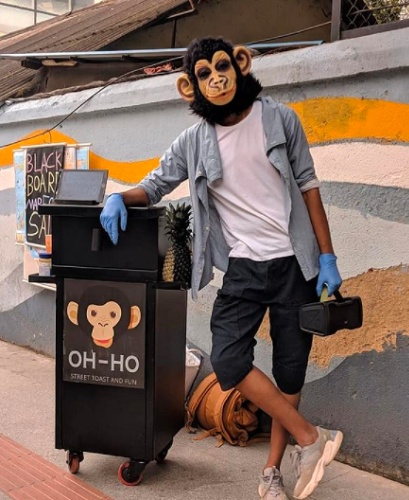 "Moreover, the cart has wheels and can move easily," he says. Ankur named the brand 'Oh-Ho'. His menu card? It has just one item - the 'Street Toast 101,' a vegetarian sandwich made of corn, bell peppers, olives, tofu and other vegetables are sauted in olive oil, stuffed into garlic bread with grated cheese and grilled, at just Rs.40. Above all these, he wears a monkey mask and stands at his cart. He explains the reason behind wearing the mask, "One, it is the novelty factor. Second, I believe we are still advanced apes with mobile phones. What attracts potential customers more is the mask, which attracts curious passers-by on the street. Around 75-100 customers flock to visit this eccentric man's cart every day"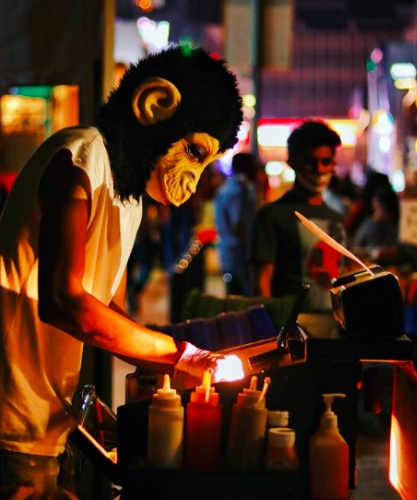 Ankur said that he didn't decide the menu initially. "Research on street food made me realise that there are not many sandwich vendors in the city. I decided to do away with the traditional cucumber, tomato, and onion sandwiches spread with green chutney and introduced a sandwich that had a mix of vegetables including olives, paneer, corn, bell pepper, and tofu, blended with sauces such as harissa, mayonnaise and others." ,he explained. Ankur first started the cart on 8 January 2021. "The beginning was slow, and customers took time to get accustomed to the sandwich's taste. Regardless, business picked up at a good pace," he says.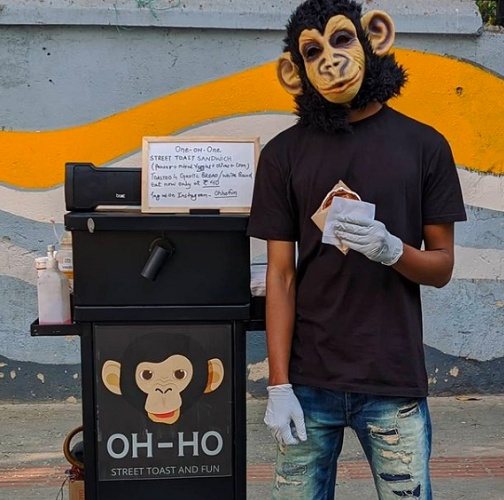 Good Reviews:
"I love the sandwich. The monkey mask is a unique addition. I frequent this place during weekends, and while there is a single variant of sandwich, you'd still want to have another,"
Abhijit Nair, an entrepreneur, and customer of OH-Ho.
Growing As An Entrepreneur:
Ankur who plans to start a new outlet at Indiranagar in the coming months says, "I also wish to bring variations in the sandwich within the single food menu". Ankur always wished that the people developed a better perspective towards street food. "People around me were sceptical about whether I could pull the idea off, and perceived the cart as inferior. But there should be no shame in doing business on the streets. It is not the last resort. Moreover, the small business could be a great platform for youngsters to intern or take entrepreneurial lessons and earn money," he says.
May this notion of prestige continue to slowly dissolve in the years to come and may youth come up with many innovative ideas like these that don't give space to unnecessary big-fat games.

Follow His Work