This organic skincare brand is the first ever from Kashmir. What's the secret behind their beauty.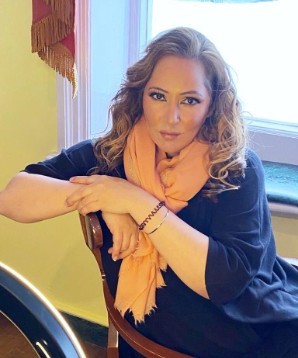 Snowy mountains, coniferous covered hills, glaciers and glacier-fed rivers. Wild, green terrain to one side, fields of saffron and apple orchards to the other side make India's beauty, Kashmir, a mesmerizing place to beautiful landscapes, beautiful people and beautiful ideas. One such idea emanated from the mind of a beautiful woman from this region developed into the first skincare brand from Kashmir. Her name is Zahara Nedou, an entrepreneur from Kashmir who made her skincare brand authentic and exclusively organic. While the nation, in fact, the whole world looks at the beauty of Kashmiris in awe, their beauty secret is connected with the geography and genetics along with the locals using natural products to treat their skin. This, Zahara Nedou, wanted to gift to the non-residents of Kashmir as a gift through her skincare brand. Let's get into the story of Zahara
Childhood and the Risk-taking Years:
Zahara was born in Kashmir and grew up in Delhi. Belonging to a family that's been into the hotel and hospitality industry, she was educated at The British School in Delhi. After graduating from school, Zahara pursued business management and obtained her post-graduation degree in Marketing. She is a travel freak and she has been to various countries and worked for numerous luxury brands. Her travel across the globe introduced her to various cultures and traditions learning about which she was fascinated of. Though she met new people, witnessed new lands over several years, nothing could replace her love for the natural beauty of her hometown, Kashmir. In 2017, she returned to her homeland Kashmir and decided to start something on her own. Initially, leaving a secured job to start something new seemed to be risky but she wanted to take that risk. She wanted to become an entrepreneur like the other generations of her family.
Skincare - Close To the Lives:
Since childhood, Zahara grew watching both her grandmothers prepare skin care products. She was always fascinated at how they used to turn naturally available materials into great skincare recipes. She thus decided to start a venture that dealt with skincare products. In a scenario where the market is loaded with chemical-based skincare products which claim to be natural and organic but not, Zahara wanted to take everything that's naturally grown in Kashmir that has been into the beauty routine of every Kashmiri woman and makes skincare products out of them. Thus, she launched her organic skincare brand.
Zahara's Venture - Started Slow and Picked Up Fast:
Zahara started with four to five products initially. She sold them in Dubai. Soon, her products, as they are loaded with no harmful chemicals became an instant hit and received great customer feedback and response. She eventually increased the product range and her customer base also increased. Zahara ensures that their products are of high quality and most importantly have no harmful ingredients in them. Her claims that her products are completely natural were tried and tested by the customers giving her huge number of come-back clients. "Over the counter products that are available in the market have some cancer-causing agents, while there some whose ingredients are known to cause autoimmune diseases. To stop falling prey to such harmful products, our organic skincare products are a great choice," she said. "There are no particular side effects of her products, but if a person is already allergic towards any ingredient then the skin can get irritated." She adds. Unlike other countries, India has several options of naturally available resources that can be used as skincare routines. Still, she has received an amazing response from people across India also as it is the first organic beauty brand from Kashmir. Today, in India, her annual turnover is around Rs 90 lakhs.
Set of Challenges:
Zahara's business had a set of painful challenges. While people outside Kashmir are very curious about various aspects of Kashmir, especially related to beauty, people from the Valley who are already known for their beautiful skin didn't show much interest in her brand as they continue to use organic skincare originating from Valley. "Due to lack of awareness, my skincare products did not get the same response in my own Valley," she said. She also said that she faced many difficulties as a woman entrepreneur. "I was always told that it was just a hobby of a common girl and she shouldn't take it seriously." she recollected. She, however, didn't care much about their words and decided to take up the risk. She did and she proved that it's not just a girl's hobby.
Her Words of Wisdom:
To all those budding entrepreneurs, she says that it is good to have an idea about their goal. "Have faith that you can achieve your goals and surely you will get the desired results,"