Who is Tamilnadu's bus conductor, the CNN NEWS 18's Indian of the Year 2022?
A warrior is the one who fights for a great cause, gifting a green future to the generations that follow. Warriors are selfless and when they decide to make an impact, they care nothing about time, money, regional or social boundaries. One such warrior lives in Tamilnadu and works as a bus conductor. When Prime Minister Modi praised him in the 75th episode of 'Mann ki Baat', the whole nation looked at Marimuthu Yoganathan who is prominently known as 'Tree Man of Tamil Nadu'. Recently, CNN news 18 honoured him with the Indian of the Year 2022 award under the Climate Warrior category that was newly introduced only this year to recognise individuals working on impactful and sustainable change.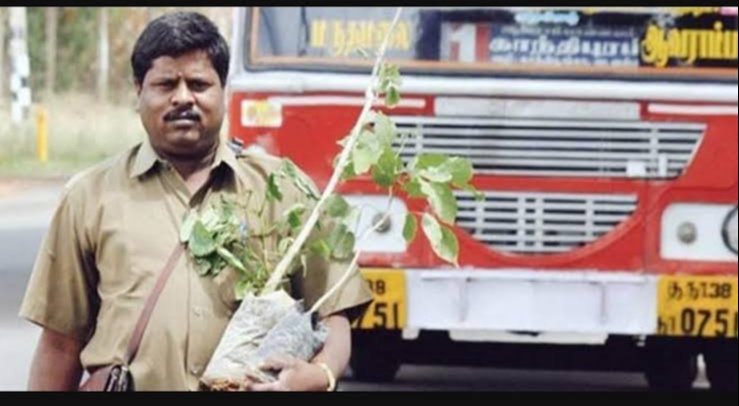 The Bus Conductor Who Distributed Trees:
Yoganathan, a Tamil Nadu State Transport Corporation (TNSTC) bus conductor gives away saplings along with tickets to the passengers who board the bus. These saplings are distributed for free and Yoganathan would spend major portion of his salary towards this. Yoganathan visited schools, colleges and industries to raise awareness about environmental protection.
Awards Showered Upon the Climate Warrior:
For his relentless work to saving the environment and thereby help improve climatic conditions of the globe, Yoganathan
was honoured with the "Eco Warrior" award by Vice-President Mohammed Hamid Ansari in the year 2008. In the same year, he was conferred with Earth Matters Foundation award from Mike Pandey. In 2010, he received the 'Unsung Hero' award from actor John Abraham and filmmaker Mike Pandey for planting 50,000 saplings across the city in order to spread awareness among students. The Tamil Nadu government conferred on him, the title of 'Suttru Suzhal Seyal Veerar' (Eco Warrior).
"Yoganathanji while issuing tickets to the passengers of his bus also gives a sapling free of cost. In this way, Yoganathanji has got planted of innumerable trees! Yoganathanji has been spending a big chunk of his salary towards this work. Now after listening to this story, who as a citizen will not appreciate the work of Marimuthu Yoganathan? I heartily congratulate his efforts, for his inspirational work," Prime Minister Modi's words about Yoganathan in Mann ki Baat.
Union Minister of Jal Shakti Gajendra Singh Shekhawat presented the CNN-News18 Indian of the Year 2022 award in climate warrior category to Marimuthu Yoganathan and said, "Whoever starts as a bus conductor in Tamil Nadu becomes famous" and called him "Rajinikanth of Climate Change".
Woah!! How inspiring this story is - the story of a warrior who is fighting to safeguard the planet from abnormal climatic conditions. Salute to Marimuthu Yoganathan, the Climate Warrior.