Statues of India that You Should Visit Today.
Every country has a good number of statues built by the state and each statue has a story to tell, an icon to commemorate, speaks of a battle fought, highlights a historic event, displays cultural heritage and establishes identity. India has a rich story that has the power to transform lives when said loudly. Its statues are a symbol of its diverse stories and influential history. The tallest statues of India are what India is. Here is the list of eight tallest statues in India that every Indian should feel proud of.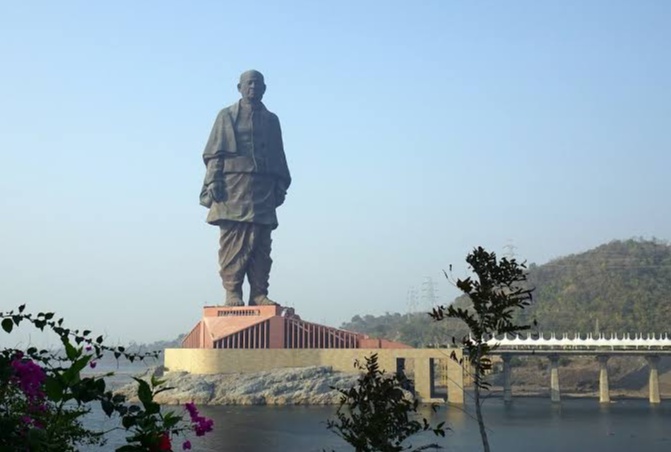 1. The Statue of Unity:
The statue of Sardar Vallabhbhai Patel is the world's tallest statue with a height of 597 feet. It is located near Kevadia in the state of Gujarat, India. This is erected to glorify the Indian statesman and freedom fighter Sardar Vallabhbhai Patel. People who visit the statue remember and hail the contributions of independent India's first deputy prime minister and home minister. There's indeed a lot for today's representatives to learn from the statesmen of that day.
Sardar's statue has five zones in total but only three are accessible to public. The first zone has three levels which include a memorial garden and museum. The second zone takes people up to Sardar's thighs while the third level is at a height of 153 metres and has a gallery. The fourth zone is the maintenance area and the fifth comprises the head and shoulders of Vallabhbhai Patel. Interestingly, the two legs of the statue contain two elevators each and can carry 26 people in one go. The lifts take people to the gallery that accommodates 200 people and is located at a height of 153 metres
2. The Statue of Equality:
Commemorating the 11th-century Indian philosopher Sri Ramanujacharya, a statue of 216ft is erected in Muchintal, Ranga Reddy district, Hyderabad. It is the second tallest sitting statue in the world, after the Buddha statue in Thailand. On the occasion of the 1000th year birth anniversary of Ramanuja, at an estimated cost of USD 130million, The Statue of Equality was conceptualised and installed by Tridandi Chinna Jeer Swamy on the premises of Chinna Jeeyar Trust.
3. The Mighty Hanuman Statue - Paritala:
A 171ft tall statue of lord Hanuman is located in a town called Paritala near Vijayawada in Andhra Pradesh. A beautiful Hanuman temple is located at the base of this statue. Also called as the Veera Abhaya Anjaneya Hanuman, this magnanimous installation is visited by national and international tourists around the year.
4. Panchamukhi Hanuman Statue - Karnataka:
A gold hued statue of lord Hanuman is located in Bidanagere, Karnataka. 72km away from Bengaluru, this 161ft tall statue is installed by Basaveshwara Mutt.
5. Lord Murugan Statue - Tamilnadu:
Using 350 tons of steel bars, 1,550 cubic metres of concrete and 300 litres of gold paint, a magnanimous statue of lord Murugan was built and erected in Salem district of Tamil Nadu in 2022. This installation was inspired by the Batu caves Murugan statue in Malaysia. With a height of 146ft, this statue becomes the tallest Murugan statue in the world. Sridhar, a businessman from Tamilnadu wanted to build a statue of lord Murugan as not everyone can go to Malaysia to visit the tallest lord Murugan statue. He hired the same sculptor Tiruvarur Thiyagarajan who constructed the statue in Malaysia to sculpt the 146ft tall statue in Salem.
6. Maa Vaishno Devi Statue - Vrindavan:
"This temple has a huge statue of Mata Vaishno which I haven't seen anywhere else in India. It is visible from very far too and looks beautiful" writes a visitor about the 141ft tall statue of Maa Vaishno Devi located in Vrindavan, Uttar Pradesh. It is undoubtedly the tallest and the most spectacular statues of Vaishno Devi in the world. It's a must visit place for everyone who wants to dip themselves in the spiritual bliss of mother's lap.
7. Thiruvalluvar Statue - Kanyakumari:
Representing 133 chapters of the Tiruukkal, a Tamil work on Dharma and morality written by the poet Valluvar, a 133ft stone sculpture is erected in Kanyakumari. Sculpted by V. Ganapati Sthapati, the statue was inaugurated by the then Chief Minister M. Karunanidhi on 1 January 2000.
8. Dhyana Buddha Statue - Amaravati:
In Amaravati of Andhra Pradesh, one of the tallest statues of Buddha at a height of 125ft was erected on the banks of River Krishna. Spread across 4.5acres, this statue is located on a lotus pandal. The statue is supported by eight pillars representing the eight fold path to attain salvation. Four zones of the area depict the noble truths and five ayaka pillars depict the five stages of human life. In the base beneath the statue, there's a three-layered museum that houses sculptures of Amaravati Art displaying Buddhist significance. The statue was sculpted by R. Mallikarjuna Rao, the Joint Director of Social Welfare, Guntur.
Apart from these, there are other tallest statues like the Statue of Prosperity, Tathagata Tsal, Murudeshwara Temple, Chinmaya Ganadhish statue and many others. If you are travelling across India, make sure t
hese statues are on your list.