How To Develop A Signature Style For Men
When talking about style and trends it is always said to follow the signature styles but what signature style actually is? It is what many have to develop and many already have. A signature style is something that you create for yourself. It takes a lot of time to figure out what you like the most. And what you are going to have in your signature style.
The big question in the frame is how to develop a signature style for men. So, here are some points listed below that you can follow to get your signature style done.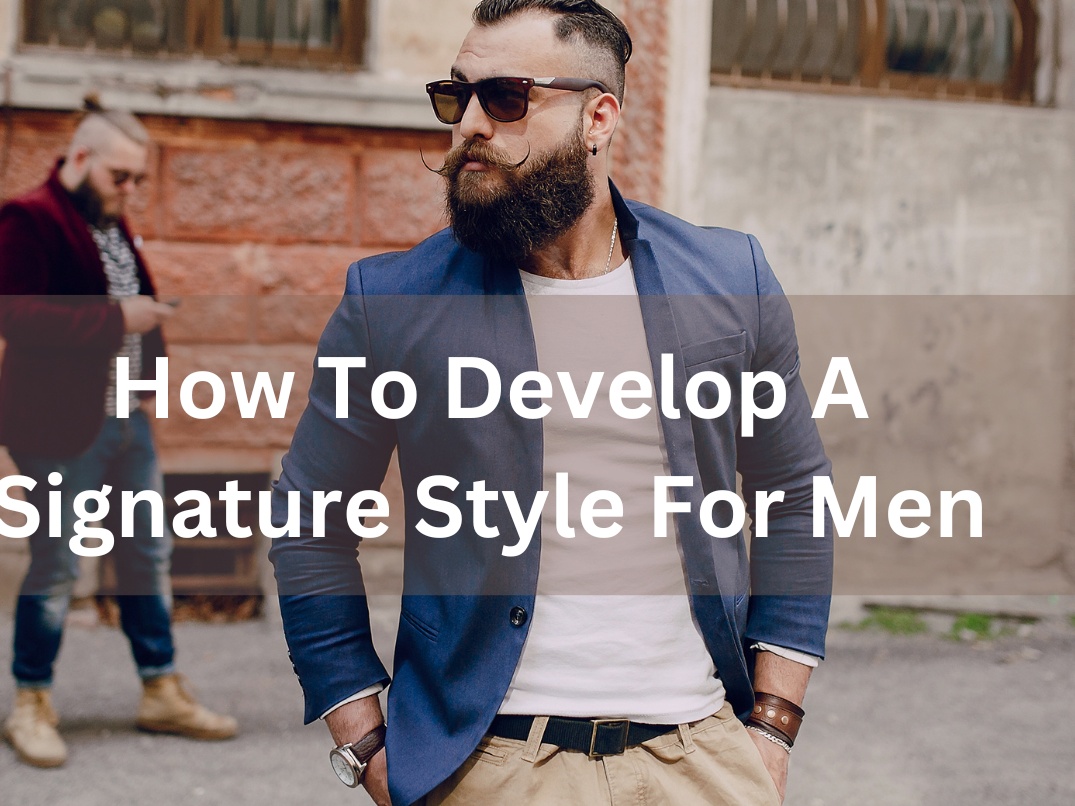 6 Ways To Create Signature Style For Men
1. Look for the fashion styles which you already like
This is one of the simplest things which you can follow and get ideas for. Looking for the fashion styles and ideas which you already like is the simplest solution to find out a signature style for yourself. Looking for the styles which you already like here means that we always have our favorite list when it comes to style and trends. And so keeping an eye on them by adding a touch of your original style is a good idea, to be honest.
Follow these steps to develop a signature style for men.
2. Figure out which color suits you the best
This is a tough job but will make sure you look smart and perfect. Figuring out which color suits you the best is the perfect thing to look for. The big question in the frame is, how to find the color which suits you the best. And sometimes it is so that many colors look great on us so how to figure out the most suited color?
The solution to this confusion is exploring. Exploring as much upper wear as you can and wearing as many styles as you can gives you the perfect ways to select the best-suited colors for you.
Trying the best prints and patterns which you can try for finding out your style is also a good idea. If you are the one who gets very confused when it comes to selecting the printed and patterned clothes. No worries try with minimal prints so that you can sort the style from the beginning. Also, try the colorful prints later and the plain and subtle prints before. So that you get confident later while trying the wholly quirky prints.
Try everything and try to explore everything so that you can find the better styles for you. For example, if you are trying a traditional kurta for men try to adopt many styles. And try them all to find the best. Add the best touch of yours to the design to make it original, and develop a signature style for men.
3. Dress according to your personality
Personality matters a lot when it comes to selecting a dress or outfit or a signature style. Your body type plays an important role while dressing up. The thing which you need to take care of is the outfit which you are styling. If you are thin go for solid clothes and if you are a little healthy then try printed apparel to look something different.
Also, the thing which you need to keep in mind is the style which you are going for.
Developing a signature style is important but it should be good as well so take care of the fit. And your personality and also look for the apparel that you used to opt for as they are the comfort that you used to prefer.
4. Carry the outfit in a classy way
No matter what trend you wear, the most important thing which matters the most is the way in which you carry it. The style and your look depend on the way to carry your outfit. Be confident while trying something. What should be paired with what? Which upper wear goes perfectly with stylish jeans for men or with cargo pants should be figured out beforehand.
If you will keep thinking about the outfit or keep doing something to your outfit instead of looking confident then you will not look smart but it will make you look nerd.
The basic rule to try something new is to be confident and look classy.
Carry it in your way, trust me you'll look smart.
5. Know what is your style
Finding out what your style is. What are your likes and dislikes that help you to be more innovative and experimentative? There are many ways to know what your style is. Some like to carry plain instead of blingy and some go for classy ones. There is nothing wrong to ask people bout your style as well. There are many people who also look for signature style and so notice you a lot. You can ask them, you can ask people who are really close to you as they know you better and can help you more precisely.
6. Know Your Body Type
Knowing your body type before inventing some of the random signature styles for you. Knowing what suits you, what your personality is and many more things depends on your body and personality. For example, people who wear plain clothes can not go for blingy directly and so they have many steps to cross. Keep the bar and figure of the outfit in mind so that you look classy and do not end up looking, like a nerd.
Remember, Simple basic things for your outfit can turn out to be very important and so experiment by keeping all the things in mind and not randomly.
Wrap Up
Developing a signature style is a tough job but not impossible as you have these steps to follow. There are a lot of factors that help in developing a signature style for you in which confidence is number one. When trying new things you should keep confidence so that you can look smart and act modishly.
Above mentioned points will help you in developing your signature style. Follow the steps and get the best results in your dressing sense by adding a touch of your signature style to it.