This 19-year-old shot to fame with KGF Chapter 2. Who is he?
On 14th April 2022, tsunami hit the national and world theatres in the form of KGF Chapter 2 and filled the nerves of movie lovers with its vibrance. The film had huge expectations in view of the roar its first chapter created in the year 2018. The scenes, each one, as the audience opined, was an eye feast. No one failed to talk about the action sequences like the car chase that have been shot in a play and pause style. These kind of thrilling scenes which are several in number, gave a new experience to everyone who entered the theatre.
On this note, along with showering praises on the director Prashanth Neel's creative work as well as Yash's terrific performance, audience also started looking at the technical team who poured in their sincere efforts to make the film a visual treat. On this note, a surprise came in to everyone when they learnt that the editor of this high-budget Pan-India film is just a 19-year-old boy. Another shocking fact is that the boy signed this film when he was just 17 years old.
While teenagers like him are busy watching films and commenting about them, Ujjwal has taken up to edit the biggest project already, that has set high expectations with its first chapter.
How Did All This Happen?
Ujjwal has been making many fan-made videos on YouTube for the trailers of popular films. In the same process, he made an edit of his most favourite film, KGF. The wife of KGF's director Prashanth Neel happened to see the edit and showed it to the director. Prashanth Neel was so impressed with the boy's work that he immediately offered him a chance to edit KGF 2.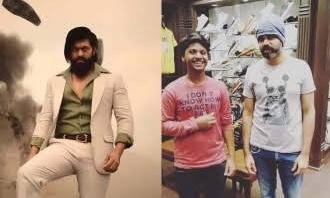 The amount of confidence that Prashanth Neel, Yash and Hombale films put on the 19-year-old boy proves that talent gets its recognition in some or the other form. Ujjwal's work is being lauded by not just the audience but also by prominent filmmakers. Who can now stop this boy from flying high? We wish him great success in all his future projects.