The story of Asia's largest diocese - the Medak cathedral.
Built by Charles Walker Fasnet of British Wesleyan Methodists and consecrated on 25 December 1924, today we bring before you, the single largest diocese in Asia and the second-largest in the world after the Vatican - the Medak Cathedral located in Medak district of Telangana.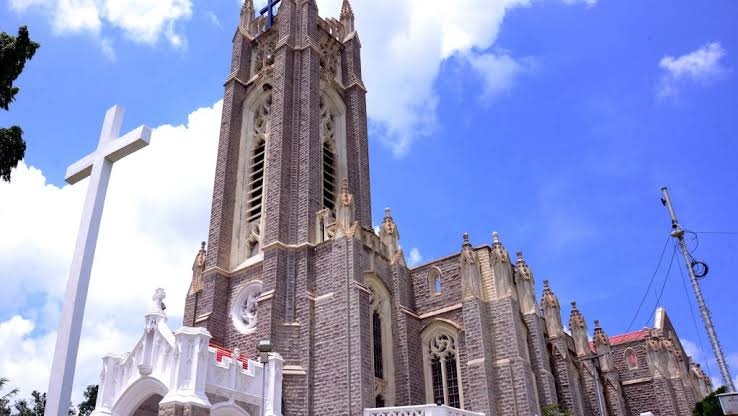 The seat of the Bishop in Medak for the Church of South India comprising Wesleyan Methodist, Congregational and Anglican missionary societies, the church complex is spread in more than 300 acres. With100 ft (30 m) in width and 200 ft (61 m) in length, this remarkable church can accommodate about 5,000 people at a time. Built in Gothic revival style, its mosaic tiles were imported from Britain and Italian masons set to work for the beautiful flooring. Massive pillars were built with fine-hewn and well-dressed grey stone. The roof of the church is made sound-proof by means of hollow sponge material. The bell-tower is 175 ft (53 m) high.
The stained glass windows depicting different scenes from Christ's life – Ascension behind the altar, Nativity in the west transept, and Crucifixion in the east transept is its biggest highlight.
The Story Behind:
In the year 1895, Rev. Posnett came to Secunderabad to nurse the British soldiers at Tirumalgherry. However, he was unsatisfied with the work in the army there and he set to fond solace in the tranquility of the countryside. He thus reached a village named Medak in 1896. As there was no rail connectivity to the village, he had to travel on horseback, a total distance of 60 miles from Hyderabad. He did that just in one day though!! When Rev. Posnett came to Medak, he observed that people were using small tiled houses as places of worship. He also noticed that the growing Christian population needs a good and well-built church building. He thus set on to build a temperate structure and in 1914, he took on his shoulders, the holy task of building a mighty cathedral in a 1000-acre land. The construction work went on for a decade and the cathedral came to be sanctified in 1924.
For its architectural marvel and many more magnificent aspects, the Medak cathedral is the one to visit to immerse oneself in the joy of closeness to Lord.