The Shrine With Two Main Deities. Reflects Kerala's Rich Cultural Heritage
There's this temple in Chengannur of Alappuzha district in Kerala, India where there is not one, but two main deities. One is lord Shiva and the other is Maa Bhagawati. Having constructed 1,500 years ago, this temple was planned and sculptured by Perumthachan. This is considered as one of the oldest temples in Kerala. Lord Shiva appears in the form of self-emerged Shiva Linga called Swayambhu and faces the East. While Maa Bhagawati's idol, an alloy of five metals (Panchaloham), faces the West. This temple is also prominently known as Chengannur Bhagavati Temple, as it is one of the 108 Shakti Peethas of Goddess Parvathi. The temple spreads in a vast area of over six acres with a circular sanctum. The shrines of Ganesha, Dakshinamurthy, Subramanya, Sastha, Krishna, Nilagriva, Sthalisha, Hanuman, Ganga and Serpent deities can also be seen inside and around the main temple.
While facts and history of temples is available anywhere on the internet in this world of information, I would like to bring before you, some of my observations relating to the customs and celebrations that happen here. Being a temporary resident of Kerala, I happened to stay at Chengannur for a while, during which time, I have been a close observer of the temple's rituals and practices. The way people come together to celebrate various auspicious occasions is simply remarkable. Numerous women, men and children dress up in traditional attires and gather at the temple premises to carry out various rituals. All these rituals are a splendid treat to one's eyes. The dedicated temple orchestra does a remarkable job in turning all the worships vibrant.
Celebrating A Woman's Menstruation:
Among several rituals that take place in this temple, one that has drawn me deeply towards it is the Thriputharattu. Maa Bhagawati, just like every normal woman, goes through the menstrual cycle. Once blood stains are spotted on the holy clothing of Devi, the eldest woman of a Brahmin family, Thazman Matt, is called upon to confirm if the Devi is indeed menstruating. Once confirmed, Parvati's idol is shifted into a small room off the sanctum sanctorum, keeping the main temple closed for three days. Again, these three days, it's not that the deity doesn't receive any religious ceremonies. She is decorated magnificently with flowers, is glorified with lamps and is reverently showered with the vibrancy of chants. On the fourth day, she is taken to the river Pamba for a holy bath after which she is accompanied back to the shrine by thousands of male and female devotees, on an elephant in a grand procession. Once Devi reaches the temple entrance, she is welcomed by Lord Shiva who comes out of the temple on an elephant to receive her. The deity couple will then encircle the shrine thrice. After the procession ends, Lord Shiva enters the temple through the eastern side while Bhagawati enters through the western side. In a country where menstruation is a taboo and menstruating women are considered impure, imposing on them, several regulations, this type of ritual is an eye-opener as it gives a message that 'periods are worth celebrating'.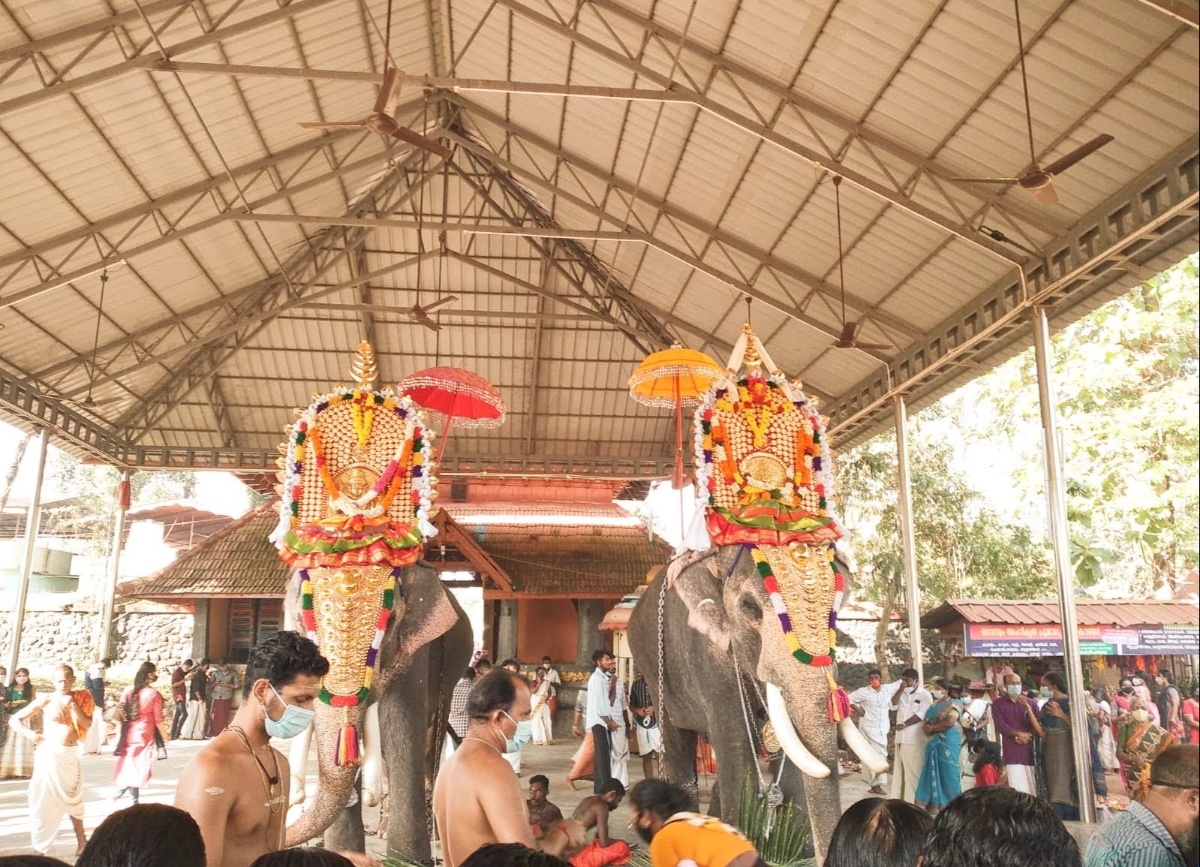 A 28-day Spectacular Celebration:
The annual temple festival called Varshikotsavam is observed for 28 days that starts from Thiruvathira Nakshatram in Dhanu Masam to Thiruvathira Nakshatra in Makaram month (around mid-December to mid-January). The temple is decorated with lights, oil lamps, camphor lamps, flowers, coconut and banana leaves and what not! Vedic chants, songs and spiritual speeches continue to mark the festival- day and night. Traditional performing arts, music and dance performances are organised every evening and 'Annadaanam', a food distribution programme is also taken up by the temple authorities. The main deity's idol or the utsava murti is taken out of the shrine for holy bathing on the final day which is followed by grand procession. All through the month, elephants are brought to participate in the service of deities which stands as the major attraction.
Showering Ghee:
On every 1st day of Thulam (mid-October to mid-November), Ghee Abhishekam festival is conducted, on which day, 36 paras (a unit of measurement in Malayalam) of ghee is used in wetting the Shivalingam. This ritual is called Thulasamkrama Neyyattu.
This iconic temple that is administered by Travancore Devaswom Board, is a must visit, especially during the months of December and January, for, it clearly mirrors the culture and tradition of Kerala. Chengannur has rail and road connectivities from major cities of Kerala like Trivandrum and Thrissur. The large space around the main temple, the pleasant ambience it offers and most importantly, the cultural treat it serves through its rituals is definitely worth appreciating! If you are the one who admire cultural diversity and visit places of cultural significance, then this temple should be in your to-visit list.