The Goddess Who Got Her Shrine Built
What I'm writing here is something that's believed to have happened a few centuries ago, roughly between 15th and 16th century. There was a place called Rayapuram under the regime of Quli Qutub Shah. Once, a family of three that included Srinivasa Desika Chary, Alivelamma and their son Appala Desika Chary happened to visit this place as a part of their pilgrimage. There, Srinivasa Desika Chary died because of ill-health and Alivelamma continued to live in Rayapuram along with her son. The same year, the mother and son duo were given 'Mantropadesham' by a sage who also advised them to build a temple at Rayapuram. Later, Alivelamma and Appala Desika Chary went to Sri Ranganatha Swamy temple at Srivilliputhur in Tamil Nadu. On the same day, Appala Desika Chary saw Goddess Goda in his dream and he was asked to reach Rayapuram. They also found an idol resembling Goda Devi in a golden cradle. Thus, the mother and son brought the idol to Rayapuram and built a small structure to offer prayers.
Rayapuram, was then a hillock with dense forest inhabited by wild animals and birds including the Garuda Pakshis (Garuda birds) which are believed to be the vahana(vehicle) of Lord Vishnu. Thus, Rayapuram also came to be known as Garudadri. As years passed, that small structure built by Alivelamma and Appala Desika Chary began to gain prominence and locals started coming in to offer their prayers. Eventually, there developed a well-established temple with the right requirements, priests, definite customs and rituals. In this temple, Brahmotsavam and Goda Devi Kalyanam are celebrated with pomp in the month of August (Sravana Madam). Besides, 'visishta sevas' are offered during all the important Hindu festivals. Ranganayaka Ratha Yatra that happens every year is a spectacular event that shouldn't be missed at all. The whole village decorates itself to welcome people from various parts of the city and nation to witness the grandeur of the day. People believe that if unmarried youth, especially girls, perform pooja at this temple and offer bangles to Devi, they will soon be hearing their wedding bells ring. This Goddess, for the same reason, is also popularly known as Gajula Andalamma.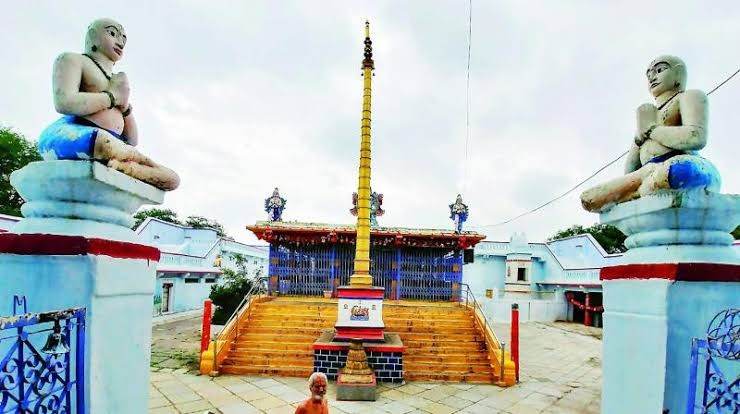 Well, today, this place is being called as Edulabad. To reach this place which is in Hyderabad, one has to reach a town called Ghatkesar from the main junctions of Hyderabad or Secunderabad. From Ghatkesar, a drive for 7km will take you to Edulabad. After travelling along the curved village roads that bear a pure fragrance of nativity, one can find this temple in a serene atmosphere. And yeah, just enter the village, and anyone there can guide you to the temple.
One of the best temples known for its ancient solid structure and architectural brilliance is a must-go place.